Students At Leading Chinese University Become Disc Golf Fanatics
Students At Leading Chinese University Become Disc Golf Fanatics
Lessons go well in Shandong Province
Wednesday, October 31, 2018 - 14:12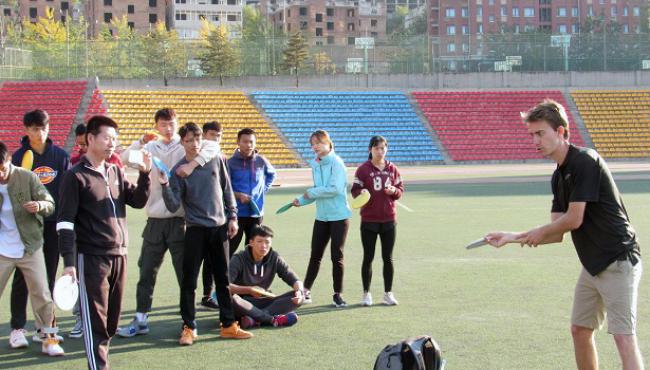 On Monday the disc golf ambassadors to China and their China Disc Golf Center hosts sped north from Suzhou to Jinan, the capital of Shandong Province, traveling the 800 kilometers (497 miles) by bullet train in under four hours, with cruising speeds that reached 305 kph (190 mph).
Our visit to this metropolis of 6 million was hosted by Mr. Wong, vice president of the sports department at Shandong University, one of the country's 15 double-A rated academic institutions, and Mr. Lee, a local sports organizer.
After a veritable feast of local seafood and vegetarian delicacies for dinner, Team Prodigy pros Will Schusterick and David Greenwell were driven on Tuesday afternoon to the University Stadium, where they delivered a two-and-a-half hour workshop of basic disc golf skills training to 55 sports program freshmen and sophomore students.
Beginning with an overview of the basic throws and rules of plays, the students were then each given a disc and taught the grips and techniques used in putting and approach shots, followed by backhand and forehand drives. Some took to the game naturally, hitting dead center chains from five to six meters and throwing accurate shots with lots of spin, with the less adept being given more one-on-one attention until they, too, began to see results. Finally, a three-hole mini-tournament was organized, in which a few players managed to card birdies.
The new fans then swarmed the nine-time World Champion (Greenwell) and three-time United States Champion (Schusterick) for autographs and the ubiquitous photo sessions before the baskets were wheeled into the gymnasium for safekeeping until further use. Mr. Wong was most impressed by the workshop and the enthusiasm with which the students took to the new sport in town and has asked that we provide him with a curriculum for teaching disc golf from a stateside university so that it soon can become a course offering of his department.
Now we are back on the bullet train heading 900 kilometers south to Shanghai in anticipation of the next adventures on our whirlwind tour of the Peoples' Republic.
Zaijian! (Goodbye for now!)