Hokom Runs Away With Win At Delaware Disc Golf Challenge
Hokom Runs Away With Win At Delaware Disc Golf Challenge
Estonia's Tattar passes Bjerkaas to take second place
Monday, September 17, 2018 - 14:32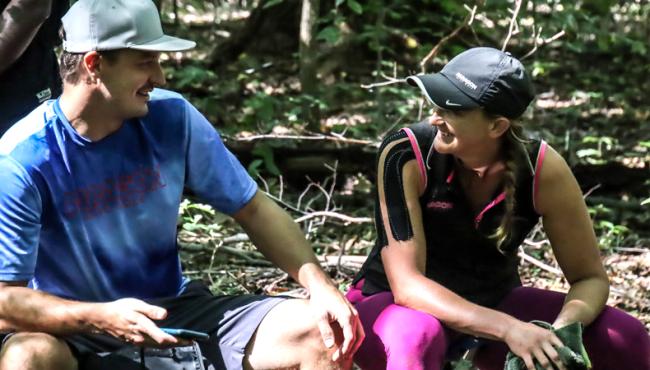 Two days and 35 holes into the 2018 Delaware Disc Golf Challenge, Sarah Hokom had yet to capture the lead from the very recently crowned world champion  Paige Bjerkaas. However, on the 18th hole of Saturday's second round, a birdie against Bjerkaas' bogey finally put Hokom at the top of the leaderboard. 
Both women played amazing golf for the first two days and everyone knew it would be a nonstop back and forth battle for Sunday morning's final round at the infamous Iron Hill. Well, everyone was wrong.
What started as a one-stroke lead over Bjerkaas and a five-stroke lead over Kristin Tattar had somehow turned into what was shaping up to be a blowout just a few holes into the final round. By the time all four women had holed out on six, Hokom went from leading by the narrowest of margins to a comfortable cushion of seven ahead of Tattar and eight ahead of Bjerkaas. She eventually took home the victory with a 7-under par 209 total for her first PDGA National Tour win since 2013, while Tattar ended up in the runner-up slot with a 2-under par 214. Bjerkaas' final round slip left her in third place at 1-under, while Catrina Allen (+1) and five-time PDGA World Champion Elaine King (+5) rounded out the top 5.
While Hokom was surgically dissecting the opening holes, Bjerkaas was struggling a bit off the tee and, perhaps more importantly, missing her putts from inside and outside of the circle, including a three-putt on hole 4 that meant a two-stroke swing in Hokom's favor. This came after already having lost a stroke to her on each of the three holes prior.
"Her tee shots weren't clean and she missed putts that she doesn't normally miss," Hokom said. That certainly had an impact on the scores, but Hokom humbly failed to mention her start of 3-under-par through hole 4, matched only once all weekend by Allen during the second round, as a factor that helped propel her to such a dramatic lead so early in the round.  
"That's when I got nervous," said Hokom, half-joking and half-serious. "I've got a real lead now. I don't want to mess this up."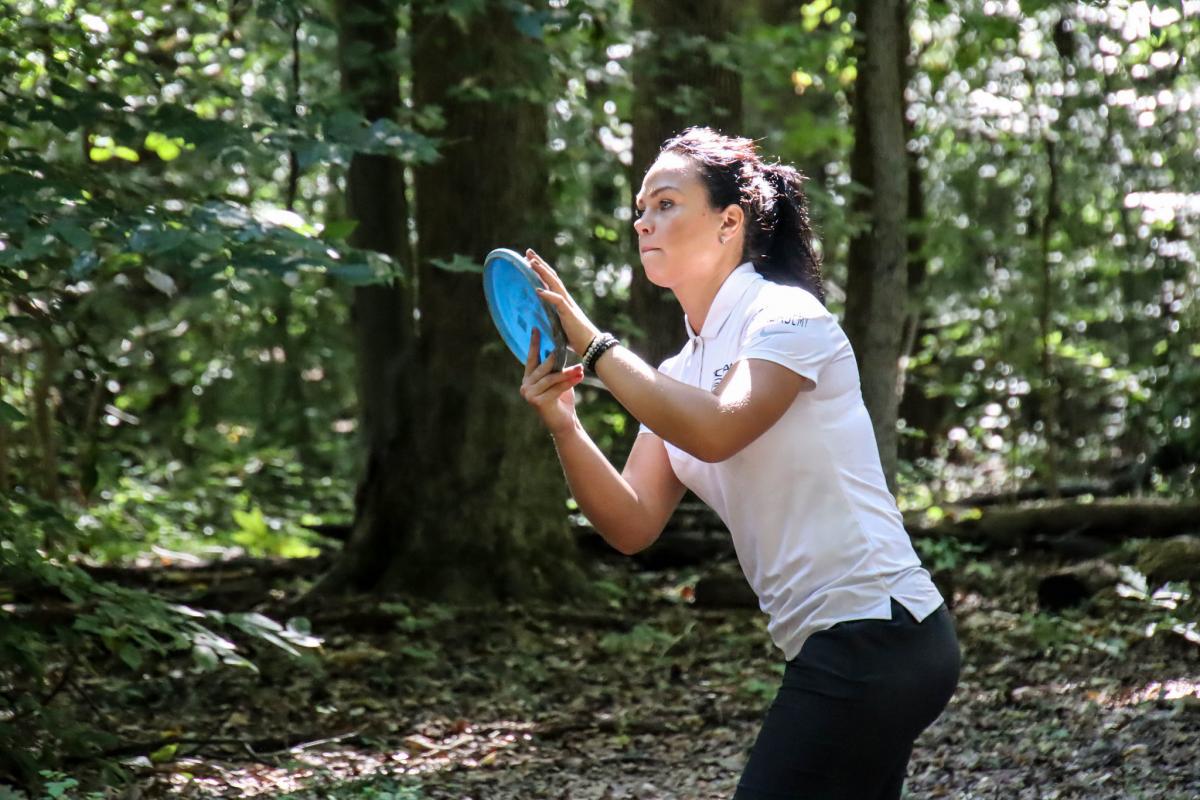 Heading into hole 8, Tattar had moved into second, one ahead of Bjerkaas, with perhaps the hardest three-hole segment of the course ahead. The par-5 8th, par-4 9th, and par-5 10th make for more than 1,800 feet through the tree-covered fairways and greens of Iron Hill. Despite being ahead by seven, Hokom was still nowhere near feeling comfortable.
"Those three, 8, 9, and 10, there's just so…if you get in a bad situation and you make poor choices – like you don't pitch out or you mess up an upshot or get stuck behind a tree on the green – you can easily take a double or triple bogey," Hokom said.
After escaping the run of 8 through 10, Hokom still had to navigate holes 12 and 13, which she refers to as "The Gauntlet," because they favor right-handed backhand drives – something which she has never been comfortable with as a predominantly forehand player. "I play scramble golf after my tee shots there because I'm never in good position," Hokom said. "I don't have the skill to throw the shot needed to get to a good position in the fairway, so I have to scramble."
Scramble she did, finishing second overall in that measure for the event at 68 percent, which helped her finish in first place overall in circle 1 in regulation and circle 2 in regulation.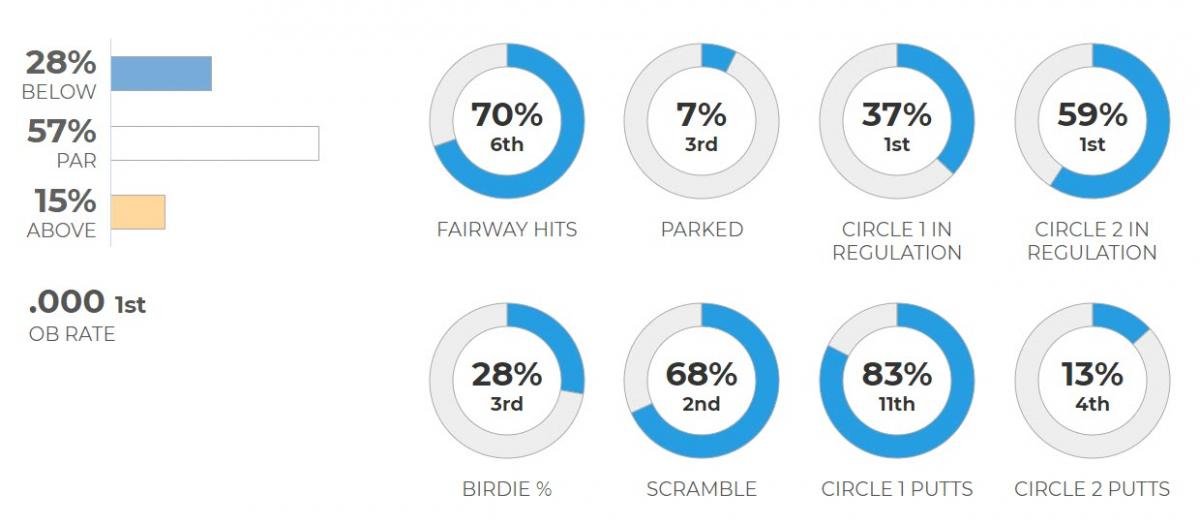 A majority of the Open Women's division at the 2018 Delaware Disc Golf Challenge hit the road as soon as they could and headed for Michigan for the 2018 United States Women's Disc Golf Championships, which begins just a few days from now on Friday, September 21.