Queen, Hammes Stake Early Claims at MVP Open
Queen, Hammes Stake Early Claims at MVP Open
Pierce jumps out to Open Women's lead
Friday, August 30, 2019 - 19:43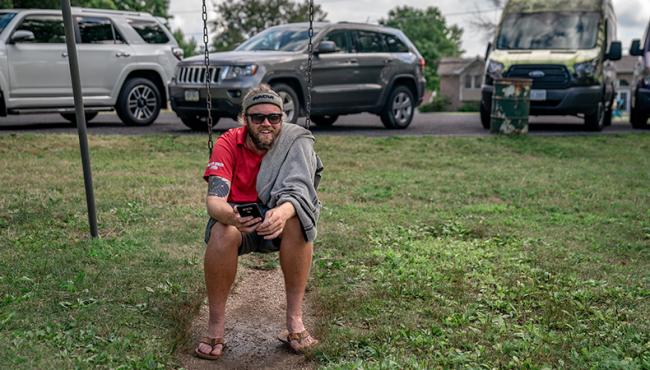 Round one has come to a close at the 2019 MVP Open at Maple Hill, and as the day wound down, the wind picked up. As the wind picked up, it became clear that players who finished earlier in the day had more favorable scoring conditions than those who played later in the day.  
One of the first hot rounds of the day came from Joel Freeman, who is coming off a strong finish last week in Delaware on the PDGA National Tour. Freeman took a bogey after going OB on his second hole of the day and didn't look back, finishing with three birdies on his round to put him at -8, one back from the lead. He was the only player in the field to card birdies on all of the final three holes today. 
The next hot round to come into the clubhouse was from Adam Hammes, whose only blemish came from a double-bogey on the water-ridden hole 14. Going OB on the drive, Hammes struggled to scramble to save bogey. His hot streak began in the middle of the course when he carded birdies on holes 7 through 11, and he bookended his birdie streak with circle 2 putts. Hammes finished the day one throw better than Freeman and is tied for the lead with Nathan Queen.
Queen came into the clubhouse not knowing that he had tied the hot round for the day. He was just excited to have a good day on the course. Continue reading at DGPT.com >>
A Perfect-Weather Day Helps Set the Early Pace
On a picturesque Massachusetts day, the scoring conditions could not be more ideal for the first round of the MVP Open at Maple Hill. A familiar battle is unfolding before our eyes. We will need to follow along this weekend to see if the constant holds and a familiar face will take the podium on Sunday.
A familiar face started the day strong in the Open Women's division, with Paige Pierce carding her first birdie on hole 2 and not looking back. Pierce would start a par-free streak on hole 7 that didn't end until 14. While that run was comprised of five birdies, there were also two bogeys mixed in. Continue reading at DGPT.com >>