Pressure Picks Up at Masters Worlds
Pressure Picks Up at Masters Worlds
2021 PDGA Masters Worlds - Day 3 Recap
Friday, August 6, 2021 - 00:07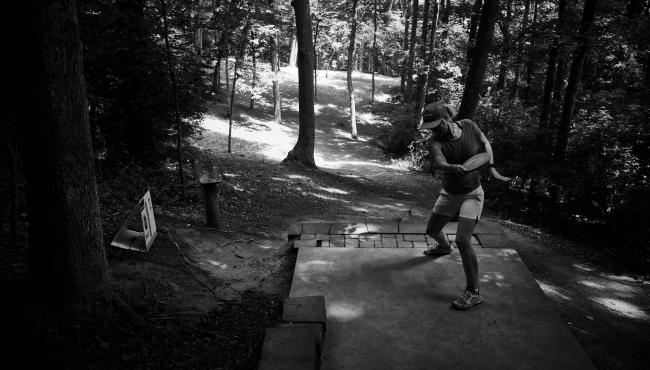 Wayne Zink traveled to his first frisbee event in 1976 and learned a few lessons that week.
It also started a lifelong passion.
Leaderboard, Tee Times and Payout at Masters Worlds »
"We thought we were pretty good players, we had been playing for two years, and we just got blown away," Zink told Bryan Frees on Thursday in Johnson City, Tennessee. "There were people from all over the country for this overall event.
"Disc golf was just one of the many events but that's what got us started. We bought Dr. Stancil's book and from there, it just took off."
Now, a few decades later, Zink is closing in on a title in the MP65 division at the 2021 PDGA Pro Masters Disc Golf World Championships in northeastern Tennessee.
The record field, spanning 13 divisions, is doing some of the same, although quite a few of the leads entering Friday's final round of regulation aren't as comfortable as Zink's 10 strokes.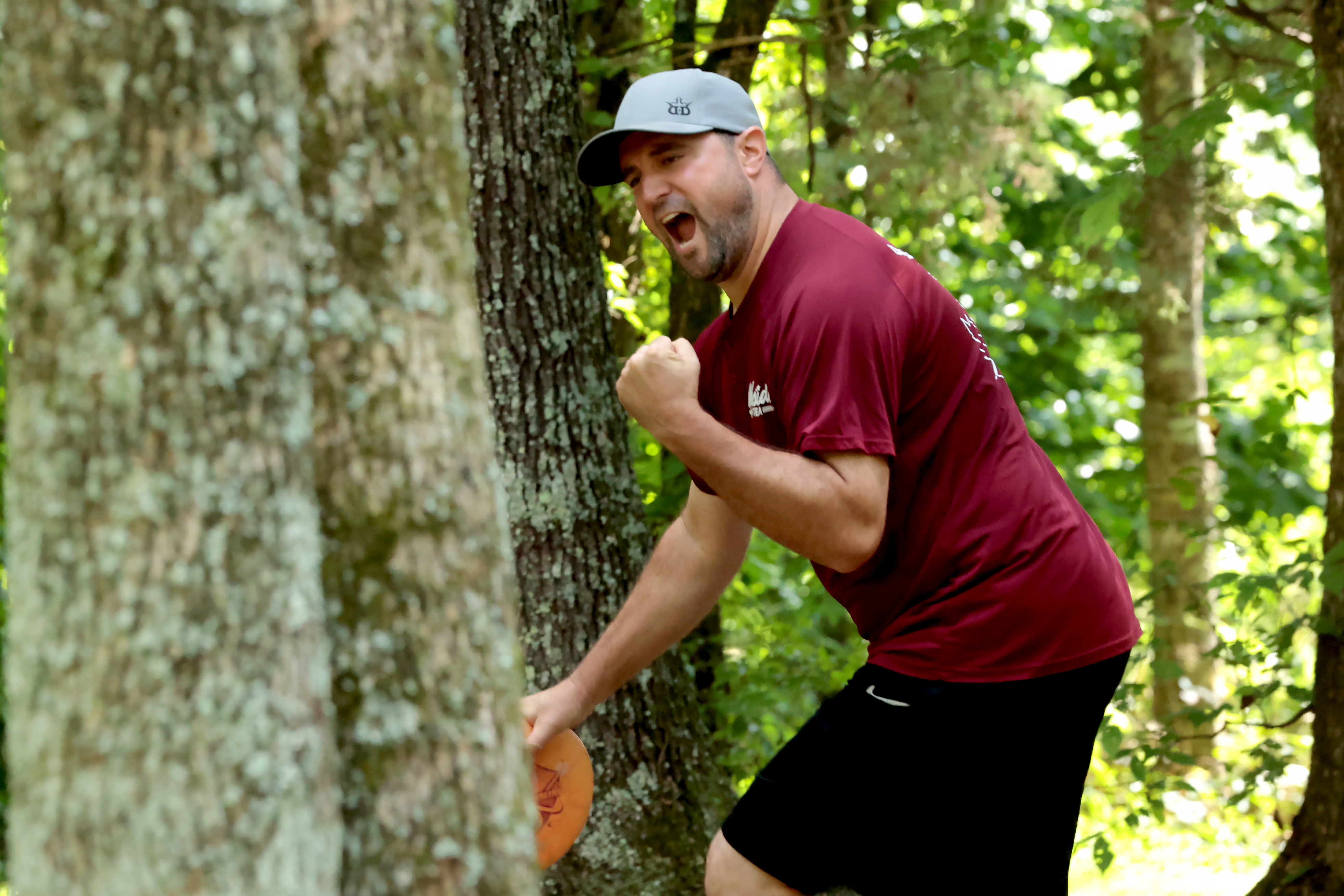 Chris Villa is the self-described 'young kid on the block' in MP40. Villa discovered the game a little later in life and has made up for lost time in a hurry. The Philadelphia native, entering the fourth round, once again as a 'T-1' next to his name on the leaderboard.
"This is my first Masters event – I'm 41 – and I played my first PDGA tournament when I was 33 so I got into the game a little late," Villa said. "I'm from Philadelphia so I started playing at Sedgley Woods and got hooked right away. I feel like I'm the young kid on the block out here."
Complete Coverage from Masters Worlds»
Villa turned in a 12-under par round on Thursday at Harmon Hills and is once again tied with two-time defending MP40 champion David Feldberg.
"It means that I played another solid round," Villa said of once again sharing the lead with the disc golf legend. "If you're tying Dave Feldberg, then you're doing something right."
Villa turned on a heater on the back nine on Friday with a stretch of nine holes under par, including a throw-in eagle on the tricky 13. At one point, he led Feldberg by three stokes.
But the experience showed down the stretch as Feldberg closed with five-straight birdies to keep his name atop the leaderboard.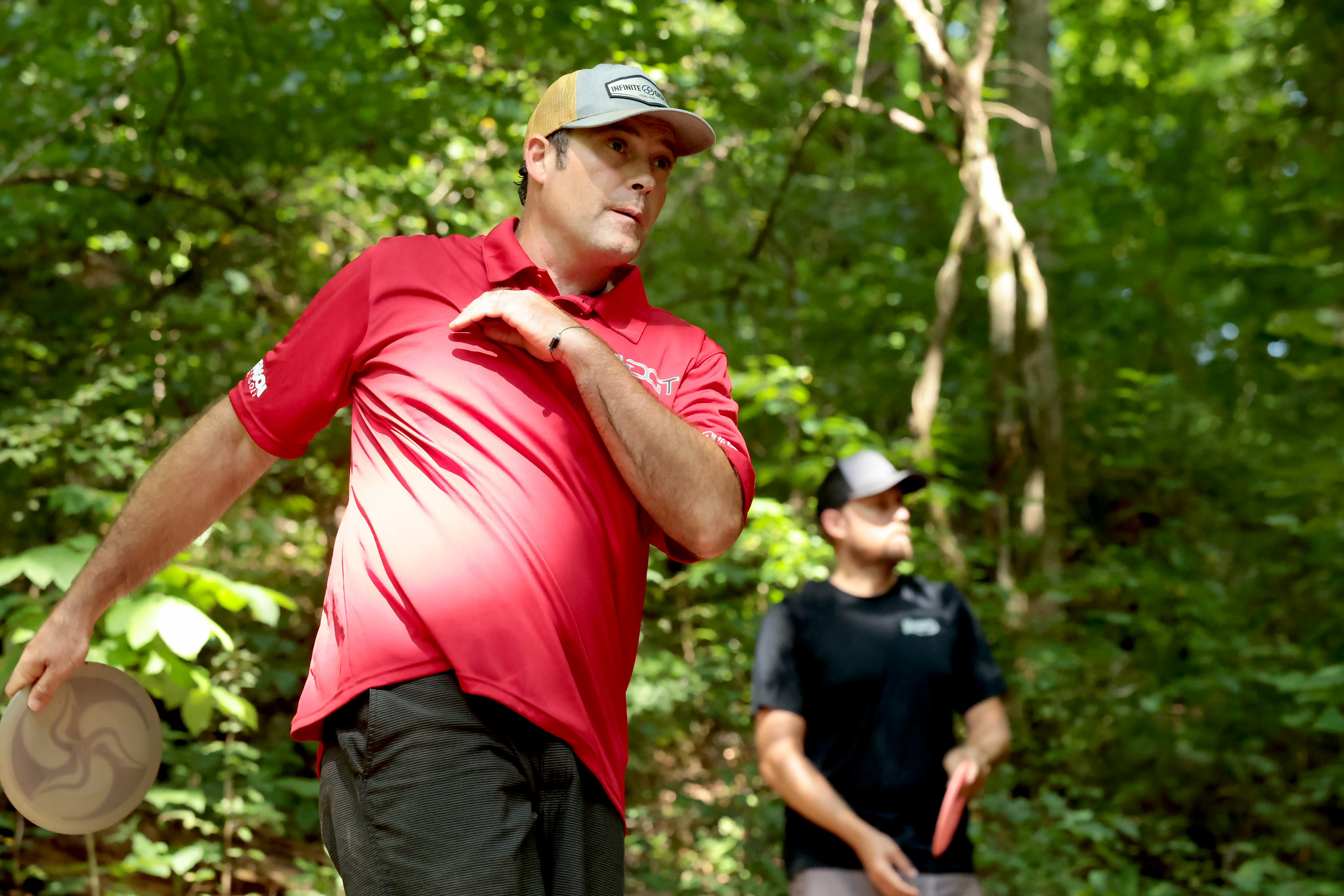 Meanwhile, it was a chase-card surge from Michael Johansen, who fired off a 1049-rated 14-under par to pull within a single stroke of the lead. He's tied with Philo Brathwaite for third place.
Four more players are within four strokes of the lead as action shifts back to Sugar Hollow.
"The pressure is picking up a little bit," Villa said. "The crowd is growing and playing on camera is always a little nervy but I'm just enjoying the moment.
"I think we're going to see some hot scores, for sure. It's a scoreable track if you're executing. I'm trying to do that and get that 'T' off my name and hopefully be sitting nice when the final round rolls in on Saturday."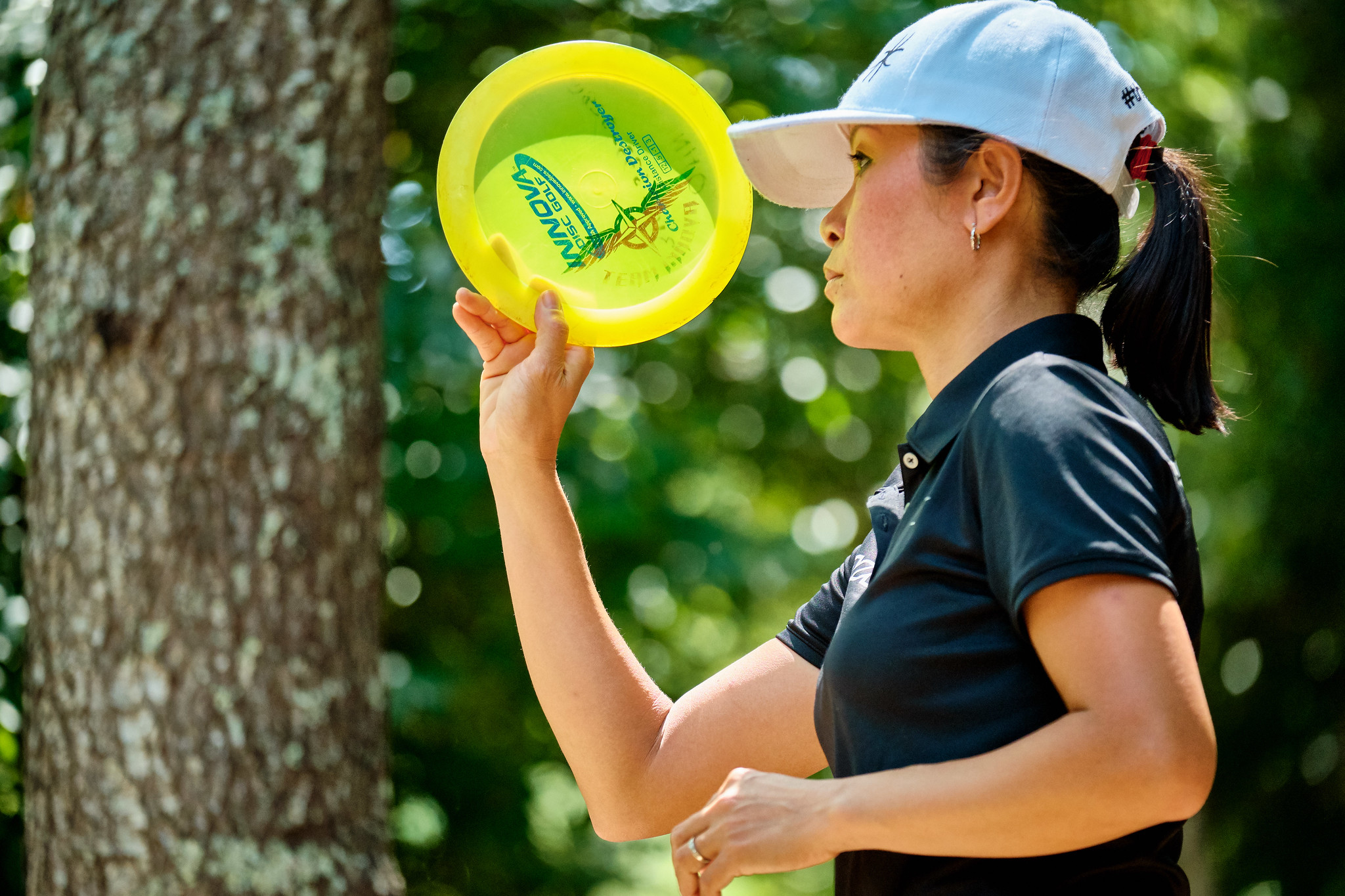 In FP40, Ohn Scoggins kept her lock on the division, firing off the hot round once again to build a commanding 11-stroke lead over Melodie Bailey. Jen Allen and Elaine King, at five and four under par, respectively, round out Friday's lead card.
"My plan was like, go without a plan," Scoggins said. "Some holes, I expect to birdie and some holes, I didn't expect to birdie but I did. I just had a blast and played with my friends. I didn't hit my lines today but my putting was ok. Overall, I'm still happy with my game today."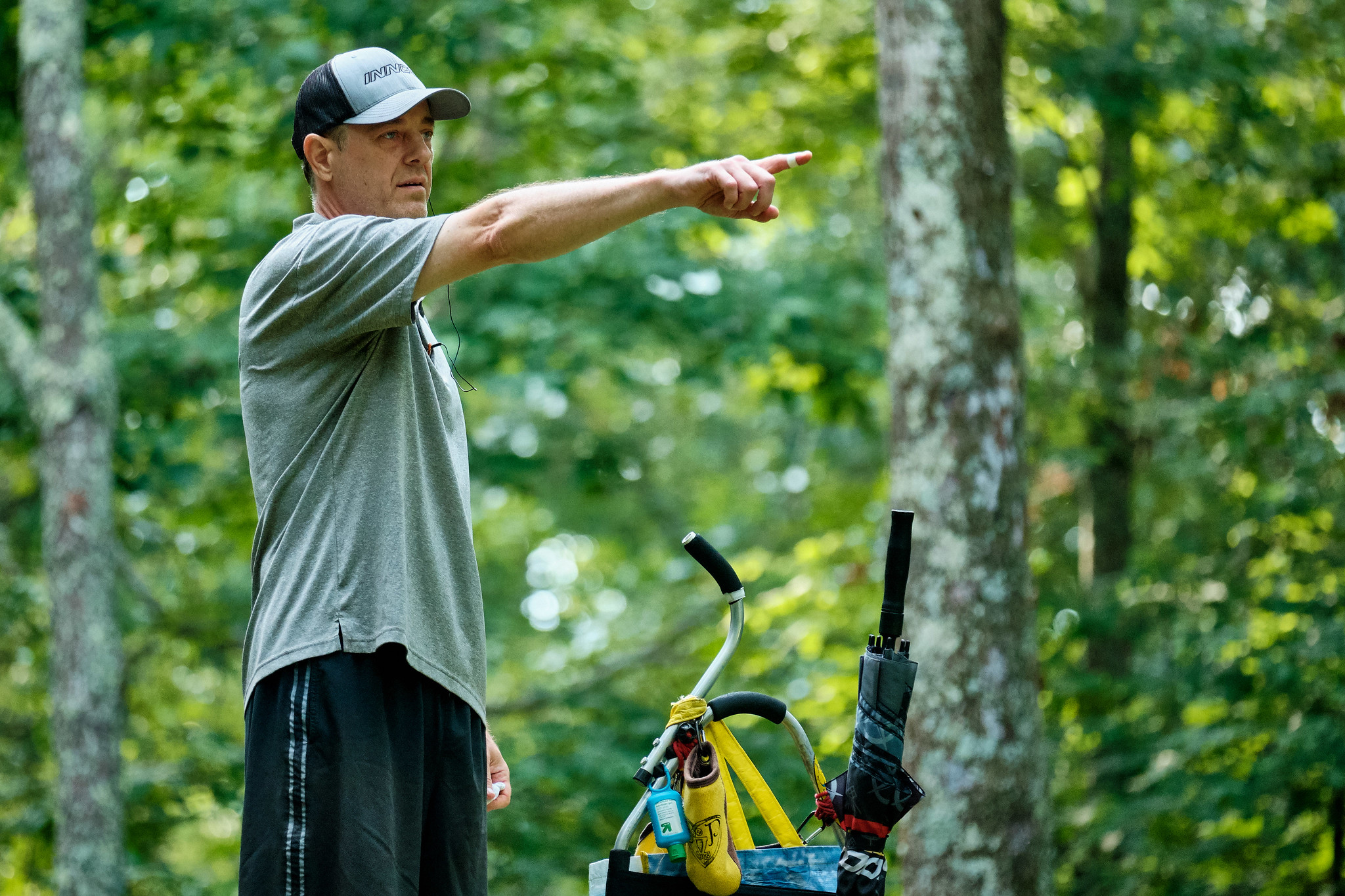 Barry Schultz birdied the first hole on Thursday at Harmon Hills and didn't stop lighting up the scorecard for a long time.
That first birdie tied things up with Patrick Brown in what has been a tight battle this week in MP50. Brown reclaimed the lead on hole 5, before Schultz tied things up again on six and took his first lead of the week on hole 8, a tricky U-turn par 4.
"I had a chance of getting a bogey or even worse there," Schultz said. "That hole is really tough and tricky. I pulled off a really good roller after my teeshot wasn't too good and made a putt from just outside the circle.
"That really kept my momentum going."
Schultz birdied nine-straight after that birdie putt to grab a four-stroke lead over Brown. Ron Convers is at 27-under, 11 shots back and one ahead of Jonathan Baldwin.
More from Masters Worlds:
Andy Ritter turned in the second-hottest round of the day and leads MP55 by four strokes over Hank Kirwan.
With the hot round of 48 at Winged Deer, Eric Vandenberg jumped leader Tim Keith for sole possession of first place in MP60. Keith is one shot back at 22-under and Jeff Fiedler is third at 21-under.
Jack Gilmore pulled away in MP75 and leads by nine strokes.
PDGA World Champions will be crowned today in MP75, MP80, and FP65 at Harmon Hills.