Partner Up!
Partner Up!
Registration open for the 2019 PDGA Amateur World Doubles Championships
Monday, February 18, 2019 - 15:32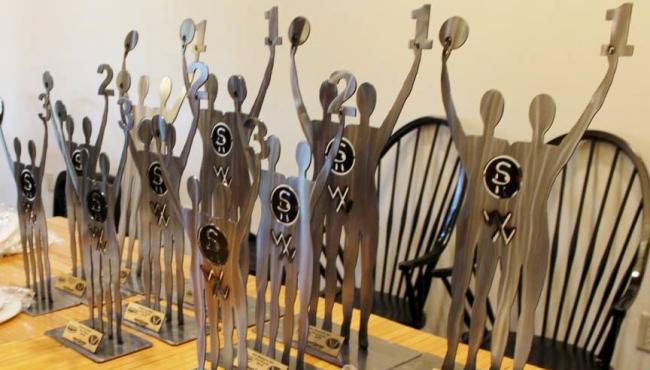 Four championship courses are primed and ready for what is always one of the most wonderful and enjoyable events of the year: the 2019 PDGA Amateur World Doubles Championship presented by HouckDesign. Now gearing up for it's 29th running, this XM-tier PDGA Major pushes doubles teams to the limits as they take on some of the world's most beautiful courses while playing multiple formats of doubles disc golf.
Am Word Doubles will take place for the seventh year in a row in the Texas towns of Talco and Mt. Vernon, with Talco being home to the four courses of Selah Ranch/Trey Texas Ranch and Mt. Vernon serving as the host of most of the restaurants, bars, accommodations, and activities.  This year's event brings even greater participation from the local community thanks to some great contributions from the Franklin County Chamber of Commerce including the decision to host their international food festival downtown on the square the same weekend of the tournament. The Franklin County Chamber of Commerce is also sponsoring and hosting the Texas-style BBQ dinner for the players welcome and reception on Thursday night.
"Community volunteers work hard to ensure these players have the best experience during the tournament and beyond, as many players return throughout the year to play the four John Houck-designed courses in Franklin County. With players from all of North America, and frequent visitors from Central & South America, Europe, and even the Middle East, disc golf has put Franklin County/Mount Vernon on the map!" says Donna MacFarland, President of the Franklin County Chamber of Commerce. 
Courses
Selah Ranch, home to Selah Ranch Lakeside and Selah Ranch Creekside, offers up as many beautiful views as it does challenging holes. Just a few miles away, Trey Texas Ranch does much of the same with two more championship courses, Trey Deuce and Texas Twist. Any of the four courses being used would be difficult for most doubles teams while playing Best Throw or Best Score, so we can only assume that Alternate Throw and Worst Throw are going to produce some interesting numbers. That said, is there anything more fun than playing doubles with your favorite partner? We don't think so. And to get the chance to do just that...on these courses...is truly a blessing.  

Selah Ranch
Trey Texas Ranch
Doubles Formats
The 2019 Amateur World Doubles Championships presented by HouckDesign. plays multiple formats of doubles. The official titles for the formats, as seen in the Official Rules of Disc Golf's  Appendix B: Doubles and Team Play will be as follows: Best Throw, Best Score, Alternate Throw, and Worst Throw. Replace the word "throw" with "shot" and they might sound more familiar.  During the finals, a combination of those formats will be played, e.g. Holes 1-3; Best Throw, Holes 4-6; Best Score, Holes 7-9; Worst Throw.
If you've ever played a round of Worst Shot (officially titled Worst Throw), you know the pain of having a great drive and then watching in horror as your teammate's disc ricochets deep into the woods, over an out-of-bounds line, and/or into the water. But, have you actually played Worst Shot? The term Worst Shot is very commonly misused. Often time when people refer to Worst Shot they are actually playing Tough Shot. They both play by the same rules except with one very critical difference; in true Worst Shot format, BOTH teammates have to hole out. 
There are even more doubles formats that exist. More information can be found in the Doubles and Team Play section of the Official Rules of Disc Golf.
Spots Are Still Open!
Tournament Director John Houck invites all amateur players who have yet to play in a PDGA Major to come out and enjoy this amateur-only event. There are still plenty of slots available for the 2019 Amateur World Doubles Championship, so get your team signed up today!