'Nothing Really Flashy' Propels McBeth To 1088-Rated USDGC Start
'Nothing Really Flashy' Propels McBeth To 1088-Rated USDGC Start
Melton, Anthon two shots behind after day one in Rock Hill
Wednesday, October 3, 2018 - 23:15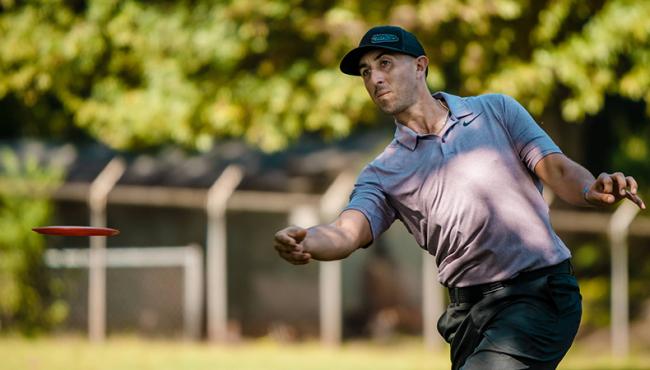 ROCK HILL, S.C. – Paul McBeth was loose, and for good reason.
The four-time PDGA World Champion was walking up to an ideal lie on Winthrop Gold's 18th fairway Wednesday, the result of a soaring flex shot with an Innova Roc that nestled gently into the turf. On the cusp of completing a 1088-rated round to open the United States Disc Golf Championship, the only complaint he could muster was when the conversation turned to football and, more specifically, the recent quarterback play of his beloved Denver Broncos.
For what it's worth, McBeth thinks the squad should turn to second-year backup Chad Kelly, the former "Mr. Irrelevant" who also happens to be NFL Hall of Famer Jim Kelly's nephew.
While that opinion might seem irrelevant in its own way, it was emblematic of McBeth's demeanor during a bogey-free, 13-under par 54 that put him in control after day one of the season's final PDGA Major. There were no worries on the course, so the 2015 U.S. Champion could concern himself with matters beyond the nearby red and gold ropes.
"I shot double digits [under par] each round in practice, so I felt like going with the same thing and just kinda try to have fun out there and not put too much pressure on myself," McBeth said. "I've been playing well, so just try and stick with that."
McBeth, though, wasn't the only competitor in the 129-player field to have his way with Winthrop. Zach Melton and Josh Anthon tossed matching 1076-rated 11-unders to sit in second place after round one, while James Conrad's 10-under par 57 put him in fourth place. From there, a quartet of players made seven their lucky number, as 2009 United States Disc Golf Champion Nikko Locastro, 2018 PDGA World Champion Gregg Barsby, Matt Orum, and Paul Ulibarri fired off 7-under par 60s to sit in fifth place.
From the outset, McBeth had his forehand dialed in. He parked the 253-foot 1st before following up with a birdie 3 on hole 2, both times eschewing his dominant backhand form. Indeed, McBeth rattled off a list of holes – nearly half of them – where he opts to go against his natural inclination as he plays the safer line at the university course.
"They don't call it the 'United States Forehand Championship' for nothing, so I have to throw a lot of them out there," McBeth joked. "…If you look at the last two years it was forehand-dominant players [who won], and 2015 – I don't remember what I did here, but it wouldn't surprise me if I threw more forehands there. So just kinda came out and prepared for that."
Though McBeth didn't light up the scorecard with eagles like he has done in the past – he did miss two looks for them on the day, though, on holes 10 and 13 – he walked away with the only clean sheet in the field, with the stats to match. His 95 percent fairway hit rate was third best on the day, and his 89 percent clip in circle 2 in regulation was second. If that wasn't enough, he led the field in parked shots (33 percent), circle 1 in regulation (72 percent), birdie percentage (72 percent) and scramble (100 percent).
Perhaps the most surprising mark, though, was his average throw-in distance: a whopping 13 feet.
"If you just want to see good golf, that's what I did today," McBeth said. "I threw the disc great and took my birdies when I was there, but nothing really flashy. Nothing that made the gallery go nuts."
Melton shared a similar mindset. After the left-hander put a forehand to 15 feet on the daunting, downhill 18th green, his support squad in the crowd let out a roar to signify that he'd moved to 11-down. Up until that point, he hadn't even paid attention to his score, instead opting for a workmanlike approach.
"Didn't have a clue," Melton said. "I knew I was playing well, but I wasn't thinking about it. Just trying to throw my shots."
The Tennessee pro brought the heat with his putter, connecting once from beyond 10 meters and three times from circle's edge on the front nine. It was a strong recovery from an unlucky slip out-of-bounds on hole 13 – which this year bears the distance-based moniker "999" – that boosted his back half, as he rattled off six consecutive birdies to close the round.
"I think this course, when you mess up it makes you think you have to panic and bounce back and have to do something amazing," Melton said. "And instead, I just threw my shot on 14, put it in the circle, got it, and it was kind of like a relief getting that one right back…And then just played clean on the way out."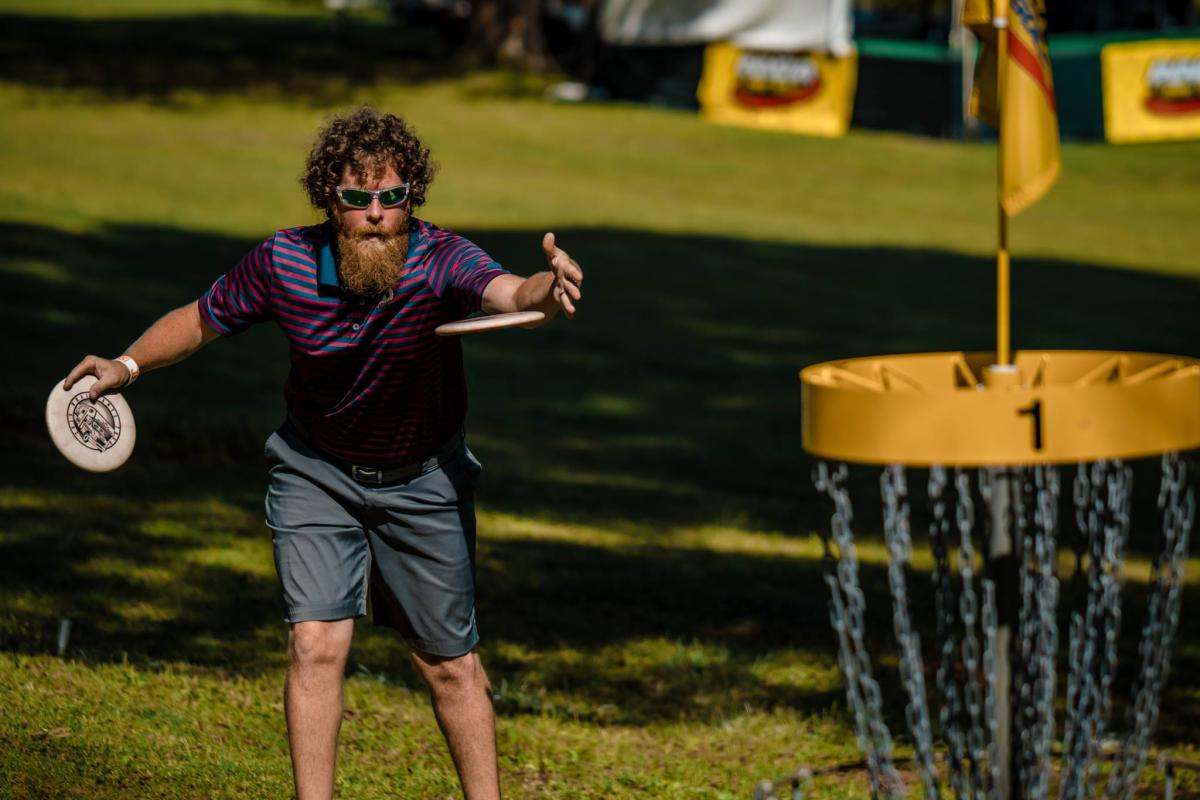 While McBeth and Melton chipped away at Winthrop, it was Anthon who went big. First, it was on the putting green, as the Northern California native saved par with a 50-foot death putt from hole 6's drop zone. Later, he took to the air, landing within 15 feet to take one of the day's six eagles on the 554-foot 10th.
Anthon isn't usually regarded for his distance prowess – "These guys throw so far, I'd prob underrate me, too," he quipped – but was more than comfortable with the risky play on the OB-lined hole.
"If I have decent wind, yeah, I go for it," he said. "It's perfect distance for me. I just throw it nice and hard. I don't have to let up, I can still release it on hyzer. I don't have to do no flexing shots. It's a good distance for me to go for if I have decent wind."
Anthon boasts three career top 5 finishes at Winthrop and is coming off yet another runner-up finish at last month's PDGA Professional Disc Golf World Championships. Simply put, he knows how to contend at Majors, and he already had a specific goal in mind aside from taking home a U.S. title.
"I left seven birdies out there, so I'd like to get all 18. That'd be nice, right?" he joked. "I wanna get in the 40s [under par] for the total. It'd be nice to be around 45, 40-under. We've got all good conditions this week, got some of the shots dialed in pretty good, so I'm comfortable going for the 40. Not saying I will [get it], but I'm gonna try my best."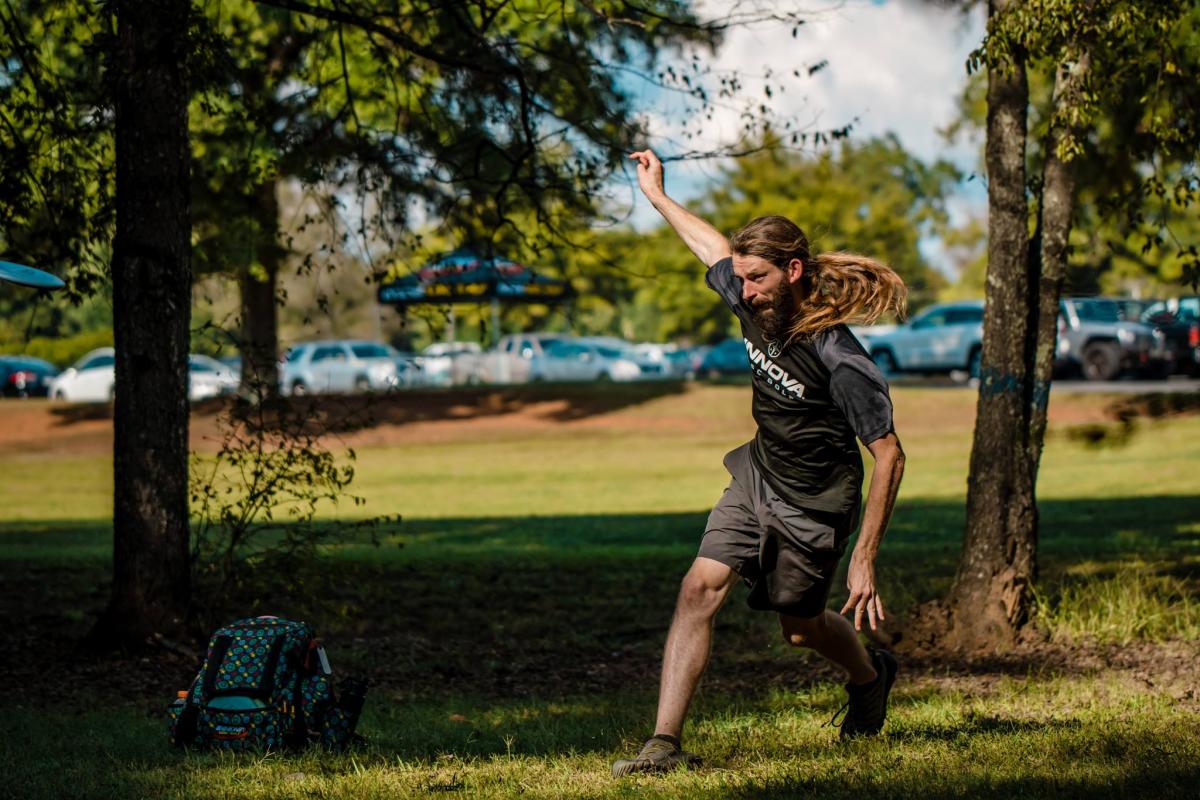 Conrad, meanwhile, was "a little salty" after his Gator approach to 18's green hit one of the boundary stakes and stayed OB. It was an awkward blemish on an otherwise strong showing that put him, yet again, on the lead card at a premier tournament – a spotlight to which the hirsute Virginian is growing accustomed. "That's where I ought to be, I think," he said with a sly grin. That's a far cry from last year's USDGC, when he failed to cash.
Barsby and Orum pushed each other on the same 11:30 a.m. card, with the latter opening play with seven straight birdies. Though both ultimately struggled on the back nine, Barsby – who finished fourth at last year's USDGC and comes into the event now bearing the clout of his recent world championship triumph – was keeping an even temper after the round.
"I feel good, my game feels really strong," he said. "I made a lot of clutch plays. Made some good putts, missed a couple…Everything's feeling pretty good. I'm just getting into the game. I don't know what any of the scores are – I'm not really too concerned."
The rest of the competitors who comprise the top 10 have some early work to do if they plan to chase down McBeth. Emerson Keith opened the tournament in ninth place with a 6-under par 61, while seven players – including 2013 U.S. Champion Steve Brinster, 12-time Danish Champion K.J. Nybo, and two-time PDGA World Champion Ricky Wysocki – sit eight off the pace at 5-under. Defending U.S. Champion Nate Sexton and 2018 playmaker Eagle McMahon are part of a five-way tie for 17th place at 4-down, and the event's two women's players, Paige Pierce and 2018 PDGA World Champion Paige Bjerkaas, are tied for 103rd and 116th, respectively.
While Melton admitted to having some advantage as a left-hander on Winthrop – though he was quick to point out that there haven't been any lefty champs here yet – his approach heading into Thursday was less focused on the shape of his lines than actually keeping it between the lines. "It's nothing fancy," he said. "It's 'don't throw OB.'"
McBeth preached patience. Though he said he'd love to wow the crowd with long putts or aggressive eagle bids, he was dedicated to an approach that already yielded results. But he also knew he needed to repeat those results.
"I think I've been in this position before, and a lot of people have been in this position before, and usually those people don't win," McBeth said. "So yeah, it's gonna take three more good rounds to win this tournament."