MPO Tied at the Top; Pierce Continues Jonesboro Dominance
MPO Tied at the Top; Pierce Continues Jonesboro Dominance
2020 DGPT - Jonesboro Open Round One Recap
Friday, October 2, 2020 - 01:54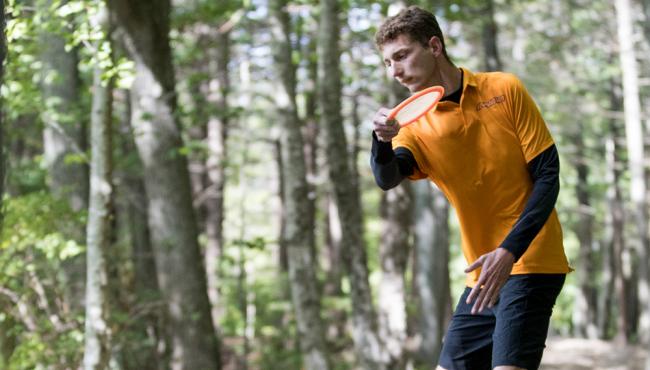 Calvin Heimburg set the bar early in the day on Friday at the final regular-season stop of the Disc Golf Pro Tour at the 2020 Play It Again Sports Jonesboro Open presented by Prodigy.
Paul McBeth met the challenge.
The two kicked off a furious three-week run in northwest Arkansas with blistering performances at the Disc Side of Heaven course, the final track before next week's USDGC, which is followed by the DGPT Championship.
Heimburg, on the course early Friday, set the pace with 12-under par and watched as players trickled in with numbers below the double-digit mark. That's until McBeth took an afternoon stroll through the long, elevated and windy course to match the 1074-rated day.
To finish opening day action, Paige Pierce continued her dominance of the event with a scorching 10-under, 1026-rated 56 to race to a commanding six-stroke lead heading into moving day. Pierce, in preparation for the Women's National Championship next week in Rock Hill, South Carolina, is a five-time champion in Jonesboro.
McBeth, who told the DGPT that 9-under round would be solid, said the course was a solid prepartion for the USDGC and had a few reasons to make the trip to the rescheduled event, which usually takes place in the spring. He also commented that he's taking notes on the private course to apply to his work-in-progress backyard track.
"It motivates me to get home and build something like this," McBeth told the DGPT. "This is a weird year and playing this one and the next two will only give me 13 tournaments on the year. I wanted to get some tournaments on my schedule and knowing that it's a pretty easy direct flight from Charlotte to Memphis was motivating as well."
Tournament No. 11 on the year was solid. McBeth led the field in fairway hits (95%), parked percentage (28%), Circle 1 in regulation (67%) and Circle 2 in regulation (94%) en route a bogey-free day, one of four in the opening round joining Lance Brown, Jake Hebenheimer and Luke Humphries.
Heimburg got his lone bogey out of the way quickly on Hole 5, responding with a park job on 6th which sparked getting 11 of the next 12 holes under par. McBeth was 7-under through nine holes but sputtered on the back nine slightly.
Thomas Gilbert and Reid Frescura round out the top card for moving day, shooting 9-under and 8-under, respectively.
Garrett Gurthie smashed an ace on the 270-foot 15th and was caught on film by the Disc Golf Network and JomezPro. Gurthie (7-under) is joined on the chase card by Andrew Presnell (8-under), Chris Dickerson (7-under) and Michael Mayo (6-under).
For Pierce, it was straight domination.
After a three-for-three start, Pierce ran into trouble on the 5th but the rest of the UDisc Live scorecard was all blue, including an eagle on the 750-foot, Par 5 ninth for a five-under front nine, which she matched on the back.
Pierce finished first in Circle 1 in regulation (78%) by a sizeable amount.
Hailey King is in second at 4-under and went 100% from Circle 1X. Jessica Weese and Catrina Allen are tied for third at 2-under par. Allen was first in fairway hits ahead of Krissie Fountain, who will join Emily Beach, Kat Mertsch and Ellen Widboom on the chase card.
Catch all of the action live on the Disc Golf Network beginning at 1:35 p.m. ET.