Local Phenom Chen Shocks International Stars At 2020 Asia Open
Local Phenom Chen Shocks International Stars At 2020 Asia Open
22-year-old may be the world's best player you (had) never heard of
Monday, February 10, 2020 - 15:01
Arriving in Taiwan amidst the afterglow of his third victory at the Samui Swine Classic in Thailand, Philo Brathwaite, together with fellow Asian swing tourist and 2019 United States Disc Golf Champion James Conrad, were the odds-on favorites to take down the title at the 2020 Asia Open in the southern Taiwan port city of Kaohsiung. If not them, then surely either smooth throwing Texan Nate Perkins or Japan's long-time top dog, Manabu Kajiyama, would seize the day and the victory spoils.
Unbeknownst to all except Tournament Director Mac Hsiao, local promoter extraordinaire Kuan Chen, and their fellow Formosan Frisbee® sports aficionados, a rising Taiwanese star was ready to battle the touring pros.
Competing in only his second-ever PDGA event, 22-year-old Jacky Chen stepped up to the tee and played Open lead group golf all weekend long. In the final nine he bulls-eyed the mango tree green on hole 5 to tie Brathwaite for the lead. Chen then parked the event's signature hole, a wicked 166-meter (546-foot) downhill shot with snaking out-of-bounds and a hidden green, for eagle to take the title.
As we gained more insight, it was clear this performance was no fluke. Chen's father was an overall player, and Jacky himself is used to intense competition as a first-team volleyball player at his university. He throws backhand and forehand lasers, and his putt bears an uncanny resemblance to Paul McBeth's deadly inside circle 2 routine – the result of watching countless videos of his hero on YouTube. While Chen admitted to being nervous, he didn't stop believing he could win and the rest is now history.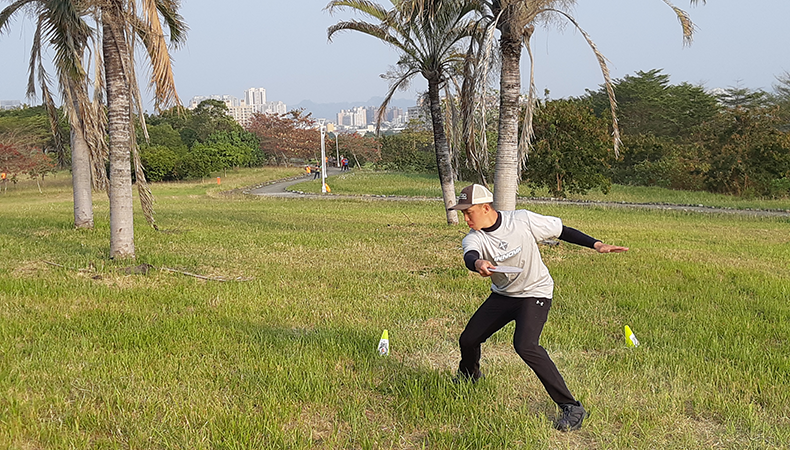 Chen's breakthrough showing put an exclamation mark on this spirited biennial event that attracted 70 competitors from 12 countries — and would have drawn more had the alarming Coronavirus specter not spooked some registrants into late withdraws. Those who made the journey had the good fortune of being treated to a challenging temporary layout in Kaohsiung's Metropolitan Park, generous player packages, delicious Chinese box lunches, a beer sponsor, a spirited throng of event volunteers and the spectacle of a new local disc golf hero.
In short, Chen is — to quote Terry "The Disc Golf Guy" Miller, who filmed the proceedings — "the world's best player you (had) never heard of." To our event hosts we say Xièxiè (thanks) for a wonderful weekend and, to Chen, Gōngxǐ (congratulations)! We hope to see you at a PDGA Major soon.
Comments
OMG! When is Jacky Chen coming to the United States?!