Inaugural United States Junior Disc Golf Championship's First Day In The Books
Inaugural United States Junior Disc Golf Championship's First Day In The Books
Close battles abound at Smugglers' Notch Resort
Saturday, August 4, 2018 - 00:01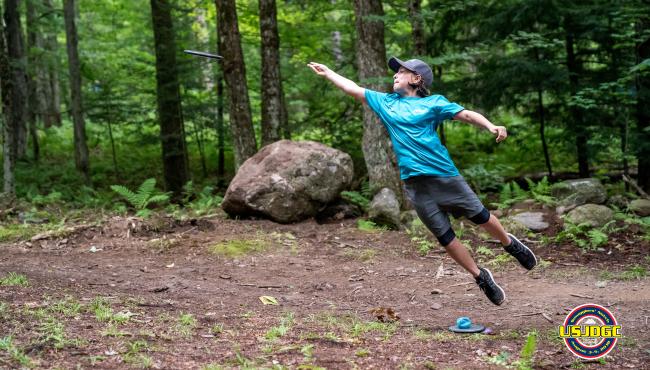 Friday was a day for the kids, as 87 junior participants attacked the Brewster Ridge Disc Golf Course at Smugglers' Notch, Vermont, during round one action of the inaugural United States Junior Disc Golf Championship. The event will crown the first ever Official Junior National Champions for Disc Golf, with a team consisting of staff from four organizations – Kids Disc Golf, Eagles Wings Disc Golf, the Green Mountain Disc Golf Club, and Smugglers' Notch Resort – coming together to make this event a reality.
The brainchild of Kids Disc Golf Founder and Director Matt Grayum, the USJDGC landed at Smugglers' Notch Resort after Grayum called up Jeff Spring, Tournament Director of the Green Mountain Championship and this year's fast approaching Pro World Championship, and pitched the idea to bring the event to the property. Immediately seeing the chance for a perfect fit, Spring agreed to move forward quickly and enthusiastically. "It was a no-brainer," Spring said. "I'd been watching the fantastic content, events, and overall progress that Kids Disc Golf was bringing to the youth side of the game, particularly in the New England area." Chris Young, President of Vermont's Green Mountain Disc Golf Club, added his support, and the event planning was off and running.
Josh Grayum, Matt's brother and co-director at Kids Disc Golf, is serving as Tournament Director for the event, and already was pleased to see the great competition unfolding on Friday. Many divisions are close and feature good races headed into round two on Brewster. Justin Gilbert and Alden Harris are tied atop the MJ18 division, with many others within striking distance, including local Tom Shanley, who has the advantage of knowing the courses well after competing in several events at the Smuggs Disc Golf Center. Other divisions, such as FJ15 and FJ12, feature some bigger leads, including the eight-stroke and 11-stroke leads that Lily Marr and Lilly Ruthen hold, respectively. Ruthen, a two-time Junior World Champ, is hoping to add U.S. title to her resume.
There is also a battle heating up in the MJ10 division. Uriyah Kelley and Phil Kozlowski share the lead, but there are five others within five strokes. In MJ8, another local is in the mix: Finn Etter, who has been playing the courses at Smugglers' since he was four years old and has multiple junior division wins there. Etter has had such an impact on the course staff that the tiki course set up near the pro shop is named in his honor: "Finn's Forest Foray." It will be interesting to see if he can hold off a field that includes Hunter Grayum, who had a tough first round, but still has time to make a move.
The action off the course has been just as busy. Kids Disc Golf brought Dustin and Hannah Leatherman of Eagles Wings Disc Golf to the event planning and execution team. Veterans of the sport, with Hannah a U.S. Champion herself, they have helped implement the event every step of the way. Hannah helped run a free pro clinic on Friday with Paige Pierce, who flew in to support the event. The clinic was one of many off-course activities lined up for the kids participating, a list that included a kick-off country fair, free ice cream social, a bonfire, and fireworks on Thursday night. That was followed up by a Pizza Party and Fun Zone 2.0 take over at one of Smugglers' newest family fun facilities featuring laser tag, an arcade, a ninja warrior course, climbing wall, and more. The U.S. Junior putting championship finals took place in the FunZone, and on Saturday competitors will get to compete in a mini disc golf championship set up by Young before a pool hangout at one of Smugglers' three pool complexes.
As a perennial winner of SKI Magazine's kid & family friendly awards, Smugglers' was honored last winter as the best overall resort in the Eastern U.S. and Canada. Spring said that's all built from the youngest guests up, which makes a partnership with Kids Disc Golf fit so nicely.
"As a resort that is entirely focused on family, I knew we could only benefit by welcoming in experts in youth disc golf," Spring said. "When building, we designed our courses with four tee boxes from the get-go. That was precisely in order to make the courses able to both test the pros but be approachable for families."
Spring noted that he was impressed with the detail and consideration that the Grayum brothers brought to the courses set up for each division competing this weekend.
"Josh was a technician when it came to selecting an appropriate tee for each division on every hole," Spring said. "I thought that each division could pick one of our tee layouts and stick with it for the round, but I learned a lot watching him figure out the best tee on each hole. He and Matt have a great eye and understanding for exactly what challenge is required across all divisions."
While the second round brings competitors back to Brewster Ridge, the third and final round on Sunday is already looming in the minds of many competitors. Fox Run Meadows awaits, along with its increased distance and lots of out-of-bounds. With that challenge ahead, there is plenty of room for leads to be lost and charges to be made.
We are excited to see how this first iteration of the USJDGC plays out. Stay tuned for more updates, and follow the hole-by-hole scoring at PDGALive.com!
Comments
That is Lilly Ruthen in the photo. Not Finn Etter.