Humphries Extends Lead, Mandujano Sisters Set for Lead Card Family Feud
Humphries Extends Lead, Mandujano Sisters Set for Lead Card Family Feud
Cuts for semifinals to come after Friday's regulation rounds
Friday, July 27, 2018 - 09:55
For the hundreds of competitors that made the trek to Charlotte for the 2018 PDGA Amateur Disc Golf World Championships, the time has come to put it all on the line. With Thursday's scores posted, most divisions have just one round left to play before the fields are significantly reduced for Saturday morning's semifinals. For the players, the battles at the top of the leaderboards take a back seat to the ones taking place at the cut line on moving day.
 One person that doesn't have to worry about being cut is Assistant Tournament Director Mark Huether -- not because he'll be busy counting scorecards or blowing air horns, but because he is leading the Advanced Masters 40+ division. After putting in thousands of hours of work to set up and run Am Worlds with Tournament Director Robert Leonard, Huether has taken a few hours a day this week to compete.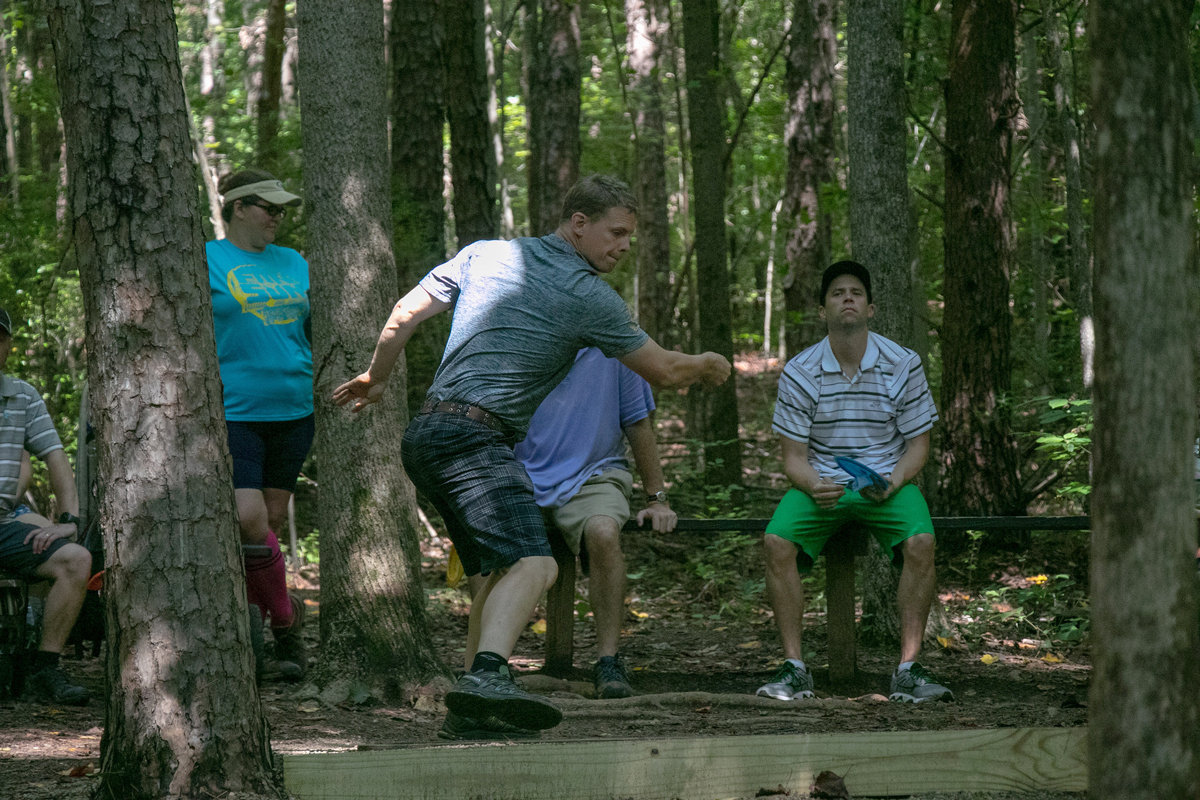 But it's not all fun and games for Huether. "It's been two years of stress and endless hours of work. It's hard to relax and just play," he said while prepping for his Friday morning round at Hornets Nest. "Even with the best staff and volunteers in disc golf, enjoyment and course conditions for the competitors weighs on my mind. I'm happy to be leading, but happier to see players enjoying their time here."
Hornets Nest is one of the toughest tracks in Charlotte, but to be fair, disc golf in this city never seems to be easy. The Advanced Women took on the Nest for their fourth round on Thursday afternoon and Valarie Mandujano teed off as the leader, three or more ahead of the field. After having to drop out of last year's Am Worlds due to a knee injury, she's happy to be back on top of her game.
"It feels good to be back from last year's injury," Valarie Mandujano said before her morning round at Sugaw Creek. "It took a lot of training to get my game and form back to where I needed it to be to make a run at an Am title."
While she battled it out with Deann Donaldson, Alicia Knox, and Sammy Jo Guerrero, her rival was making a move on the lead card. OK, rival might not be the best word for it.
At 19, three-time junior world champion Valarie Mandujano has spent most of her disc golf career practicing with and/or competing against her now 17-year old sister, two-time junior world champion Alexis Mandujano.
"It's more of a sibling battle!" Valarie Mandujano said. "We are used to being on the lead card together, but even as competitors, we still root for each other with the hopes that we can battle it out in the end."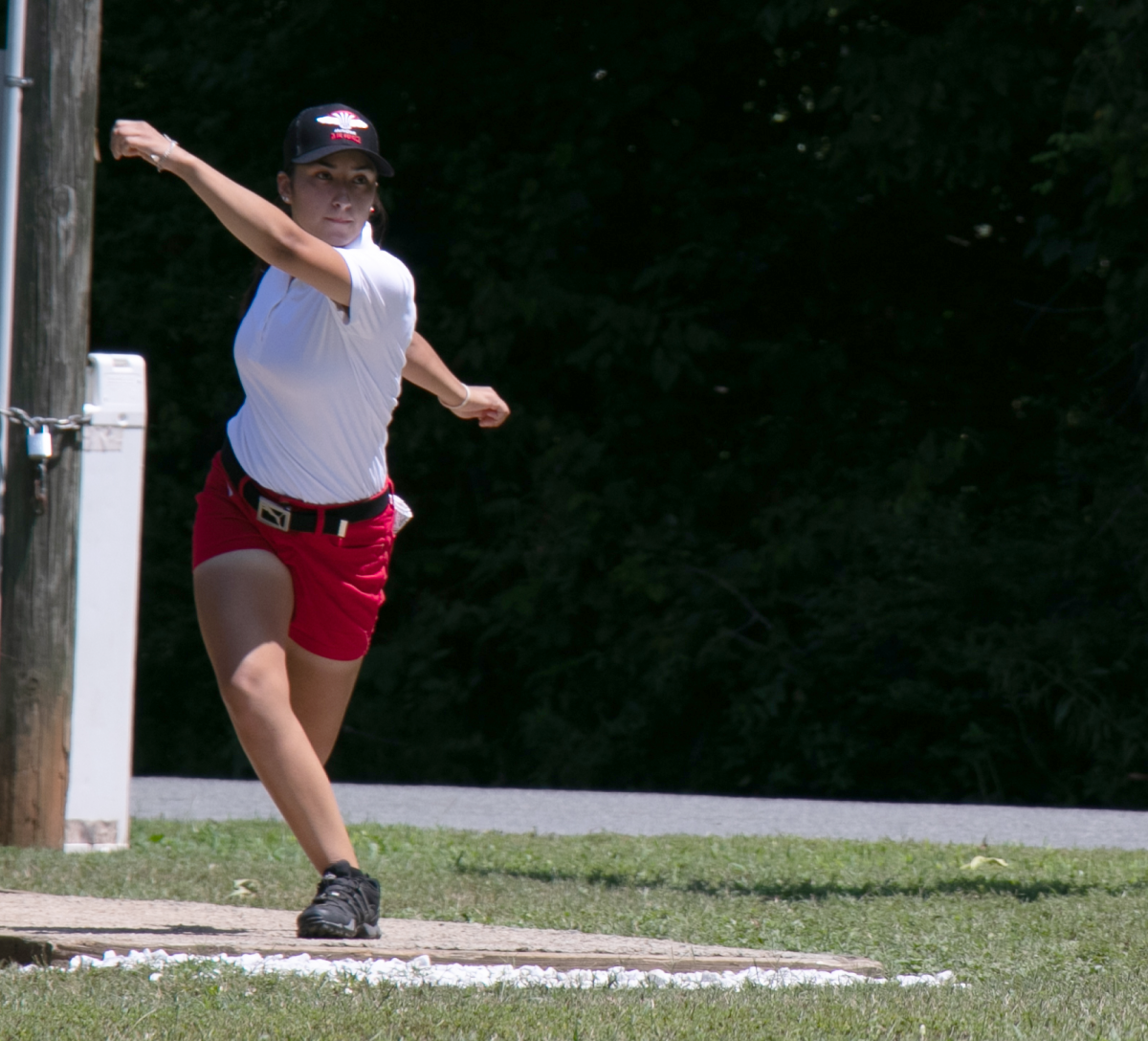 The women will play rounds five and six today, and their field of 56 will be cut to the top 20 (plus any ties, if applicable) once the round scores are posted this evening.
The Advanced division is already five rounds deep, and after a chance to sleep in this morning they'll head out to Nevin Park for one last hurrah before the semis. At 288, they are by far the biggest field, and only the top 72 will make it through for a chance to play Hornets Nest on Saturday morning.
After adding to his lead after every round, Luke Humphries is on pace for a wire-to-wire Am Worlds title. His moved his margin from five to six after Thursday morning's round at Robbins Park and then he threw the hot round of 10-under par 45 in the afternoon at Bradford Park to finish nine ahead of Portland's Michael Grummert. Grummert, who jumped to second place by matching Humphries at 45, will be joined by Georgia's Zach Haynes and Indiana's Andrew Cornwell on the lead card at Nevin at 2:00 p.m. EDT.
Follow along at pdgalive.com for scores and updates as hundreds of competitors duke it out for a chance to play even more disc golf on Saturday!
For more information on the cuts for semis and finals, see the bottom section of the 2018 Am Worlds Course Schedule.