How To Follow the Santa Cruz Masters Cup
How To Follow the Santa Cruz Masters Cup
Media details for this weekend's PDGA National Tour stop
Wednesday, May 15, 2019 - 19:13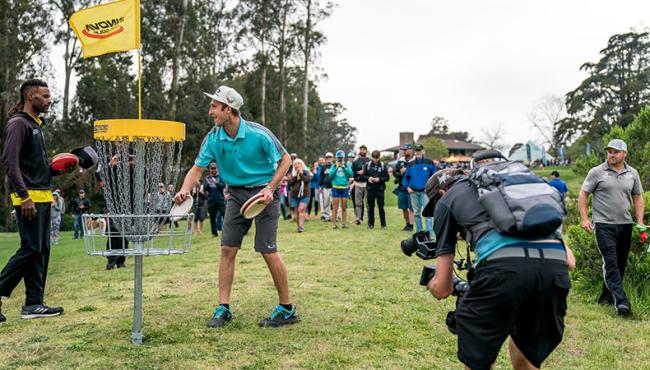 If you're talking about disc golf history, you're probably going to be talking about DeLaveaga.
A PDGA National Tour event since 2004, the Santa Cruz Masters Cup continues to highlight the iconic hillside course this weekend, with rounds of 24 holes on Friday and Saturday. The final 18 takes place Sunday down the hill at the DeLaveaga Golf Course, a venue that has been included since 2016 as the DeLaveaga Disc Golf Club has shepherded this beloved tour staple into modernity. The two tracks balance styles both old and young, highlighting the natural beauty of the Santa Cruz Mountains with a little something for everyone.
A little something, that is, except for cell phone service.
As a result, there won't be live streaming video this weekend at DeLa. Instead, the best of the best in the post-production game will be on-site providing shot-by-shot action, while fans hungry for up-to-the-minute information on their favorite players can tune in via UDisc Live. 
Here's everything you need to know to follow the Masters Cup:
Instant Scoring
With more stats than you can shake a stick at, keep an eye on UDisc Live all week for in-the-moment moves from the Masters Cup.
Post-Production Video
Daily Round Recaps
No time to watch a full round? Just need a quick rundown of the day's action? We'll have you covered through the PDGA's YouTube and social media channels with daily round recap videos that will mix quick-cut highlights with player interviews and stats breakdowns. We'll do our best to fit everything you need to know into an easy-to-digest, easy-to-share package, all thanks to cooperation from our post-produced video teams and ace editor Cory Murrell.
Jomez Productions | Subscribe  
Open Lead Card
With more than 100,000 subscribers, JomezPro has made a name for itself as one of disc golf media's hardest working crews. The Texas-based company is back for another run of lead card coverage at the Masters Cup, with the popular commentary duo of Nate Sexton and Jeremy Koling behind the mic. Feature card »
Central Coast Disc Golf | Subscribe 
Open Women's Lead Card
Central Coast Disc Golf continues to add flourishes to their coverage, with 2019 bringing a dedicated reaction camera and the regular inclusion of throw speeds and distances. These "Chumps" are bringing that flavor to the Open Women's lead card, with defending champion Paige Pierce set to join head honcho Ian Anderson in the commentary booth. Feature card »
Par Save Productions | Subscribe 
Open Chase Card 
Minnesota's Par Save Productions continues their west coast adventure with Open chase card coverage this weekend. Known for smooth graphics and post-hole shot-by-shot diagrams, this crew is a welcome addition to an ever-evolving disc golf media landscape. Feature card »
Highlights, Interviews, Sound Bites
In addition to the work he'll be doing for the PDGA, Johnny DiscGolf will be releasing his own set of unique clips, interviews, and more on his personal YouTube channel.
Photography
Alyssa Van Lanen Images | Follow 
In just two years of touring, Alyssa Van Lanen has become the preeminent photographer when it comes time to get the right disc golf shot. From in-your-face actions to candid reactions, Van Lanen will have photo galleries from each day of competition.
PDGA Social Media
PDGA Media will be on the ground all week bringing the sights and sounds from the event. Whether it's behind the scenes shenanigans on Instagram stories or photos and interviews on Facebook and Twitter, we'll be communicating across all of our platforms for the week. Plus, be sure to subscribe to our newly refreshed YouTube channel, where we'll post daily round recaps and other highlights from the event.