Hokom, Pierce Meet Atop MVP Open Leaderboard
Hokom, Pierce Meet Atop MVP Open Leaderboard
Three tied for third after day one at Maple Hill
Saturday, August 25, 2018 - 00:48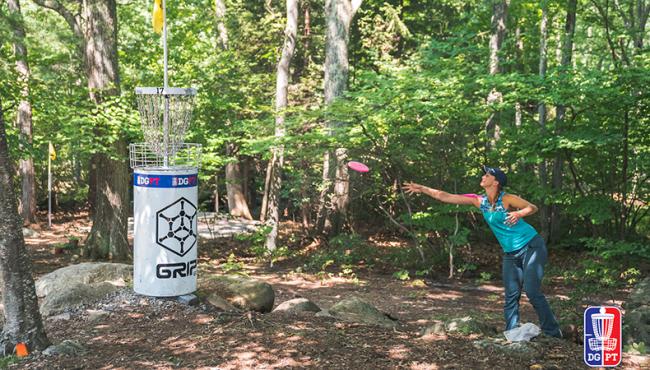 When it comes to Maple Hill, Paige Pierce and Sarah Hokom have provided a case study in opposites.
On the one hand, Pierce is looking to make it five in a row at the Massachusetts mainstay, a run of dominance the host course hasn't seen since Des Reading's flurry of four straight wins from 2003-2007. Hokom, meanwhile, hasn't tasted victory at the track in more than five years, with her 2011 National Tour triumph a standout among a smattering of finishes outside the top 5.
For once, then, Pierce and Hokom's diverging paths finally crossed during Friday's opening round of the MVP Open, as the two Open Women's veterans tossed matching 2-under par 59s to take an early lead at the last Disc Golf Pro Tour event of the season. A pair of up-and-comers – Paige Bjerkaas and Rebecca Cox – kicked off the weekend with even-par 61s to land in third place alongside Catrina Allen, while Lisa Fajkus' 1-over par 62 is good for sixth place.
Pierce and Hokom's matching tallies came in strikingly similar fashion, as both struggled to score on Maple Hill's front nine. After Pierce started with a 3 on the downhill, 720-foot opener – it was the only birdie in the 30-player Open Women's field – she struggled on the green, two-putting for par on hole 7 and bogey on 9. Hokom's trouble spot was the densely wooded sixth, where she caromed out-of-bounds off the tee then misfired from inside 10 meters on her way to a double-bogey 5. She made up for the errors with a park job for deuce on 8 and took a one-shot advantage over Pierce into the back half.
That's where both women picked up the pace. Pierce made the connection from 16 feet for 2 on 10 before clearing the Christmas trees for another birdie on 11. She soon found the inside-the-circle blues once again, as she two-putted on holes 12, 13, and 14 to negate the previous scoring streak. Undeterred, she made up for it by closing hot, snagging four straight birdies to get her score back under par. Hokom went 4-under in her last five frames, as well, closing out with a turkey.
After the round, a calm, collected Hokom relaxed in a hammock behind hole 17, and physical state seemed to match her mental one. Despite the MVP Open shrinking from four rounds to three this year, Hokom said there was no sense of urgency due to the condensed format.
"You can't really have a blow-up round, that's for sure. I had a blow-up round last year and was only able to get back into the cash because I played well the other two [days after]," Hokom said. "…You just have to play consistently, you know? It almost makes you play a little more conservatively because you can't afford to take a lot of risks."
Elsewhere on the leaderboard, Haley Childs couldn't keep the momentum going from a relatively clean front nine and dropped from the virtual lead to a three-way tie for seventh place with Tina Stanaitis and Erica Johnson. Just like Hokom, Madison Walker carded three-straight birdies to close with some momentum and move into the top 10.
Hokom said she might change her approach on a few holes on Saturday, and specifically pointed to a need for improvement off the tee on 11. And as the touring season comes into its home stretch, she's also augmented her travel regimen to play fewer tournaments to "conserve my body a bit and stay fresh" as she eyes recapturing both United States and World Championship titles.
The upshot? Fewer competitive rounds means she's been able to add some new skills to her game in the off weeks.
"Recently added a few more backhand angles that I didn't have, and I have more control than ever over a number of different shots, so that's helping me even more in the woods to scramble," Hokom said. "…That's been really fun, actually. I even added a spin putt back into my game."
She'll have a chance to deploy it Saturday as the Open Women's lead card tackle Maple Hill at 8:20 a.m. ET. Real-time scoring and stats will be available a UDisc Live, with shot-by-shot coverage airing at 2:00 p.m. ET on the Disc Golf Pro Tour's YouTube channel.