Hokom Heats Up Early At Snowy Las Vegas Challenge Opener
Hokom Heats Up Early At Snowy Las Vegas Challenge Opener
Reigning world champ Bjerkaas one stroke back
Friday, February 22, 2019 - 11:18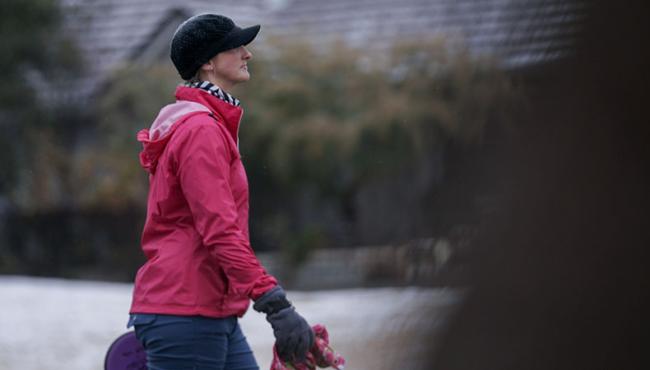 HENDERSON, Nev. – Snow blanketed Wildhorse Golf Club's fairways Thursday morning, and while the dusting made for idyllic scenery, it wasn't ideal for disc golf. Open Women's competitors at the Las Vegas Challenge made last-minute shoe swaps, huddled under hoodies, and geared up for battle with the elements.
Sarah Hokom, though, wasn't going to let a little snow spoil her first round playing for a new team.
Hokom's 992-rated 6-under par 53 was dotted by her signature precision and accentuated by a touch more distance than in the past, as the longtime pro started her season with a bogey-free affair to take an early lead at the first PDGA National Tour event of 2019.
"A huge monkey off my back, really," Hokom said. "I had no idea how it was gonna go out there. I hadn't played a tournament round yet since my new lineup with MVP, so it's really exciting to go out bogey-free."
Hokom was undaunted by the cold conditions, landing in the fairway on 61 percent of her opportunities and connecting on all of her attempts from inside circle 1. Without any wind, her round was a breeze.
"I thought I would have to change my game on the approach shots because it was slippery on the grass because of the snow," Hokom said. "But I didn't have that many situations where I was on slippery footing, so it was pretty much sticking to the game plan, and it worked."
Reigning PDGA World Champion Paige Bjerkaas is on Hokom's heels, as the 22-year-old started with a 982-rated 5-under par to land in second place. Catrina Allen and Jennifer Allen tossed 3-under par 56s to tie for third after the first 18 holes of play, while Rebecca Cox, Jessica Weese, and Eveliina Salonen are knotted up at 2-down.
Bjerkaas, who is kicking off her first true full-time tour, said he came into Las Vegas with something to prove.
"Absolutely," Bjerkaas said. "Especially after Worlds I didn't have a very good end to my season, so I practiced hard to come out firing the first tournament.
It paid off from the tee: Bjerkaas currently leads to Open Women's field in fairway hits (82 percent), parked shots (24 percent), circle 1 in regulation (53 percent), and circle 2 in regulation (76 percent). Indeed, she wasn't really hampered by the snow.
"It wasn't as bad as I thought," Bjerkaas said. "I kinda just slowed down on the teepads and made sure I took my time, and it worked out pretty well."
She'll need to pick it up on the green, though: Bjerkaas slumped to a 41 percent clip from 10 meters and in. "Putting was struggle today," she said.
Stat of the Day
Hokom was the only player in the 31-competitor field who was perfect inside the circle.
The Hole Story
As opposed to the Open field, where it was the third most difficult, hole 6's triple island played the toughest for the Open Women's division. Clocking in at an average of 0.81 strokes over par, the 294-foot par 4 yielded six birdies, but also coughed up a 7 (Zoe Andyke) and a 10 (Tiara Jewel).
What's Next
The field jumps across Wildhorse to tackle the Innova Course, the first of two jaunts around that track. The 8,625-foot track amps up the out-of-bounds strings compared to round one, which lines up well for Hokom.
"I would say there's a little bit more strategy on the Innova course," Hokom said. "…I was nailing my lines pretty good today, so I won't really be changing anything."