Get to Know the Three Candidates for the PDGA Europe Board of Directors
Get to Know the Three Candidates for the PDGA Europe Board of Directors
Three Positions are Open on the European Board
Tuesday, June 15, 2021 - 13:24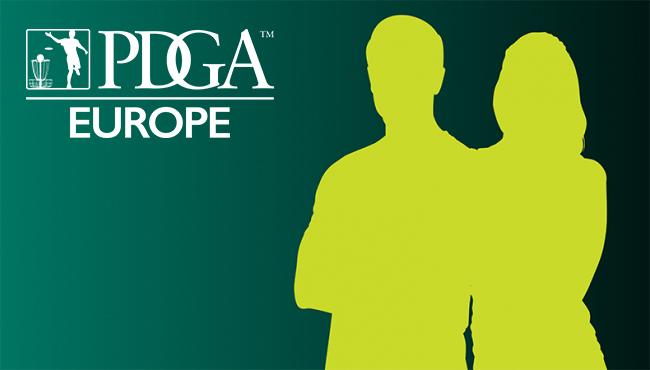 Three candidates with wide-ranging skillsets, both professionally and within the sport of disc golf, have filed for three open positions on the PDGA Europe Board of Directors.
They're all ready to help take European disc golf to the next level.
PDGA Europe is a nonprofit organization registered in Finland. A Board of Directors is mandated by the PDGA Europe bylaws. In addition to holding an annual summit meeting, the PDGA Europe Board and staff conduct monthly teleconference calls and ongoing communication to accomplish required business. Some of the Board's main activities include: setting PDGA Europe policies and priorities; hiring and supervision of staff, financial management including annual budget; identification of responsible future Board members; and representing the membership's visions for the future of the sport and the association.
Three at-large board member positions will be elected this year during a month-long election throughout the entire month of July.
The three candidates that receive the most votes will serve three-year terms from September 1, 2021 to August 31, 2024. For additional information, please see the PDGA Elections page.
Here are the three candidates who have stepped up and are ready to help take the sport of disc golf to the next level, along with their background information and statements of intent:
2021 Europe Board Candidates
Location: Braine L'alleud, Belgium
Occupation: Professional disc-golfer, woodworker, audio-visual creator, MDG creator
Biography/Candidate Statement: I won't explain my whole life here. All I can say is that all the experiences that I lived made me evolve. Made me become someone motivated and passionate. I love to meet new people, to share my passions and help to make evolve new projects. To me, PDGA Europe is a good one. I would love to help this whole thing growing and be sure I will be there to make things change.
Professional Experience: I had a few experiences as a student. Not super interesting but made me learn to listen to orders.
For 4 years, I'm working with my dad. Woodwork mainly but a lot of other sectors of the construction. I think my dad has gold in his hands. Thinking this, I'm managing the whole marketing and communication part for 6 months now.
Website creation, social medias, videos and pictures. All this work for Wood Be made me launch and organize 2 new projects.
The first one is More Disc Golf. For 6 months now, we are working on creating a brand like Jomez but in Europe. Our goal is to make disc golf grow on our side of the Atlantic Ocean in the next few years. Even in Belgium, our goals are big.
I won't explain everything here. You will be able to see all our work in the next few weeks.
Second project is our production company. We are 3 friends, fan of videos, pictures and creation of content. This artistic side is also highly present in our More Disc Golf project. Everything is connected.
Disc Golf Experience: I'm playing disc-golf since I am 10 years old. This sport represents my life. This sport made me grow as someone good to others. The whole disc golf community is, to me, the best one in the world. Good people, good vibes, will to make the sport grow.
My professional experience is full of stories. Also something that made me become the man I am today. A man I'm proud of.
I would give everything for this sport and I would take so much pleasure to help this european board to make it happen.
Location: Nottinghamshire, United Kingdom
Education: BEng(Hons) MEng IEng MBCS CITP
Occupation: AT&T Senior Project Manager 2000 – 2020
Biography/Candidate Statement: Firstly, a big "hello" to all European PDGA Members from me William B. Woodward "Willy" PDGA #85282 here in the heart of Robin Hood Territory in Nottinghamshire in the United Kingdom.  Secondly, I am delighted to have this opportunity to campaign for your vote at the 2021 PDGA Europe Board Member Elections. The opportunity to play a leading role in both the governance and development of Disc Golf at the European Continental Level and to promote the PDGA Europe Brand is something that I take seriously i.e. it is not for myself rather for the beautiful game of Disc Golf itself (includes those yet to discover their question of "what is Disc Golf" through existing Players . . Course Owners . . every aspect . . Tournaments . . Volunteers . . Social Media . . Sponsorship and much more).
Please take a moment to watch my YouTube Video Message in support of my 2021 PDGA Europe Board Member Elections Campaign. I hope you make it to the end and ultimately decide to Vote For Me.
Professional Experience:  AT&T Senior Project Manager (2000 - 2020) where I was responsible for the definition, design and commissioning of multi-national, multi-disciplinary, multi-million dollar global outsourcing engagements. Additionally, Line Management responsibilities and duties . . staff objective setting, appraisal, professional development and coaching.
Snippets from my LinkedIn Profile include:
IEng Engineering Council Incorporated Engineer.
MBCS Member of The British Computer Society.
CITP Chartered Information Technology Professional.
PRINCE2® Practitioner Project Management Certification.
MSP® Managing Successful Programmes Programme Management Certification.
ProjectWorld March 2002 "From Nowhere to Know Where", speaker.
Healthy Buildings '94 Budapest, speaker.
My LinkedIn Profile records it all . . please go eyeball it for the full detail.
Most importantly, I am a proactive / dynamic forward thinking individual with a meticulous attention to detail.
The combination of Education, Professional Qualifications and Professional Experience equips me with a comprehensive skill set that covers Contract Management . . Change Management . . Benefits Management . . Finance . . Human Resources . . Communications . . Quality Management . . all aspects and from Cradle to Grave too.
My Professional Experience extends to include my Professional Ethics. These include:
Be honest and act with integrity.
Treat others with respect.
Maintain reputation (both brand and image).
Take ownership and be accountable.
Policy compliance.
Be both loyal and trustworthy.
International Athlete RHFH competing MA50.
Disc golf experience: My Disc Golf Adventure begun at Cropwell Cricket Club in 2016 when Morgan Harteveld handed me a Disc . . as a Squash Player of +30Yrs it was only natural that I threw it forehand . . Morgan put another Disc in my hand and said "do that again" . . I did . . again and again.
Highlights from my Disc Golf Adventure of +5Yrs include:
The Disc Golf Family that I had no idea would emerge during those formative throws at Cropwell Cricket Club . . it is fantastic.
Approaching my half century of PDGA Sanctioned Tournaments.
Competing in Croatia . . England . . Finland . . New Zealand . . Scotland . . Thailand and at all levels (C-Tier, B-Tier and A-Tier) . . I look forward to expanding this Country List.
Founder Member of Nottinghamshire Disc Golf Club . . their Secretary too.
Founder Member of The Geri Dragons Disc Golf Club.
Last Tournament where I was Tournament Director was for the PDGA Women's Global Event 2021 . . that Tournament smashed two records: First UK PDGA Sanctioned Tournament to secure eighteen unique Hole Sponsors; Greatest number of Female Players competing in a UK PDGA Sanctioned Tournament.
My next Tournament as Tournament Director is The Welsh Open 2021 "Enter The Dragon".
Introducing Disc Golf to others just as Morgan did with me back in 2016 when he handed me a Disc . . thank you Morgan.
I wish all those competing at the EDGF 2021 European Disc Golf Championship Czech Republic the very best. Also, a massive thank you to everybody (Organising Team . . Affiliated Associations . . Sponsors . . Volunteers) for making this prestigious event possible.
Remember . . Reduce, Reuse and Recycle . . and always throw your plastic in the basket.
Please Vote For Me . . Thank You.
Location: Pöytyä, Finland
Education: Career College
Occupation: Truck Driver
Biography/Candidate Statement: More disc golfing is just best thing you can do.
Professional Experience: I had work many different profession and I´m very active and sociable woman. I'm very fast to learn new things and very interested to improve discgolfing here in Finland.
Disc Golf Experience: 12 years I have been throwing discs and this is my fourth years playing with licence. I keep my own weeklies, 74 times last year. Now I am in my discgolflub secretary and I get all the PDGA-competitions in our discgolfclub this year. And I get selected Finnish Disc Golf Association in the Master Division.