Future Stars of Disc Golf Crowned in Emporia
Future Stars of Disc Golf Crowned in Emporia
2018 PDGA Junior World Championships Come to an End
Sunday, July 15, 2018 - 15:14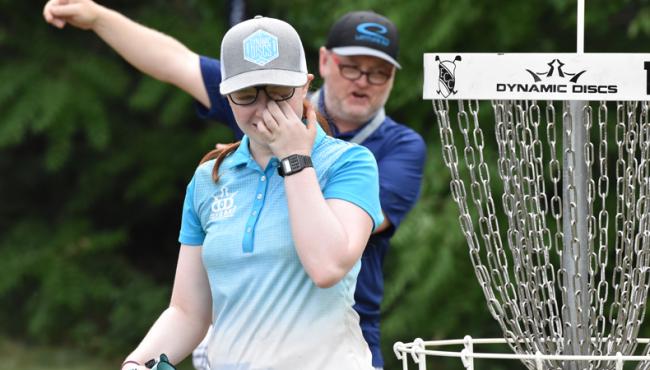 After three days of mind-bending heat, mother nature finally gave the competitors of the 2018 PDGA Junior Disc Golf World Championships a much-needed break from the extreme conditions. With Emporia, Kansas finally feeling more like the Midwest and less like the Middle East, there were no excuses for those wanting to make the cut for the Final 9 showdowns at Emporia Country Club.
Heading into the last full round in the morning, many of the divisions had several competitors hovering on the cut line, as only the top four would make the finals. As the morning rounds progressed, the heated battles for the third and fourth spots intensified. If there were any ties for those coveted Final 9 spots, there were to be settled via a sudden-death playoff.
Despite that looking like a very real possibility in several divisions as the round came to a close, only one would end with a tie for fourth place, the Junior 18 & Under division. Coming from the chase card, Arkansas's Gideon Drake threw a 989-rated 50 at Jones East to catch up to lead card's Jordan Smith and Dallas Wrinkle. After the scores were confirmed, the threesome headed to hole one of Jones East to duke it out for the Final 9.
The playoff didn't last long, as Drake and Wrinkle left their forehand drives short and right of the green. Teeing off last, Smith played his forehand low and fast down the left side of the fairway and watched as it skipped towards the green to within 25 feet of the basket. Smith watched as Drake and Wrinkle struggled to give themselves a decent look to save par, and watched again as they missed their putts to save par. Without much hesitation, Smith canned his putt to earn the Final 9 spot.
Final 9 Showdowns
Junior / Junior Girls ≤6
While the older divisions were finishing up their rounds, the Final 9 showcases were already underway at Emporia Country Club for the younger divisions. First to come in were the Junior 6 & Under boys and girls, both of which were combined into a foursome to play a two-hole loop in front of an adoring gallery. In the end, six-year-old Cadence Kekec tapped in for the win in the Junior Girls 6 & Under division and five-year-old Elam Rose did the same in the Junior 6 & Under division.
Junior ≤8
The Junior 8 & Under division followed shortly after, where 2016 Junior 6 & Under division world champion Landon Brooks was looking to grab his second world title as a junior. Heading into the Final 9 two ahead of seven-year-old Kellen Smith of Arizona. Brooks, also seven years old, went on to finish the nine-hole loop with a two-over-par to become a two-time junior world champion, five or more ahead of the group.
Junior Girls ≤10
Nine-year-old Virginia Polkinghorne came storming in shortly after with the Junior Girls 10 & Under division, where she had been well ahead of the competition the entire week. When she tapped in to win by a margin of 32, she became a junior world champion for the third year in a row.
Junior Girls ≤12
A similar story can be told for the Junior Girls 12 & Under division, where 12-year-old Lilly Ruthen of Ohio had also left no doubt as to who was going to take home the title during the Final 9. Ruthen had amassed a lead of 34 heading into the Final 9. When she threw her last putt into the chains, she became a two-time junior world champion.
Junior ≤10
Meanwhile, the Junior 10 & Under boys, who should have finished before Ruthen's group, were in the middle of a sudden-death playoff. Apparently, 72 holes of disc golf weren't enough to settle the score, as Connecticut's Wyatt Mahoney, eight years old, carded a bogey-free six-under-par 26 to tie it up with 10-year-old Kai Barrios of California.
It took three holes to settle the playoff. In the end, it was Wyatt Mahoney who snagged the comeback win, earning himself an exciting victory and a second junior world championship title as well.
Junior ≤12
The 12 & Under division as well as the 15 & Under (boys and girls) plus the 18 & Under (boys and girls) played a longer, more challenging Final 9 loop. The 12 & Under division was up first, where two-time junior world champion Anthony Anselmo, 12 years old, was looking to get his third. Starting the Final 9 seven ahead of 12-year-old Logan Plake of Texas, Anselmo's victory seemed inevitable.
Plake was not ready to quit, however, and put on a clinic during the Final 9, finishing with two eagles, two birdies, and one bogey to finish with a five-under-par 28. Take into consideration that the Junior 15 & Under division finalists played the same layout in the same conditions and turned in scores of 26, 27, 28, and 29.  
When it was all said and done, Anselmo's one-under-par was all he needed to do to secure the win, earning his third junior world champion title by a margin of three.
Junior Girls ≤15
The Junior 15 & Under Girls came in shortly after, where 14-year-old Edie Heard of Arkansas had been battling all week with 15-year-old Lydia Lyons of Illinois. Heard lead after five of the six regulation rounds, but her lead was never more than five. With a margin of three heading into the Final 9, Heard held off Lyons during the Final 9 loop, laying up on the ninth hole and dropping in her putter to win by three.
Junior ≤15
Despite most of the week being back and forth at the top of the leaderboard in the Junior 15 & Under divisions, 13-year-old Emporia local Isaiah Esquivel left no real chance for anyone else in the division to catch him by the time they reached the finals. Esquivel moved into the lead after round five, one ahead of Kentucky's Zach Arlinghaus but followed it up with a ridiculous, 991-rated 47 (11 under par) at Jones West to give him a margin of seven heading into the finals.
With the largest gallery of the day behind him, Esquivel paraded through the Final 9 loop and tossed in an easy birdie on the last hole to win in front of a roaring crowd of his friends, family members, and teammates.
Junior Girls ≤18
Perhaps the most back-and-forth field of the entire event was next to come in, the Junior Girls 18 & Under. In the early stages, Louisiana's Esther Schultz held off the rest of the ladies, holding a lead of one over Missouri's Cynthia Ricciotti after round one and a lead of two after round two. Ricciotti made a big move at Peter Pan Park during round three to move into a three-stroke lead over Schultz, but Schultz took it right back during round four at Emporia Country Club to put her back at the top, one ahead.
Round five brought them back to Peter Pan and Ricciotti took the lead away from Schultz once more, again leading by one. Saturday morning's round six saw the first major lead margin arise, as Ricciotti continued to play strong. However, instead of leading by one or two, she was now seven ahead of the rest of the field, with only the Final 9 to go.
In the end, it was Arkansas's Kathryn Mertsch that made a run at Ricciotti with a three-under-par Final 9 score of 30 against Ricciotti's 34. It wasn't enough, however, to stop Ricciotti, and she tapped in to earn a very hard-fought and emotional battle to become the 2018 Junior Girls 18 & Under World Champion.
Junior ≤18
Last but certainly not least, the Junior 18 & Under division, where the boys would be playing an even longer and more challenging loop for their Final 9.  There wasn't much drama to be had, however, as Jason Hardin Jr's previous stellar rounds had left little to no hope for a comeback win for any of his cardmates. With only nine holes remaining, Hardin had put himself 11 or more ahead of the three competitors he would be joined by Trenton Higley, Mikael Hakala, and Jordan Smith.
Hardin knew all he had to do was play safe to win, a feeling he was happy to have after his round ended on Saturday morning. "I can pretty much bogey every hole and still win," Hardin said to himself as he looked at the scores on pdgalive.com.
He could have, but he didn't. He went out and played disc golf in front of the crowd. Even on the last hole, where all he had to do was toss one under the basket and tap in for the win, he went for an uphill 25-foot birdie putt. He missed, and smiled, saying "I had to go for it".
This event would not have been possible without the amazing team that Dynamic Discs puts together, the support of the City of Emporia, the support of the people of the city of Emporia in general, the amazing support from the sponsors, and the dozens of volunteers that came out to help. Perhaps most importantly, the parents.
The PDGA Junior Disc Golf World Championships will only get better and better each year, and at least for the next two years, we'll be right back here in Emporia, Kansas watching it develop and grow into something even more amazing.
Congratulations to all of the junior competitors and thank you once again to the parents of these fantastic kids!
View the full 2018 PDGA Junior Disc Golf World Championships presented by Dynamic Discs results »