EuroTour: Tanghe Ekes Out Creeksea Classic Win
EuroTour: Tanghe Ekes Out Creeksea Classic Win
Latt, Tattar take season-long points titles
Tuesday, September 17, 2019 - 22:55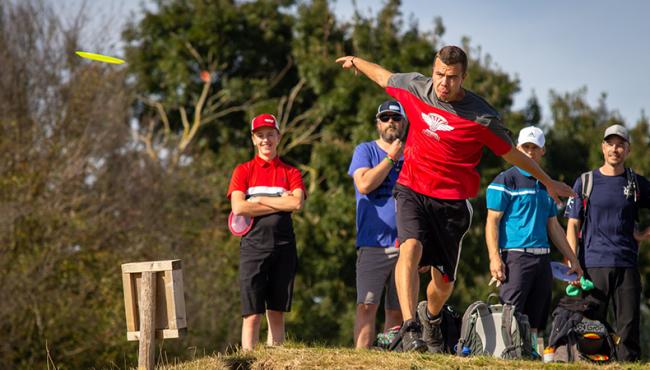 If you want a succinct summary of last weekend's Creeksea Classic in Burnham on Crouch, England, look no further than this comment from competitor Tony Ferro: "Everyone came to play this weekend, and the course conditions were perfect for it."
And indeed the ideal weather helped produce some of the hottest disc golf of this year's EuroTour (ET) at its last event. The tournament marked the first time that round ratings from all Open players on the podium averaged over 1030 for an entire ET competition, and the action culminated in a tense nine-hole final where the win was there for the taking by any of the top trio of Icelander Blær Örn Ásgeirsson, U.S.-born Switzerland resident Ferro, and Belgian Maxime Tanghe.
Ásgeirsson led both Ferro and Tanghe by one stroke as the final began, but it was only Tanghe who emerged from the final both bogey-free and victorious. Tanghe's winning total was a 25-under par 172. Just one stroke behind Tanghe, Ásgeirsson earned second with a 24-under 173 that itself narrowly topped Ferro's third-place 23-under 174.
Tanghe 'Wasn't Supposed To Be There' But Won Anyway
After round two, the tournament seemed to be firmly in Ásgeirsson's grip. Averaging just under 1060-rated golf, he led Ferro by four strokes and Tanghe by seven. But in round three things began to slip through the young Icelander's fingers as he carded one bogey and two double bogeys on holes 12-15. Both Tanghe and Ferro went under par on that same stretch. Ferro offered a possible explanation for this turnaround, referring as much to himself as Ásgeirsson.
"As the rounds progressed, so did the nerves, I think," Ferro said.
With Tanghe's hot, 1053-rated 9-under par 47 catching him up six strokes on Ásgeirsson and Ferro bouncing back from a triple bogey on hole nine to finish 5-under par on the back, the final became anyone's game. It got even more tense when Ásgeirsson's par to Ferro and Tanghe's birdies on the final's first hole immediately created a three-way tie for first place, and the next big shift wasn't far behind.
The third hole of the final was a par 3 with OB to the left and right of the fairway. First to tee, Ferro turned his disc over too much. It went right and needed a lucky kick just to come back in bounds. Tanghe didn't waste his chance, parking the hole to secure at least a stroke on Ferro. Ásgeirsson couldn't match him, and his drive went OB. Ferro managed to save par despite an errant upshot, but Ásgeirsson had to bear a bogey, leaving Tanghe to tap in to take the outright lead—one over Ferro and two over Ásgeirsson.
Tanghe never lost that lead, but it wasn't until four holes later that the Belgian felt comfortable in the driver's seat.
"Hole seven was a long par 4, and BIær and I got birdies while Tony took a 5," Tanghe recalled. "He [Ferro] was only a stroke behind before that hole. So then I had two strokes on BIær and three strokes on Tony before the last two holes. It felt really good at that moment."
Though both Ásgeirsson and Ferro took one stroke back on Tanghe on those final holes, it wasn't enough to change the outcome. The result came as a shock to Tanghe.
"It definitely feels like a special one because I was not supposed to be there," Tanghe said of his win. "I only changed my mind on Thursday night and decided to go with my parents. I was seeing this tournament as really good practice and a chill weekend. In the end it turned into a great battle with two great friends, Tony and Blær."
Tanghe claimed no part of his game "was working 100%" and credited his win mostly to being able to keep clean scorecards despite spotty putting and upshots. And looking at the tournament's scores, the small amount of red on Tanghe's scoresheets is certainly impressive: He carded just two bogeys in the 63 holes he played last weekend, both of which came during the second round.
Though poor putting in round three and the final definitely irked Ásgeirsson, he mostly focused on the bright sides of his weekend.
"I'm pretty happy with my performance, and this is also my highest rating average ever," Ásgeirsson said. "It's always so fun to battle with Max and Tony."
Ferro appeared to take his own mistakes in stride, too, acknowledging them as part of the game.
"My putting was really off on Sunday along with some bad tee shots putting me out of bounds twice during the finals," Ferro said. "[But] I am overall satisfied…I definitely feel I could have done better, but this is a game of perfection, so most of the time 'you could have done better.'"
Though the Creeksea Classic marked the final event of the 2019 ET, its results did nothing to change the top of the Open tour points leaderboard. With only players' best four results counting from 2019's nine ET events, Estonian Silver Lätt had locked up the points title some months ago. Ásgeirsson, Tanghe, and Ferro are taking second, third, and fourth respectively, not changing from their positions before last weekend.
Creeksea's only competitor in Open Women, Kolbrun Mist Palsdottir from Iceland, moved from fourth to second place in the ET standings for her division after the event. She leapfrogged Estonians Maris Perendi and Anneli Tõugjas, who finished third and fourth respectively. Top honors went to yet another Estonian, Kristin Tattar. She won all five ET events she played in 2019.