Eagles Wings Partners With Kids Disc Golf For 2019 Junior Grants
Eagles Wings Partners With Kids Disc Golf For 2019 Junior Grants
Applications due by February 15th
Friday, January 11, 2019 - 15:23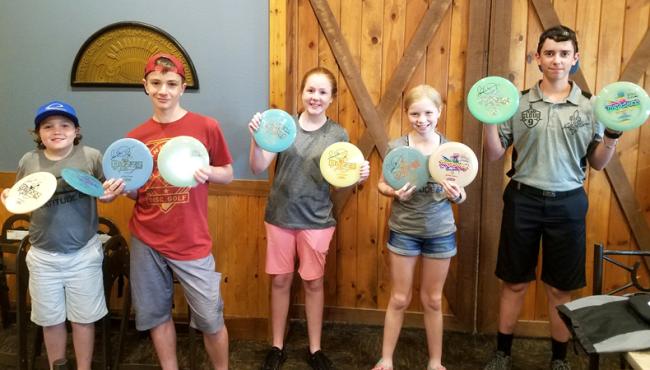 Eagles Wings Disc Golf is excited to announce the junior grant will be back for 2019! We are also pleased to share that we have made steps to ensure the long-term sustainability of the program by bringing in Kids Disc Golf to share ownership of the grant. We believe they have been doing great things for the junior side of the sport, and we are thrilled to work with them on this level. In addition, we are proud to once again be joined by three-time PDGA Professional Disc Golf World Champion Nate Doss as original grant provider, visionary, and major supporter.
The goal with this grant is to reward junior disc golfers who not only excel on the course but are intentional about investing in their local disc golf community. We will again be selecting six winners who will receive a great package thanks to a group of generous sponsors. We know traveling to large disc golf events can be a challenge on a number of levels, including financially, and our desire is to find deserving juniors and help them how we can.
This grant is open to any and all junior players who plan to compete in either the Junior World Championships or the United States Junior Disc Golf Championship in 2019. Both of these events were incredible experiences for all who attended in their first year, and we know they will be even better in year two.
Each Recipient Will Receive
A minimum of $100 for travel expenses
Grant winners dinner in Emporia at the World Championships
Personal video call from 2018 PDGA Pro Women's World Champion Paige Bjerkaas
(1) Pair of shoes from KEEN Footwear
(1) Tour Series Disc from Nate Doss
(1) Tour Series Disc from Valarie Jenkins
(3) Custom Junior Grant DyeMax Discs from Dynamic Discs.  These discs will also be sold with part of the proceeds going to the grant winners for travel expenses.
(1) Custom Jersey provided by Paragon Disc Golf
(1) Free year membership to UDisc Pro (First 100 applicants will receive 6 months free)
(1) Whale Sac and Whalepants Disc compliments of Eric and Tina Oakley
(1) Kids Disc Golf membership pack
(1) $50 Gift Card to Disc Baron
(1) Innova Discs VIP Card (50% off an order up to $200)
(1) Upper Park Pinch Bag
(1) Online lesson from Will Schusterick and Disc Golf Instruction
(1) Autographed Avery Jenkins Disc
*All applicants will receive six months of UDisc pro and a 50% off coupon to Disc Golf Instruction.
NOTE: Grant recipients are responsible for all travel and transportation costs associated with the tournament.
Applicant Criteria
Must be 18 years old or younger
Must be eligible to compete in the PDGA Junior World Championships or the United States Junior Championships in 2019
Must submit an essay of up to 200 words written by the applicant showing why they deserve the grant
Must submit a proposal for a project they will complete in 2019 that will serve their local disc golf community
Must provide a reference of a PDGA member in your local disc golf community
Selections will be made by a panel of judges that will consist of volunteers from various regions and will be headed up by one full-time staff member. Family members of an Eagles Wings Disc Golf or Kids Disc Golf staff member are ineligible to receive the grant. Judges will be looking for applicants who are serious about improving their game and -- more importantly -- serious about serving the disc golf community around them.
Application Process
All applicants must complete the application process by the deadline listed below. Please use the link below to apply:
https://pushtherock.org/eagles-wings-disc-golf/programs/youth-family-programs/junior-grant/
Grant Timeline
January 9 – Grant Application Process Opens
February 15 – Grant Application Process Closes
March 12 – Grant Winners Announced
All grant winners will be contacted by an Eagles Wings Disc Golf staff member to arrange delivery of items and payment of entry fee.
Grant Sponsors
One of our favorite parts about the grant is seeing the disc golf community come together to support junior disc golfers. Thank you to each of the following companies that have come alongside us to help make this program a reality.
All of these companies have a track record of providing tremendous support to the growth of junior disc golf and we are proud to partner with them in this effort!