Colorado Mesa, Oregon State Buck Rankings To Take NCDGC Lead
Colorado Mesa, Oregon State Buck Rankings To Take NCDGC Lead
Defending champs Liberty stake early claim in Women's Flight
Thursday, March 28, 2019 - 00:36
When the Colorado Mesa University Mavericks walked out to Blake Rules' "Bees" during the opening ceremony of the National Collegiate Disc Golf Championships -- "It's a goofy song," junior Aaron Gossage admitted -- they did so as the 50th-ranked team in College Disc Golf's most recent update. Only two other teams in attendance in Georgia this week -- Purdue and Arizona State -- clocked in lower.
But when the Mavericks tapped in their final putts to end the first round of Championship Flight team doubles play at the International Disc Golf Center's W.R. Jackson Memorial Course, they did so tied for the lead with another squad ranked outside the top 20.
CMU and No. 22 Oregon State both tallied up 7-under par 61s to open NCDGC competition Wednesday afternoon, staking an early claim to Cinderella status at this four-day PDGA Major. Perennial contenders Cincinnati, Clemson, and Ferris State tossed 6-under par 62s to tie for third, while 54th-ranked Arizona State also bucked the rankings by firing off a 5-under par 63 to start in sixth place alongside No. 2 Liberty University and unranked University of Massachusetts - Amherst. Defending champions Mississippi State started off in a six-way logjam for 17th place at 1-under par.
Gossage, a 989-rated computer science major playing in his second NCDGC, said the team was curious about their ranking coming in and chalked it up to being a lesser-known squad. He also acknowledged the number factored into their motivation.
"Definitely," Gossage said. "We've got four guys, we've been working really hard this year, so definitely wanted to come out and give a good showing."
Paired up with Cincinnati, CMU leaned on their practice to assault Jackson with precision. Still, that didn't always go as planned, as Gossage said the team struggled on a couple of the track's newer holes, particular the tighter lines of holes 5 and 6. The four-player unit carded bogeys on both holes, but was able to right the ship with a turkey on holes 7 through 9.
Then came hole 12.
"We just threw eight really bad shots," Gossage said. "...In a round, if you throw eight bad shots you're taking a big score. Somehow we pulled two big shots out and saved our bogey."
The Mavericks followed that up with another run of three straight birdies, this time on 14 through 16, to put themselves in prime position heading into Thursday's singles play.
"Those are just two huge birdie strings for us that helped us out a ton," Gossage said.
Much like CMU, the Oregon State Beavers preached the importance practice had on their opening round performance. The team arrived in Georgia on Sunday and put in multiple rounds at Jackson, leading to some extra comfort -- even if they didn't show it off the bat.
"We got off to sort of a slow start," civil engineering sophomore Aspen Eagle said. "The first hole we missed a tester putt. We didn't get off the tee clean on the next hole -- it was big par 5. The third hole was a rough one."
The team landed a long putt for birdie on its fourth hole, though, which mechanical engineering senior Jake Shryer said helped boost their confidence. From there, it was time to lean on the squad's collective experience.
"Within the last few years we've all been here and been exposed to how the competition kind of works," Shryer said. "I think that's helped us."
It also may have helped that they didn't actually know where they were ranked. Shryer said they didn't generally pay attention to where they saytin the field because of College Disc Golf's inherent turnover, and business management junior Eric Wilson hinted that not knowing gave the team more freedom to play with.
"Coming into this week, we were basically thinking that the sky was the limit," Wilson said. "We didn't have high expectations for what we need to shoot being a lower ranked team and being a team from the west coast, which is usually less represented out here. But we came in with six solid players and we just really thought that we have a well-rounded group and that really leads to our advantage with these singles rounds coming up. We came here to win."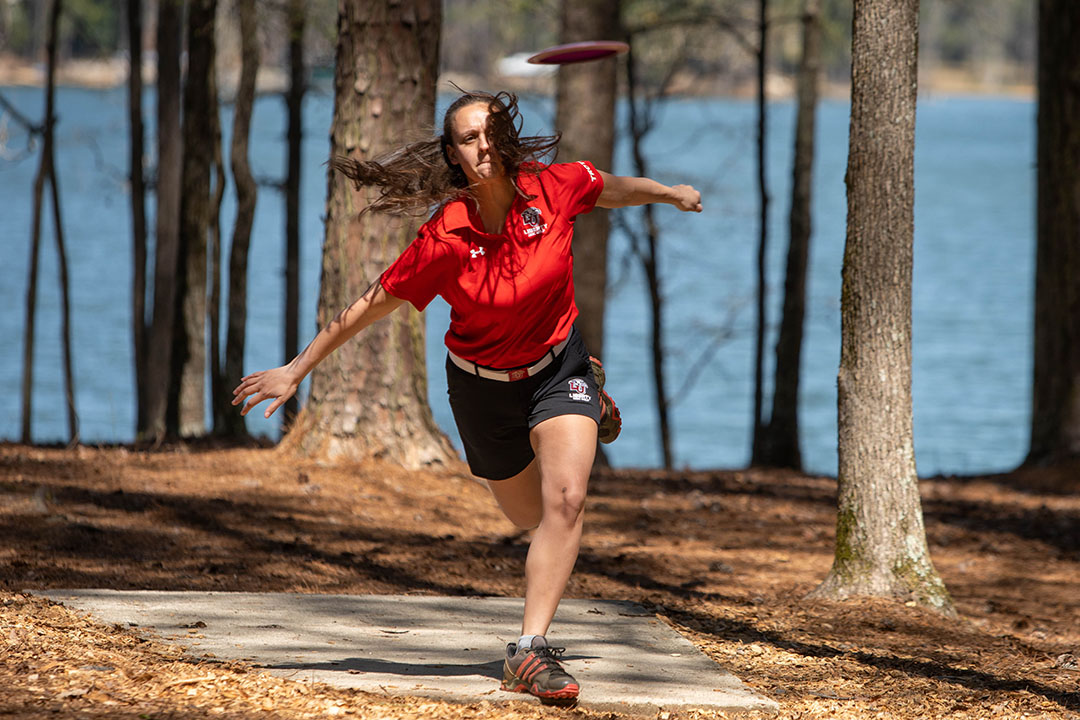 While the surprise squads led the day in the Championship Flight, blue chippers dominated the Women's Flight, as defending champions Liberty University jumped out to a single shot lead over Clemson with a 1-over par 68 on the "Steady" Ed Headrick Memorial course. Ferris State and Univesity of Oregon's A team lurk in third place with 5-over par 72s, while Southern Arkansas sits in fifth place after a 6-over par 73.
Liberty's Hannah Trotz and teammate Grace Adkins were paired with Clemson's defending individual champion Alex Lambert and new partner Emily Huffer, and Trotz said the grouping had a significant impact on scoring.
"I definitely think we were pushing each other," Trotz said. "Alex is an amazing player and intimidatingly good. We definitely, I think, pushed each other. One shot is nothing after the first round. We have all week left to go."
Indeed, that was a common refrain among the teams at the top. With Thursday's singles round and a dual slate of doubles play on Friday, no one was comfortable with their position.
"It's definitely too soon to talk about [winning] just yet," Gossage said. "We have fantasized about it just because we've put in so much work and we think we're an underrated team in the scheme of things...I think tomorrow is going to be a really big deciding factor."
In First Flight competition, Liberty jumped out to a six-shot lead with an 11-under par 52 at the Jim Warner Memorial course. Ferris State leads the Second Flight after a 7-under par 60 at Headrick.