'Boggles My Mind:' McMahon Goes 16-Under Again At Konopiště
'Boggles My Mind:' McMahon Goes 16-Under Again At Konopiště
Wysocki matches the pace, while Paju jumps to second
Friday, July 13, 2018 - 16:09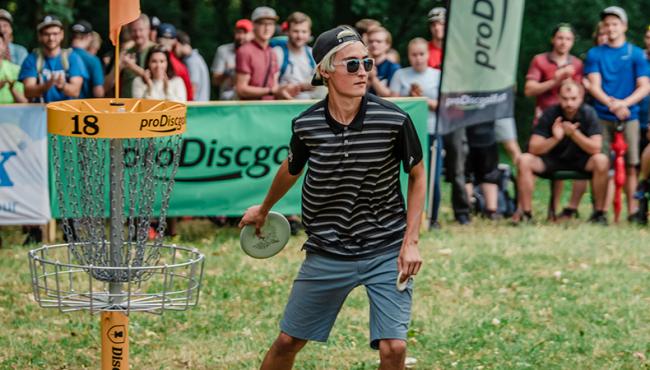 If Eagle McMahon was going to have a letdown after setting the Konopiště Open course record on Thursday, it wasn't going to come on Friday. But the tournament's defending champion was right there to keep pace.
The 20-year-old threw a 16-under par 51 for the second consecutive day to hold serve in the Czech Republic, with his 32-under par 102 providing him a six-shot cushion over Seppo Paju, who moved to second place after a 14-under par 53 during round two. Simon Lizotte tossed an 11-under par 56 to drop to third place, a spot he shares with Paul McBeth at 25-under overall.
Ricky Wysocki rebounded from an 8-under par opener to match McMahon's 16-under par flourish Friday, moving up nine spots on the leaderboard and into fifth place with a 24-under par 110 total.
"No letdown at all. I can't believe it. I really can't," McMahon said. "Like, just the whole idea of going back-to-back 16-under pars boggles my mind. Especially today when I missed the first two holes."
Indeed, McMahon didn't get off to the hot start that he did in round one. Instead, he was sprayed both of his tee shots, leaving his drive on hole 1 outside the circle before his birdie bid glanced off the chains and pulling his throw too far right on hole 2. McMahon said he felt both of those holes were some of the toughest on the course relative to par, and he had to buckle down.
"The course really opens up to where you're thinking, 'Every hole, I need to get this birdie,'" he said. And so he set about doing that, rattling off six green hits and an outside-the-circle putt as he birdied out on the rest of the front nine. Though he carded a par – his last of the round – on hole 10, it was a push from a cardmate that helped him go big to finish.
"At that point Seppo was beating me," McMahon said. "He was shredding."
Paju had McMahon by one through the front nine, with the 23-year-old Finn attributed his strong first half to an early momentum swing compared to his first round. "I was even after the first four holes [Thursday], and now I was 3-down" he said. "It kinda set up the good pace for the round. It was able to just continue – got my nerves out of me with a good start, so it was just rolling through the round really comfortably."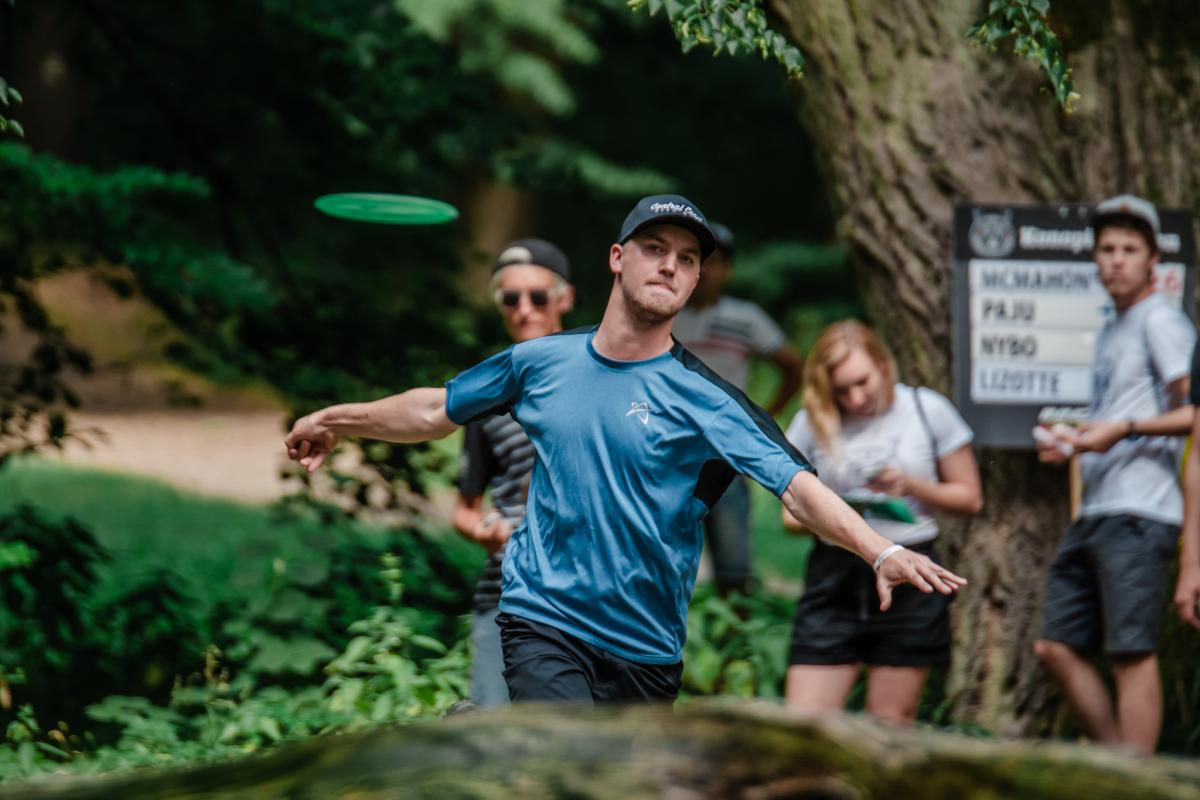 He was so at ease, in fact, that he often drove past McMahon and Lizotte, with tournament media director Jussi Meresmaa telling Paju he had never seen anyone have such a strong round off the tee. Paju hit the green on 78 percent of his opportunities and matched McMahon with an eagle on the 311-meter 11th, then finally cooled off on the last three holes with two pars.
Paju has made plenty of noise this season during his touring in the United States, making feature and lead video card coverage, but admitted he has struggled when the spotlight has been pointed in his direction. He said applying his knowledge from those experiences helped him keep his head on straight on the PDGA Major stage.
"I don't know if being in Europe makes it easier for me – maybe it does, I don't know," Paju said. "…I just feel like the reason I was able to shoot good today was because I really paid attention to all those lessons I've learned in the States…when I have failed. I have learned from all those and I took all those lessons and played better."
Lurking on the sixth card, far from the watchful eye of the camera, was Wysocki. Stuck in 14th place after round one, he kicked off play 50 minutes prior to the lead card, but it didn't take long for the gaze of media to shift his way.
Wysocki hit an outside-the-circle putt on the 319-meter 3rd to go 4-under through the first three holes, and from there it was off to the races: The 2017 Konopiště Open Champion assaulted the greens with pinpoint accuracy and didn't card a par until hole 12, a 201-meter par 4 that features a water carry and played as the course's most difficult at .6 strokes over par.
"I hit the basket on the putt," Wysocki said. "That's a tough hole. That's probably one of the toughest holes on the course. Yesterday I bogeyed it, so I definitely wanted to improve."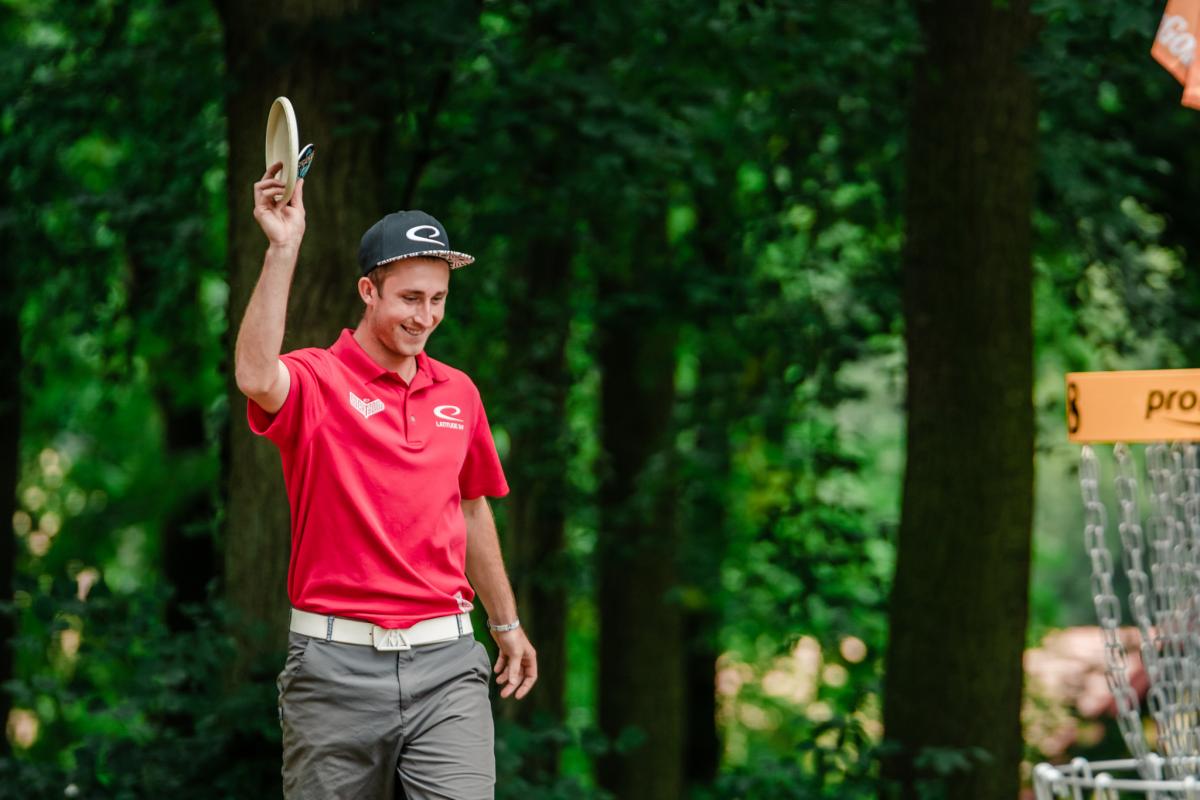 By the time his round was finished, he was better by eight shots over his day one performance, matching McMahon for the course record. Though he was one throw from taking that record back – "I was trying to get sole possession of it and almost had a chance," Wysocki lamented – he wasn't concerned that the effort gained him precisely zero shots on the leader.
"It's not really demoralizing. It's more just the kind of thing where you can't – he's gonna do whatever he's gonna do," Wysocki said. "I can't control what he does. I gotta do what I can do, and that's all I can do. We still have two rounds left, and I feel like I have a chance to win…With me and Paul putting a lot of pressure on Eagle, there's gonna be some separation."
McMahon, though, is the one who has been doing the separating: His lead over second place tripled during Friday's round, giving him the edge that everyone else has to still play catch-up.
And yet, he also knew that his competitors have more than enough time to do just that.
"To shoot 16-under and not make any ground on the leader – it's a really good feeling on my part," McMahon said. "I think [Wysocki] still knows he needs to keep on shredding, because if for some reason anyone has an off round you're right back in the mix. This tournament is far from over."