Allen At Home With Slim Beaver State Advantage
Allen At Home With Slim Beaver State Advantage
Pierce two back heading into round three
Saturday, June 9, 2018 - 00:01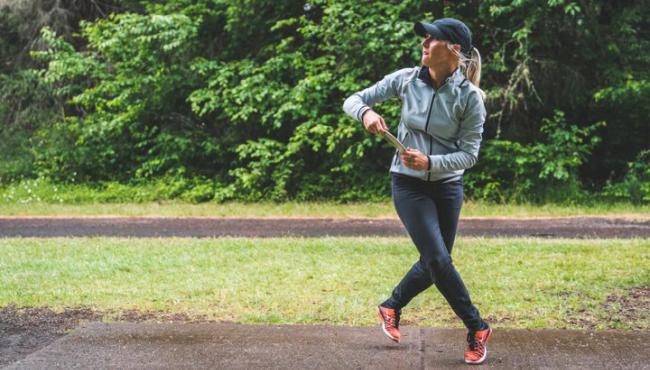 ESTACADA, Ore. – Catrina Allen is standing 100 feet from the basket at Milo McIver West's first hole. She's already finished her two rounds at the Beaver State Fling, but she's waiting for one more card to wrap up before she can make it all the way to her car and put this nearly 12-hour day to bed.
Though she's nowhere near worn out physically, it's still not a bad place to take a rest before calling it a night. After all, this is the same spot where she landed a 40-foot birdie to putt to win a playoff at the 2016 stop here.
"This is where I won my first Worlds, this is where I won my first NT," Allen said. "Of course, I feel comfortable here."
That was more than evident on a day that saw Allen emerge with the lead after averaging almost 35 points over her rating. Her 1-under par 121 has her up on 2017 Beaver State Champion Paige Pierce, who logged a 1-over par 123 over two rounds, and Valarie Jenkins, who sits in third place with a 2-over par 124. Nicole Bradley used a 991-rated second round to move up into a fourth-place tie with Vanessa Van Dyken, who led play after the morning run through Milo, at 3-over.
Allen got to work early on her own 991-rated second round by carding four birdies in the first six holes at the West course. She didn't need a 2016 throwback on hole 1 – "I pinned it," she said – and she parked her shot through a wall of pines for a drop-in birdie on hole 4.
"It was before the rain, so I just felt good," Allen said. "Played good this morning and was kinda playing off that."
While the precipitation slowed her scoring, it did the same to the rest of the field. Pierce, who was playing on the chase card after her 1-over par morning round, had worked to within one shot of Allen before carding consecutive double bogeys in the middle of the round. She continued with a string of seven pars before finally getting back on the birdie wagon with a tap-in on hole 1 to close her day. Despite the inconsistent scorecard, she leads the field in parked shots and is second in both circle 1 and circle 2 in regulation.
Jenkins, meanwhile, kept it to only one double bogey and was nearly perfect inside the circle. She was also on fire from outside, hitting two from 40 feet that helped her save par and add to the top scrambling rate in the division (81 percent).
Staying away from those big numbers will be key for Allen's continued success. She's carded no worse than a bogey during the event so far, and she's been able to rely on a well-rounded game that she said she has taken pride in developing throughout the course of her nine-year career.
"I've thrown sidearms, rollers, sidearm rollers – everything," Allen said. "…I think that's why I love it [here]….I feel like this is one of those courses that demands all those things."
She'll roll out the entire set of tools again today at the East course, as the Open Women's lead card tees off at 12:30 p.m. Pacific.