Allen Dominates, Wysocki Leads Heading into Jonesboro Finale
Allen Dominates, Wysocki Leads Heading into Jonesboro Finale
DGPT - Jonesboro Open Round Two Recap
Sunday, April 18, 2021 - 13:07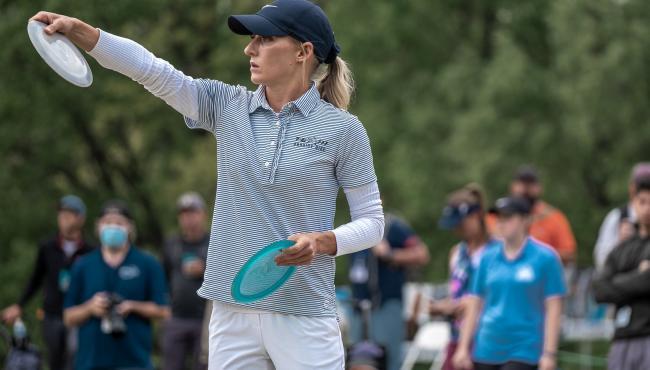 2020 PDGA Co-Player of the Year Catrina Allen appears headed for her first Elite Series win of the season after putting together one of the all-time great FPO rounds with a 1041-rated (unofficial) 12-under par scorcher.
Allen dominated on both the tee and green, leading the field with 95% fairways hit and 91% C1x putting, according to UDisc, and posting the hot round of the day by an eye-popping seven strokes over next-best Vanessa Van Dyken. Only eight other players out of a field of 30 finished the round under par.
Long known as one of the best throwers on tour, Allen has struggled at times with her short game during high pressure moments. That was not the case Saturday, as she executed time and time again from the outer edge of the circle while staring down sloping greens and potentially treacherous rollaways.
"I just want to focus when it's my turn," she told Disc Golf Network's Terry Miller. "That means when I'm walking up the fairway not thinking about whether I'm going to make the putt or what my upshot is. Just trying to relax in-between shots. Keep my mind quieter. Just try to step up and execute and keep all of the negative away. I've been working really hard on myself and it just feels good for it to all come together."
While she'll carry a comfortable 10-shot lead into Sunday's final round, Allen does not plan on changing up the routine that got her here.
"Wake up, work out, take another cold shower that I don't want to take to train that weak mind to just be quiet," she said of her Sunday plans.
Joining Allen on the lead card will be Sarah Hokom (10-under), fresh off a commanding victory of her own at last week's Vintage Open, a DGPT Silver Series event, along with Paige Pierce (8-under) and Kona Star Panis (6-under).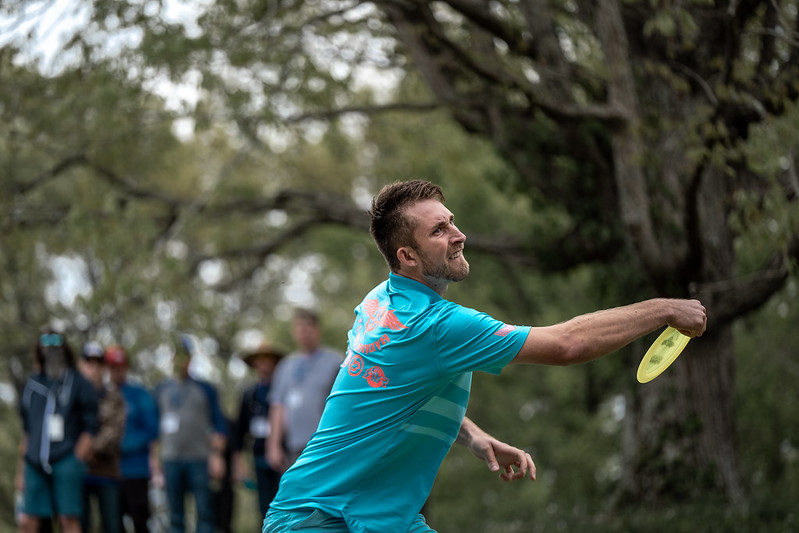 Ricky Wysocki leads a tight grouping into Sunday's finale as defending champion Calvin Heimburg sits only one back at 23-under par after posting an MPO-best 13 birdies on the Jonesboro track Saturday. Reigning PDGA world champion Paul McBeth sits three back at 21-under and Eagle McMahon is within striking distance at 18-under.
Wysocki is looking to lock-down his second-consecutive PDGA Elite Series event, following his win at the 26th Annual Texas State Disc Golf Championships in late March. To do so, he'll have to hold off a lead card that features the four best players in the world.
Don't expect his game plan, which has featured a disciplined mix of control and aggression, to change very much.
"There's a couple holes out there with a lot of scoring variance, but I'll play those holes for par—and I'm fine with that," he said after finishing round two with a bogey-free 11-under. "There's other holes out there that I can attack. I'll go with that plan tomorrow, but I'm still going to be attacking a lot of these par 4's and even the par 3s."
Final day coverage of the DGPT – Jonesboro Open is free on the DGPT YouTube Channel beginning at 1:30 p.m. CT.