After Rainy Round, Pierce Gets A Grip On BSF Lead
After Rainy Round, Pierce Gets A Grip On BSF Lead
Van Dyken, Jenkins lurk heading into final
Sunday, June 10, 2018 - 06:30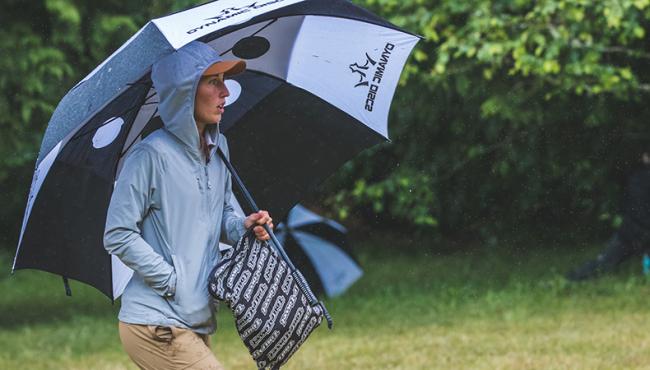 ESTACADA, Ore. – Discs floated gracefully across the sky. Paige Pierce and Catrina Allen carted around brightly hued towels. Vanessa Van Dyken was all smiles. There were umbrellas everywhere.
The third round of the Beaver State Fling could have been mistaken for a day at the beach for the Open Women's division if it weren't for all the pesky precipitation falling from above.
Instead, those discs were constantly wiped clean. The towels were draped on slick tee pads instead of warm sand, and clouds blanketed the Oregon atmosphere. A slow drizzle gave way to ominous downpours as the field tapped in their final putts after a slog through Milo McIver State Park's Riverbend East course, and as players sought shelter and tallied scores, it was Pierce who made the most of moving day.
The reigning Beaver State Fling Champion tossed a 972-rated 2-over par 63 in Saturday's inclement conditions to move to the top of the leaderboard with a 3-over par total, while Van Dyken logged the hot round with a 980-rated 1-over to move back onto the lead card. She's tied for second place with Valarie Jenkins at 4-over for the tournament, while Allen slipped to fourth place and sits at 6-over heading into Sunday's final.
Pierce was able to climb in the standings early in the round, going 3-under par on the front nine with clean drives and generally close looks for birdie. But when the rain started coming down on the back, her grip on both her discs – and the lead – started to loosen.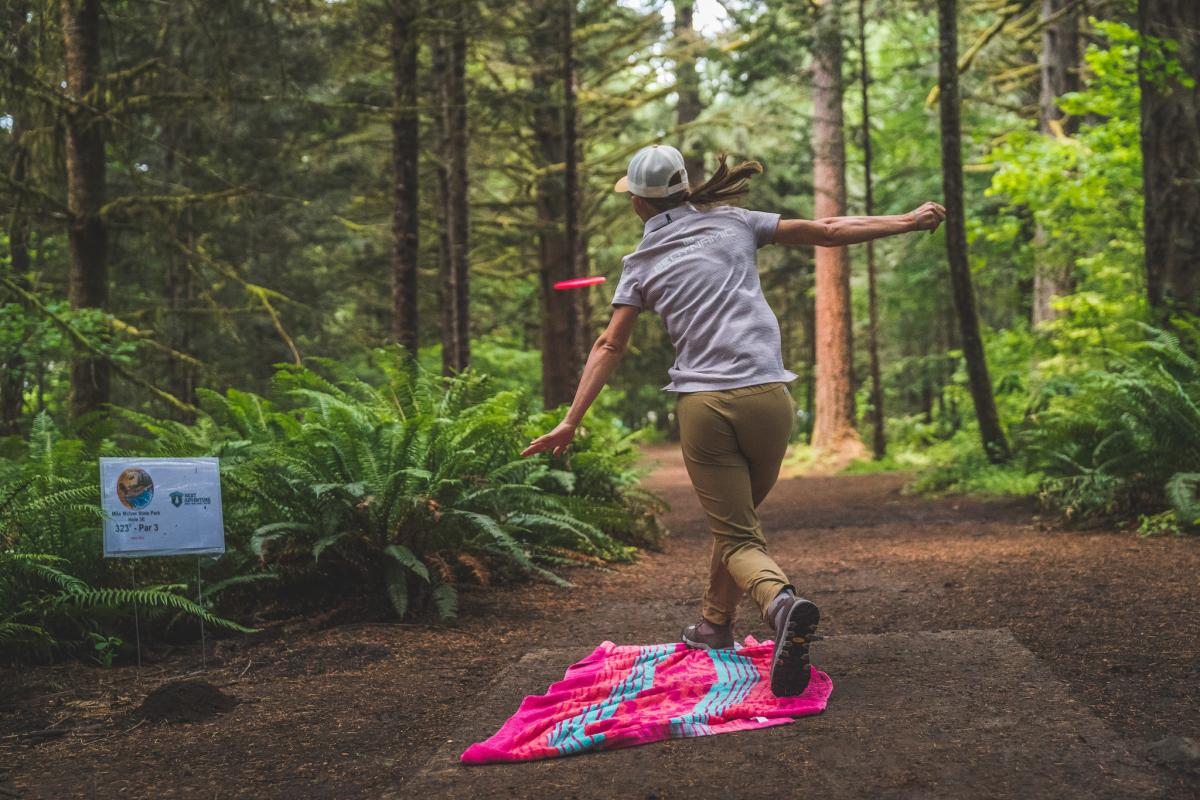 The 1,196-foot 14th, also known as the "Monster Hole," ended up being the first spot to bite her. Pierce said she had two clean shots that put her more than 500 feet up the fairway, but she hit a tree on her third and grip-locked her fourth to end up near 15's tee. By the time she got up and down, she had carded a double-bogey 7.
"When your hands are wet, every little ounce of precision matters, you know?" Pierce said. "So if you get off the fairway you're losing a stroke, for sure, and sometimes two."
She did the same on 15, where she carded a second straight double bogey, but she managed to stop the bleeding and par out to maintain the lead.
"The rest of the round was match play," Pierce said. "I developed a good lead through the middle of the round and let it falter. Hopefully today I can get a better grip on the disc and keep my hands dry."
Van Dyken, meanwhile, played her round in the opposite fashion. Her early drives went awry, and she could not figure out why she was spraying shots until hole 7. It was there that she realized she was off-kilter in her run-up, and the self-diagnosis led to increased accuracy down the stretch.
"I was really proud of myself for that," Van Dyken said. "…It was all in my upshots. I had to scramble, basically. I just told myself to give myself any look inside the circle from my bad lie, try and get up as far as I can to give myself a look."
And as the conditions worsened, Van Dyken relied on her mental game to weather the storm. She hit two putts from circle's edge – one to save bogey on the 455-foot 13th and another on 18 to close the round with a flourish – and connected on everything else inside 10-meters on the back nine.
"I was just trying to rationalize a lot of things to myself," Van Dyken said. "One thing that was making me feel really comfortable is I told myself, 'I'm a disc golfer, and in my time being a disc golfer I'm going to have a lot of putts and a lot of drives and a lot of upshots, and this is just one of the many I'm going have in my life.' I don't know why, but thinking about it from a bigger point of view really relaxed me."
Jenkins continued her strong play, which she admitted was a surprise as she had not thrown a disc since finishing the San Francisco Open two weekends back. She's currently second in the field in circle 1 putting (94 percent) and leads in scramble rate (78 percent). It's that latter measure that was the most important as play shifted to survival mode.
"Being out here, especially in horrible conditions, rainy conditions, you just have to kinda just embrace it and hit your lines," Jenkins said. "You don't wanna be caught hitting trees or getting off the fairway…I think that's what I focused on and didn't let the tee pads bother me. It was really nice to have my mom caddying. That was really supportive, and it's nice to have someone else there with extra hands and some dry towels."
The four-time PDGA World Champion is also a two-time BSF winner, but she wasn't heading into the final round with any added weight on her shoulders.
"I feel good. I'm not forcing anything. I don't have any pressure," Jenkins said. "Whatever happens, happens."
Van Dyken, the least seasoned player on the final round lead card, was looking to stay focused on her game despite being surrounded by star power.
"I know my card is full of world champions and they're really amazing athletes, but that's kind of outside what I'm actually trying to do, [which] is live up to my own abilities and see how far I can go," she said. "I'm going to try and let what everyone else is doing melt away."