McBeth Finishes Off Great Lakes Win, Shifts His Gaze Toward Konopiště
McBeth Finishes Off Great Lakes Win, Shifts His Gaze Toward Konopiště
Michigan native Prince surprises with second-place finish
Monday, July 9, 2018 - 14:44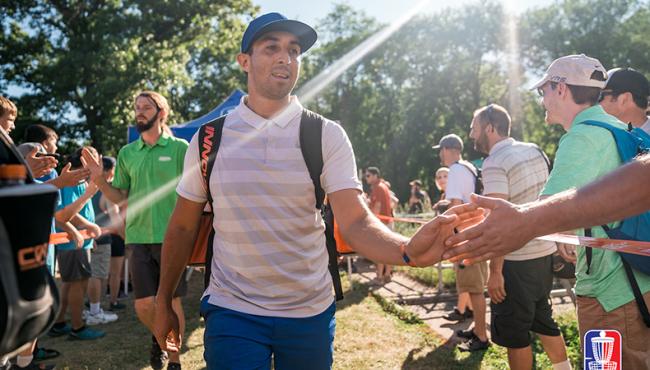 Paul McBeth proved he was the king of Kensington this weekend, but that didn't stop a prince from spending half of Sunday trying to steal his crown.
One day after shooting an 18-under par gem, McBeth cruised to an 11-under par 52 to seal his Great Lakes Open victory with a 40-under par 149 over three days at the Toboggan. While the four-time PDGA World Champion's win was relatively anticlimactic, it was a surprise finish from Michigan native Willie Prince that shook up the standings: The 994-rated pro blasted off a front nine that was identical to McBeth's from the day before, and Prince ended with a 14-under par that helped him claim the runner-up spot with a 31-under par 158 total.
Nikko Locastro slipped one spot to take third place with a 29-under par 160, and James Conrad notched his best finish on the Elite Series this season with a 27-under par 162 that put him in fourth place. Dave Feldberg and Grady Shue tied for fifth place with their 26-under par 163s.
McBeth admitted that his Saturday stunner was hard to follow and that Sunday was his most "off" day of the tournament. Still, he capped off the event by remaining perfect inside the 10-meter circle and by leading in three of UDisc Live's four accuracy measures.
"It was a little bit harder to get focused today with that going on and that buzz, but I still feel like I played pretty well," McBeth said. "I don't think I played as well as I did Friday…but I still scored the same."
Entering the round with an eight-throw lead, McBeth was afforded the luxury of not checking on scores throughout the day. So when he finally looked at UDisc late in the round, he saw that Prince was "just shredding it" on the chase card. The Grand Rapids native started touring for the first time this season, and the Great Lakes Open was his fourth stop on the Disc Golf Pro Tour circuit.
Needless to say, he'll be going to more now.
"Honestly, my best hopes [for this event] were top 20, top 25, and I was gonna be super happy with it," Prince said. "Man, I am overjoyed. I'm ecstatic. I know I have the game in me, but to actually pull it together and shoot that last round, in that crucial of a round, was just phenomenal."
The 28-year-old kicked his 1072-rated affair by hitting a 40-foot putt to join the 15 percent of the field that deuced the 477-foot opening hole. He followed that with what he intended to be an easy approach for birdie on the par-5 2nd, but his disc had other ideas.
"My layup ended up going in," Prince said. "It was pretty awesome because going for that easy 4 and getting a 3 is just remarkable. My plan was to take a 4, and it kinda just went in."
As fortunate as that shot was, Prince said it was the next two birdies were more important to keeping the streak alive, as he saved one after an errant tee shot on hole 3 and canned a 50-footer on hole 4. He kept it clean until hole 10, and that's when he noticed Disc Golf Pro Tour media staff show up to see what all the fuss was about.
"Then I finally asked somebody, you know, 'Hey, how's it going?' They're like, 'Yeah, you're killing it right now,'" Prince said. "And I looked and I'm like, 'Oh my god, I am.'"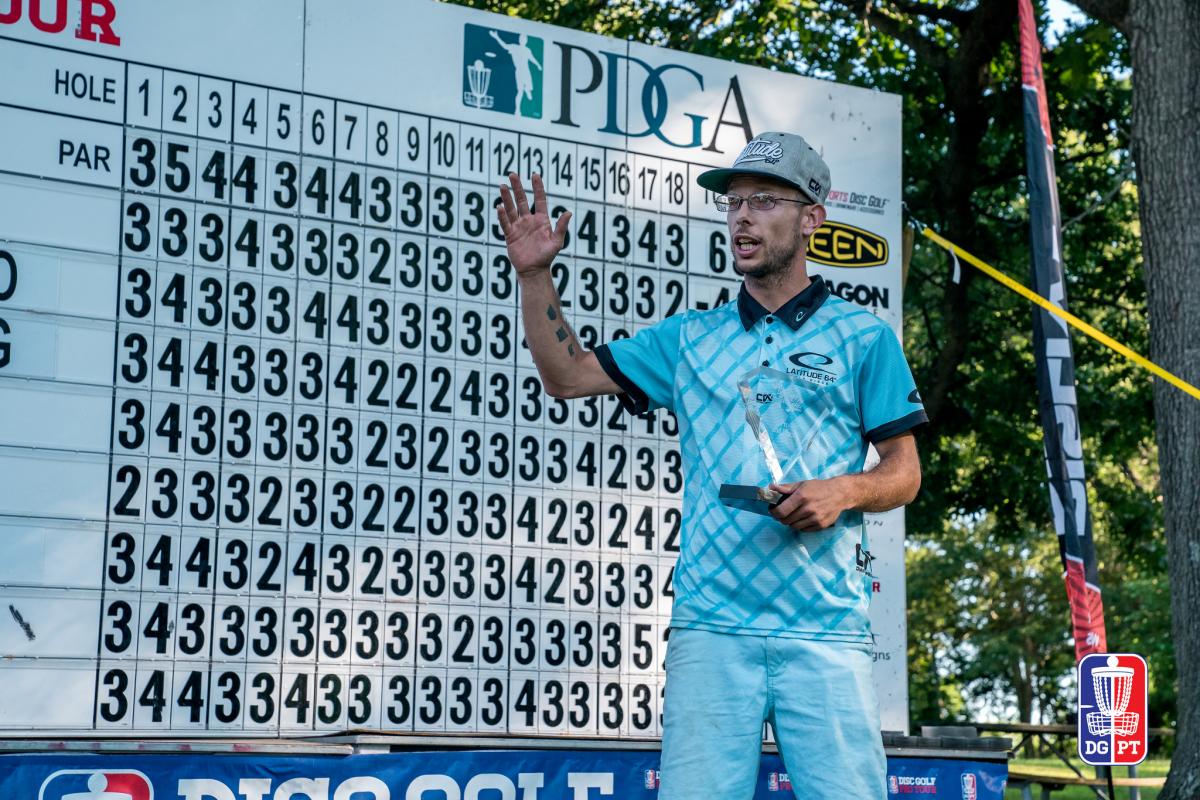 He admitted the extra attention affected his focus. "I definitely think my nerves got to me a little bit, because hole 10 I did deuce the first round and second round, and I kinda just threw it a little too hard, turned it over too fast into the trees short," Prince said. "I was a little overexcited there."
He missed two putts inside the circle before he finally settled back into a rhythm, and he closed the door on second place by birdieing four of the last five holes to jump Locastro – which, for Prince, was another surprise.
"Honestly, knowing Nikko Locastro and knowing his game, I didn't think it was gonna be possible catching him with four strokes on me [before the round]," Prince said. "…Once I made my putt on 18 somebody told me that there's no way they're gonna catch me, even with an ace. That was crazy, just crazy."
While Prince served as the tournament's Cinderella story, another young pro further cemented his position as a weekly contender. Shue, a 22-year-old North Carolina native, tossed a 10-under par final to move up into fifth place for his best career finish at a PDGA National Tour or Disc Golf Pro Tour event. He led the GLO field with an 81 percent fairway hits rate and is now in 10th place in both circuit's season-long standings.
He made the jump into full-time touring after a successful late-season run in 2017, and the continued travel has done wonders for the 1014-rated pro's game.
"You learn stuff every week and you get to play against a lot of different people," Shue said. "And you're always competing, and having a good group of people to be around helps push you farther…The more I play, the more I realize I can still get so much better and there is so much I can still work on."
While the DGPT continues in two weeks at the Idlewild Open, McBeth was already shifting his gaze overseas. The Konopiště Open, this season's European Major, begins on Thursday in the Czech Republic, and he was using the momentum from Michigan to heighten his focus.
"This is a huge confidence boost going in there, especially with the way I was putting and the way I was throwing my drives and upshots," McBeth said. "There was nothing that was really off. I'd have a sporadic shot here, a sporadic shot there, but nothing was ever really off. If I can do that in Konopiště it's gonna be tough for them to keep up."
Still, most of the event's top contenders have been in Europe – Ricky Wysocki won the Skellefteå Open in Sweden over the weekend – and McBeth was only heading there Monday morning. He wasn't worried about jetlag given the late afternoon tee times, though, and the importance of Saturday's round was giving him plenty of swagger.
"Me winning this one and Ricky getting that one – the feeling of winning this one is a lot bigger than the one he got over there because of the magnitude of the round I shot," McBeth said.