Massachusetts Isn't Done Yet
Massachusetts Isn't Done Yet
A look at this weekend's 2019 Tim Selinske US Masters Championships
Friday, September 6, 2019 - 01:34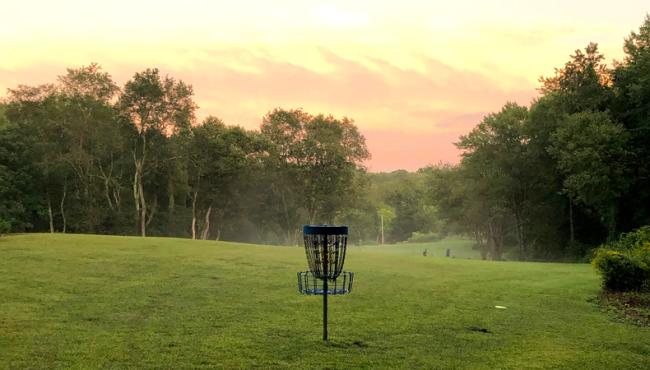 After back-to-back weekends of the 2019 MVP Open, Steve Dodge and his crew are set to host yet another large-scale disc golf event for the third week in a row, the 2019 PDGA Tim Selinske US Masters. This PDGA Major unites both amateur and professional masters competitors, all of whom are looking to take home the coveted title of US Masters Champion in their respective divisions.
Now in its tenth running, the 2019 US Masters will see 208 competitors split between 12 divisions playing four rounds on three different courses in the greater Worcester, Massachusetts area, including 501 DGC, Newton Hill, and the one and only Maple Hill.  
As usual, many of the world's top masters players will be on site including the reigning 2018 and 2019 PDGA Pro Masters Disc Golf World Champion, Dave Feldberg as well as six-time US Masters Champion, Barry Schultz. Since its inaugural running, only player each in the FP40 and MP40 divisions have taken down the Masters World Champion and a US Masters Champion titles in the same year; Carrie Berloger in 2011 and Schultz in 2017. However, both Elaine King and Feldberg will be looking to join that very short list after their victories at 2019 Masters Worlds in Vermont just a few months ago.
The mix of courses creates a lot of opportunity for wild scoring swings. Most are already familiar with Maple Hill, but 501 and Newton Hill will very likely cause a lot of players unexpected trobule. "It's a mini Iron Hill," said Feldberg referring to 501, the course the MP40 division will play first. "It's got all those little rocks in the fairways just like Iron Hill. Only the first two holes are open. It's more elevation than Iron Hill on the same type of grounds. Newton is gonna be the decider." 
Newton Hill is built into an extremely steep piece of land. It's not the longest course in the world, but it is definitely tricky, as playing up, down, and across the steep slopes can mean a lot of roll-aways on the greens, or in some cases, in the fairway itself. In addition to the elevation changes, the park contains towering oaks and thick rough in some spots. The property is so dense that you feel secluded despite being in the heart of downtown Worcester, MA. 
A Bit About Tim Selinske
On August 14th, 2009, Tim Selinske, one of the four founding partners of Innova Champion Discs, passed away after his long battle with Langerhans Cell Histiocytosis. He began his days with the International Frisbee Association and until his untimely death, Tim was a tireless promoter of disc sports in general and of disc golf in particular.
The following is the intro to a piece written by Dan "Stork" Roddick, PDGA #003, for the Fall 2009 issue of DiscGolfer Magazine. Stork used much of the article when he gave Selinske's eulogy.
I was in Maui, just a few days after celebrating my son Tyler's wedding when the news of Tim's death came to me by e-mail. I was numb for days... truly unable to accept that it was true. It's only now, weeks later that I can begin to contemplate what Tim meant to me. I know that many readers of this magazine knew Tim in one way or another, so I'll share my thoughts, hoping that it will help you also make some sense of this great loss.

First of all… the guy was FUNNY. Not local, regional, or even national funny... He was world-class hilarious! The voices…. The impressions… The sense of timing and memory for detail and dialog… Amazing. If we had gotten him a shot on Saturday Night Live (especially during some of the weaker seasons) he makes it. No, really… he does. There are lots of people earning money as comedians who aren't even in it with Ske. I mean, head-to-head, Ske and Tom Arnold… Who do you like? My money's on our boy.

Not everybody can be funny. Good comics are smart. To do it really well takes a special kind of social genius.

Ske could reach people. He had the two essential skills. He knew what they needed, AND he knew how to provide it. Most of us don't have either of these abilities and very few have both. Our Ske was a minister. In fact, that's another path in life that he could have taken. Can't you imagine him with his own congregation? They'd love the guy! But, he didn't go that way and thus became a Bishop in our own Frisbeetarian church.
Friday and Sunday will serve as the easiest of the three days this weekend, as Saturday will see all of the divisions playing back-to-back rounds on two of the three courses being used. Friday's tee times begin bright and early at 8:00 a.m. EDT. Stay tuned for more coverage and make sure to subscribe to Gatekeeper Media on YouTube for post-production videos coming later this weekend. Follow the hole-by-hole scores on pdgalive.com.