New Hewitt disc golf course sign of sport's growth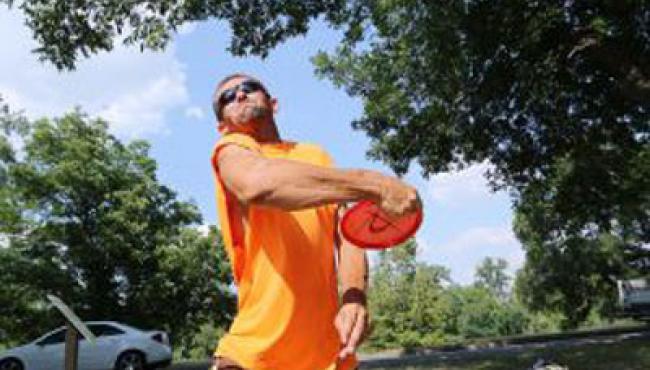 As Joey Harrell walked around Hewitt Park, he began noticing some curious stares being cast his way.
After all, he was alternating between wandering around aimlessly and standing still looking at features of the park.
But once he made the motion of throwing a Frisbee, it all started making sense. Harrell wasn't just some crazy guy with no place to be. He was designing a disc golf course.
The Hewitt Park course will be the third championship-level course in the Waco area when it opens late this month or in early August, joining Cameron Park and Brazos Park East, affectionately referred to as The Beast.
"Hewitt wanted a course badly out there," Harrell said. "I thought it was probably going to be a nine-hole course because it's a small park with not many trees or challenges with the features out there. I didn't want all open, short holes, so I looked at it for a few months and ended up with 18 holes."
Harrell said there will be features added to the course, such as some trees planted, several boulders strategically placed and includes the possibility of a basket mounted on top of a boulder to make for an elevated putt.
"The people out there have been really excited," Harrell said.
The sport has exploded around the nation since Ed Headrick founded the Disc Golf Association in 1976, and it has especially taken off in the past 20 years in Waco.
Waco Disc Golf Association vice president Eric Vlam was on the ground floor of the sport's construction, as he was the pro for the third course ever built in the country, and remembers a time when there were only a few places to play.
"I met with Ed Headrick, and they were really promoting disc golf as a way to get out and enjoy nature," Vlam said. "I'm (DGA member No. 125), and I think we're up to 80,000 members in the Professional Disc Golf Association. It's really catching on, and there are thousands of disc golf courses everywhere."
Harrell was part of the first organized disc golf group in Waco, which was known as WEDGE — Waco Ensemble of Disc Golf Enthusiasts — and was renamed as the WDGA in 2009 with Channon Quillen taking over as president.
The WDGA holds four tournaments per week and rotates them around to the three 18-hole courses in the area in Cameron Park, "The Beast" and Woodway Park. The Hewitt Park course is expected to be added to the rotation as soon as it's up and running.
The tournaments consist of a Tuesday Women of Waco event, as well as Wednesday doubles, Saturday singles and Sunday doubles divisions. The association also conducts special events, such as ace races, in which holes are shortened to about 200 feet and the objective is to make a hole-in-one, as well as midrange and putting challenges. It also plays night golf once a month, with blinking lights on the discs making them easy to find in the dark.
The WDGA hosts an annual party, but "it's a party every time we get together," Vlam said.
An ace race was recently used as a fundraiser to assist West after the fertilizer plant explosion, and $1,100 was raised.
In addition to the physical benefits to playing disc golf, it's a relatively inexpensive sport to play, as it's free to get on the course once a player attains some discs.
Even for those who are a little more ambitious and competitive, playing in the weekly tournaments won't break the bank, and you don't have to be a member of the WDGA to play.
"You can come play in an organized tournament for $6, and you have a chance of winning our ace pot, which is up to $400 sometimes," WDGA Vice President Travis Hipp said. "You're competing against people, you have a chance to win a good amount of money and have a really good time."
The doubles tournaments are popular for less experienced players because it's a blind draw. That means anyone has a chance to be matched with one of the best players in town and pick up plenty of tips on how to improve. It's also a chance to build some camaraderie, as disc golf players come from all walks of life.
"Everyone in the club, all the individuals I know, want new people to show up," Vlam said. "They really want new people to come out. They really want to pass it on."
The WDGA also hosts the Waco Annual Charity Open, a two-day singles tourament on the PDGA Tour in August. It was once an A-tier tournament, and while it's dropped down a notch to the B tier, officials say the plan is to build it back on the A-list.
Vlam wants to see Waco have enough championship courses to host one of the major PDGA events, all the way up to a world championship. Four is the minimum number, so one more will be needed after the Hewitt Park course is complete to make that dream a possibility."
"It brings in an awful lot of money," Vlam said. "People are coming in, they buy their drinks, they buy their lunch. They don't carry that stuff with them. I can't give a ballpark figure, but I'd guess each of our tournaments brings in $100,000 to $200,000 in terms of rooms every time we do them."
Hipp also would like to see a few more courses built and also have the weekly tournaments yearround.
Until then, the WDGA will continue trying to promote the sport it loves and have a good time doing it.
"It's just good, clean, cheap entertainment," Vlam said.
Written By Jason Orts