Minnesota Majestic Day 2
Dave Feldberg managed to play bogey free at The Valley in the second round of the 25th Minnesota Majestic to take the lead from Paul McBeth. His sick 1074-rated round of 10 under par was 4 throws better than anyone else. Playing without a single bogey on this tough course with lots of out-of-bounds adds another chapter to the long history of this popular Twin Cities course. The Valley was the first course Hall of Famer Chuck Kennedy designed in 1989 and is now one of several pay-for-plays in the metro area.
"I learned so much watching Dave play," said foursome partner Dustin Honold who threw a solid -4 at the Valley. "Dave didn't do anything extraordinary. He just based most of his drives or approach shots and played steady all morning. That's why he's so good." After 21 holes at The Valley, the pros drove north a few miles to another legendary Minnie course, Kaposia, for 21 more holes. A few days earlier volunteers and city crews cleaned up downed trees and branches from 60-mph winds that tore through this wooded, hilly park overlooking the Mississippi River. Dave and Paul dueled it out through the tightly wooded fairways and when it was over, Paul had managed to pick up one shot on Dave. Going into the last round at Hyland Ski & Snowboard Area, Dave has a one-throw lead over Paul. Ken Climo, Will Schusterick, Eric McCabe, and Gregg Barsby might be too far back to make a run, but they'll be battling it out for the Final 9 honors and third place cash Sunday afternoon.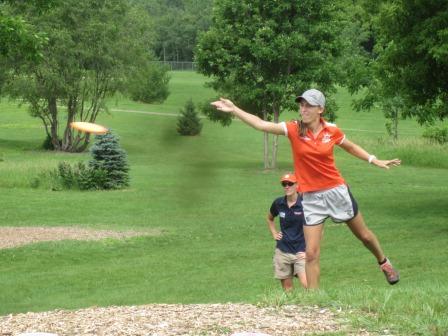 In the Women's Pro group, The Fantastic Four of Paige Pierce, Catrina Allen, Des Reading, and Sarah Stanhope are all sitting within 3 shots of each other. Paige vaulted from 4th to within a shot of the lead with an excellent 978-rated round at The Valley. She then tied Catrina for the lead with an even hotter round at Kaposia. Only 3 throws back and definitely still in contention are Des and Sarah. Who's going to win Women's? It up in the air and may come down to the Final 9.
Phil Arthur seized control of Masters by throwing the second best score by any pro in any division at The Valley. His extremely hot 1066-rated round blew away the Masters field and it's now a race for second place. Likewise in Grandmasters, Doug Peyton has dominated the field and surged to a 20-throw lead after the second day. Doug is the latest in a long list of Iowans who seem to shine on Minnesota disc golf courses and then happily head home with pockets full of Minnie cash.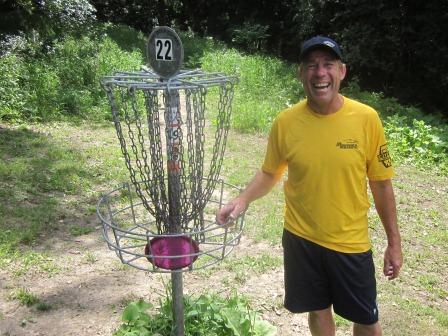 Clinging to second place by one throw is Bruce Novak whose consolation prize after being schooled by Doug was an ace on Kaposia's 19th hole. This 273-foot hole is a blind, downhill righty horkin' hyzer shot that I happened to witness while spotting. It smashed so hard I thought for a moment the chains had broken. "Steady" Ed, props on your 36-year-old basket design!
The 60-player Advanced field is wide open after three rounds. Steven Eyberg jumped into the lead with a scorching 988-rated round at The Valley. One throw back is Aaron Walther; Lon Reilly, Ryan Johnson, and Kelly Greenhoe are only a few shots back and very much still in the hunt.
In Advanced Women, Holly Finley has a 6-throw lead on Ellen Kline going into the final round. In Advanced Masters, Gary Suarez leads with John Lloyd and Dan Zink only a few throws off the pace. In the big Intermediate field, Joe Howard is in first place with Travis Sargent, Clay Ebertowski, Jarred Voegele, and Mitch Heller all within 3 shots of Joe. Stay tuned on this race. In Intermediate Women, Kelly Caywood has taken control and is poised to win big.
The action on Sunday shifts to Hyland Ski & Snowboard Area with its huge, verdant hills overlooking the metro skyline and Normandale Lake. The pros tee off for their fourth round at 9:00. Big crowds and sunny skies are expected for the festive, fun, flippy Final 9 at 2:00 p.m. See you there!
Written by: Joe Feidt, # 362
Photos by: Wisch Photography