Day 2 - Memorial Championship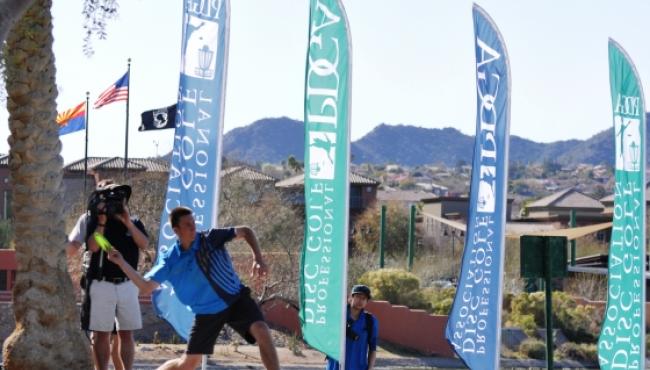 Another great day in Arizona as day two of The Memorial Championship started off with a bang. I had the pleasure of live tweeting both the womens and mens lead cards and the story of the day (and the tournament) has to be Paige Pierce.  She is now in the lead by 10 strokes after a stellar 1036 rated round on Wednesday and a 1015 rated round today.
There were plenty of other great rounds today in the Women's division at Fountain Hills. Three time world champion Valerie Jenkins shot the second hottest round with a 55 (par 56) on the brutal tournament layout. Liz Dorries (formerly Liz Lopez) shot just one stroke off of Val and Sarah Hokom was just one behind her with a 58. Paige shot a 52, which is impressive in it's own right, but there is more to it than just a great score.
Paige had an entertaining round full of birdies on some of the longest holes on the course. She had her tough breaks too, but sometimes even her tough breaks were impressive. For example, she went OB by going too far  on a 425' uphill par 3. On courses like Fountain Hills and Vista Del Camino, there's a good chance that her 10 stroke lead could grow even larger in the days to come.
The men's lead card was exciting from the first throw all the way to the last putt. Nikko Locastro had the hot round yesterday, with an 1118 rated 16 under par at Vista Del Camino, but he was only 2 strokes ahead of Ricky Wysocki. Gregg Barsby and Dave Feldberg were just behind them only a few strokes off from the lead. Wysocki got off to a good start and really never looked back. Barsby and Nikko had great rounds, but it's hard to keep up with Wysocki when he birdies the entire back 9.
Wysocki finished 13 under par for the day, but that still wasn't good enough to claim the lowest round. Nate Doss and Will Schusterick both shot a stroke better, carding 42's and 1108 rated rounds. Arizona native Paul Ulibarri carded a 43 to tie Wysocki's 1099 rated round for the day. Barsby and Ulibarri are now tied for 4th, with Schusterick in 3rd, and Locastro and Wysocki in a deadlock for 1st. The battle continues tomorrow back at Vista Del Camino on the XL layout.
If a hole at Fountain Hills isn't difficult length-wise, it makes up for it with pin placement. A 20' putt becomes a serious issue when the basket is 3' from an OB and there's 15mph wind. After tomorrow's round, half of the Open division will be cut and the remaining 50% will have to battle the fountain again. Anything can happen here, even at the highest skill level. An exciting finish at Fountain Hills isn't just a possibility, it's expected.
Catch live streaming video of third round action courtesy of DiscGolfPlanet.tv right here on PDGA.com. We'll be providing live hole-by-hole scoring once again for the lead cards with commentary via Twitter and photos on Flickr.