McBeth & Pierce win European 0pen
What a day. The final round. The crowd. The live TV broadcast. It was one of the most memorable final rounds European Open has ever witnessed. In the end, it was Paul McBeth in MPO and Paige Pierce in FPO who had what it takes to tame the Beast and take the titles of European Open 2013 Champions.
Not only did the sun come out for the last holes of the final to set the stage for a spectacular finish, but the players made the competition a thriller in both divisions all the way until the very last holes. All this was witnessed by the biggest crowd in European Open history on site estimated to be in excess of 2000 spectators. Finnish TV viewers and international online broadcast followers all over the world were able to join in on the suspense from the 16th hole onwards.
Paul McBeth and David Feldberg battled side by side throughout the final round, collecting pars or birdies on every hole. All the way until hole 17. McBeth hadn't made the island on hole 16 with his second shot, which brought Feldberg to an even score with him. On the unlucky hole 17, Feldberg's drive landed OB, and he had to face the first bogey on the entire round. When McBeth pared the hole, he had a one stroke advantage teeing the 18th hole. Playing safe, he was able to putt safely for a par whereas Feldberg had to sink a birdie putt with a strong tailwind on his back. The chains clattered, but Feldberg's putt was a miss, and it meant McBeth could start the celebration after an easy par putt.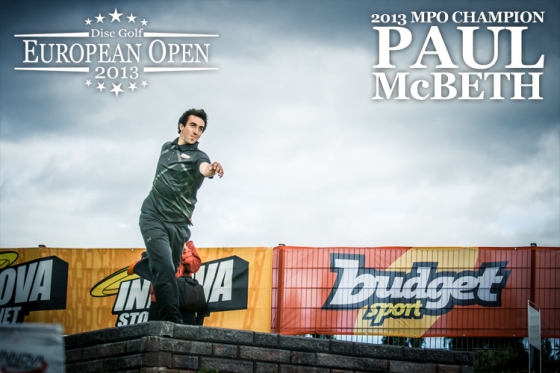 The women's final was as exciting as ever, with three players teeing off within only four strokes from each other. The suspense was there all the way until the 16th hole, with Paige Pierce and Valarie Jenkins alternating in the lead and Catrina Ulibarri only a few strokes away. On 16th, Jenkins' second throw landed OB, after which she struggled with landing the island throw inbounds. After an 8 on the scorecard for Jenkins, Paige Pierce was able to play the last two holes with a two-stroke advantage. Despite her bogeying the 17th, Jenkins ran out of holes to catch up, and Pierce putted a calm and collected victory putt, claiming the title of European Open winner.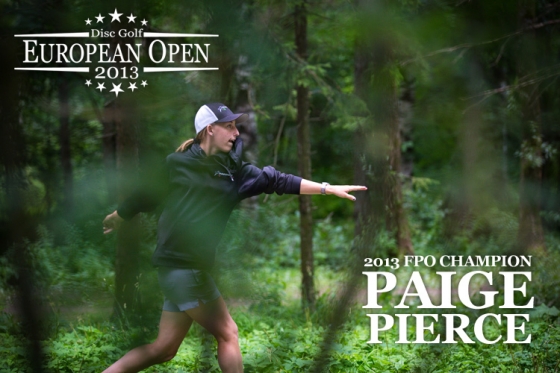 Behind the lead card, Finnish talent Pasi Koivu played a solid 6 under and rose to fourth place right behind Will Schusterick. His performance was greeted by a cheering Finnish audience.
Complete event results can be found at PDGA.com.