Mango Disc Golf announces 2nd Annual Mango Classic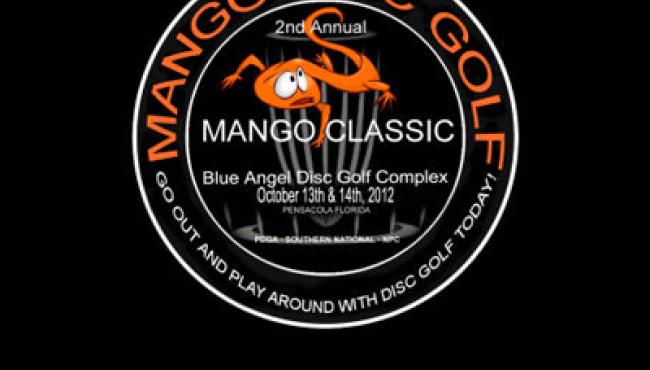 The 2nd Annual Mango Classic will be held on October 13th and 14th, 2012 at the Blue Angels Disc Golf Facility in Pensacola, Florida. The BAP is a disc golf complex with its three 18-hole courses, trailer rentals, cabins, RV and tent camping available on the course. This spot is truly a hidden gem in the disc golf world. Steve Hollis says, "Jay Yanovich, Recreation Manager for the Navy, and Mike Sidebottom as the liaison between Mango and Blue Angel Park are extremely excited about this event and are working very hard to be ready for this event and to showcase their park. I am sure that the courses will be in top shape".
This is a PDGA Sanctioned B-Tier event, Southern National Qualifier, and NPC Qualifier. In only its second year, the Mango Classic 2012 will have one of the 'largest' cash payout of any B-Tier in the nation. Hollis' goal is to attract some of disc golf's top professionals to the event. It is obvious that in their first year with only $1000 added money they were successful with Matt Orum, Avery and Val Jenkins, Nate Doss and Rivers Sherrod playing in the event. One can only imagine who might show up for this year's event with the $10,000 added money.
President and Founder Steve Hollis, aka "The Parker," has been a staunch promoter and supporter of disc golf in the Florida Panhandle for several years now. That part of the state has seen significant growth in disc golf; the direct result of all his individual effort. A lot of credit must be given to him for much of that coming to fruition.
Per Mango Disc Golf Vice President and Mango Classic Co-Tournament Director Kurt Lampkin, "the concept for Mango Disc Golf and the Mango Classic is to provide our sport with "kicking it up a notch," in that part of the country that is seeing the demand for disc golf surge! The Florida Panhandle is perfectly ripe for further major disc golf growth. Mango Disc Golf will provide the players with a FUNtastic experience, while simultaneously working to dramatically increase payouts to the pros, whom we feel deserve more. Advanced player participants are going to receive a stupendous player package along the lines of a World Championship event. The pro cash payout will be a most impressive one!
Steve Hollis has resided in Destin, FL for 41 years, works in the Real Estate industry as a successful businessman in Ft Walton Beach, FL. Steve was a semi-professional windsurfer back in the late 80's. His biggest passion in life everyday is his 9yr. old daughter and caddy Vida Star. Steve spends as much time on disc golf courses as possible, enjoying the flight of the disc, and the sound of the chains made from his monster long putts. Not to mention the hours and hours of his time teaching new and old players along with being involved with clinics at local schools to promote and introduce the sport to the kids.
Per Lampkin, I am very proud of all Steve has accomplished both as a sport promoter, and within his game in such a short period of time. Steve has put in the time, both on and off the course for the betterment of him and disc golf…both beneficiaries. Steve and Kurt met in Hawaii in 1979 where they both lived, and became close friends. Both worked at night, and played all day… everyday…freestyle partners and disc golf fanatics.
When asked to come on board as VP of Mango Disc Golf, "It was an automatic YES. The opportunity to work with someone I have all the admiration in the world for was impossible to pass up. Steve and I think alike, we have the same goals, and lots of passion. He is just a delight to be around, all the time. Most of all we are both relatively laid back, easy going people who love disc golf, and all Frisbee disc sporting events."
When Steve was asked why he chose Kurt Lampkin, aka "The Friz Wiz," to join as the Vice President of Mango Disc Golf he replied, "Kurt has always been involved in moving our sport forward. He knows everyone and has been a true lover of the sport  and no one has more passion for it than he does – for me to reach the goals I set for myself I needed someone who would work along side me as a worker and a partner. The fact that Kurt and I have been best friends for over 35 years was just a plus; I look for great things to happen with Kurt as my partner as the Mango Classic moves forward in the years to come." 
No stranger to the sport, Kurt Lampkin - PDGA#1471 started playing in 1977, the day after witnessing the World Frisbee Championships at The Rose Bowl in Pasadena , CA . His first competition was in Honolulu, HI, Tropical Jam in 1979, and is recognized as a multiple World, National, & State, Accuracy, Freestyle & Disc Golf Champion. 
Although he has not been as involved in golf competitively in recent years, Kurt has been involved in flying disc sports as a competitor, coach, instructor, promoter for almost 35 years. "For me it's all about the MANGO CLASSIC right now. I can't wait to get down to Florida, being a part of this, and watching it unfold over the coming years. It truly will be CLASSIC! Mango-Mango."
Lampkin resides in Durango, CO since 1995, is retired, and spends much of his time in his race car, as well as on his literal home disc golf course, affectionately known as La Plata Pines.