Locastro Comes Back for Samui Swine Classic Victory
Locastro Comes Back for Samui Swine Classic Victory
Sunday, February 4, 2018 - 11:53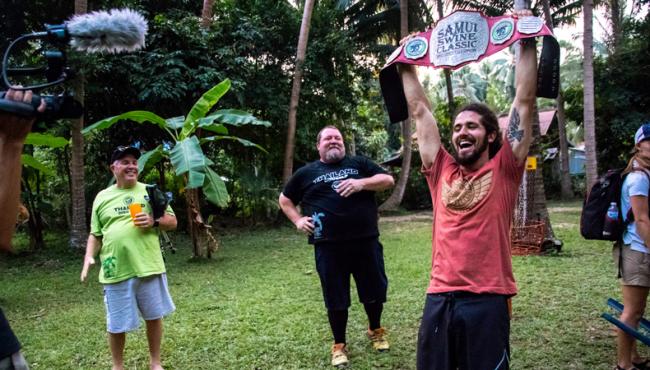 Nikko Locastro brought his A game to the final 27 holes of the Samui Swine Classic V on Saturday, shooting Thai spicy disc golf to outdistance his American rivals and grab the winner's ฿30,000 ($950) share of the ฿173,500 ($5,500) purse.
Koh Samui sports an old-school nine-basket layout, with four must-get birdies under 250 feet; three medium-length, but tough par 3s; and back-to-back signature par 4s on holes 4 and 5. Out-of-bounds lurks in a few choice places, and even the top shooters would fall victim to its allures of risk versus reward when it mattered most.
Playing the circuit three times -- twice to make up round three's 18 holes and again in the Open showcase Final 9 -- Locastro chipped away at Gregg Barsby's five-throw overnight advantage. The Missouri native finally grabbed a share of the lead when he parked hole 12 (aka hole 3), while Barsby hit a coconut palm tree short of the island green. Both players extended their leads over Jeremy Koling and defending champion Philo Brathwaite on the two OB-strewn par 4s before Locastro birdied out on the final three in regulation while Barsby was drawing blanks. When the scores were posted, Locastro had shot a tournament-best 1043-rated 12-under 46.
The Final 9 proved to be a victory lap for Locastro, as he stretched his lead to five with a 5-under 23 that was good for a two-shot gap over the rest of the card. The ever-gracious Barsby finished in second place, while Nate Perkins and Koling tied for third and Brathwaite rounded out the top 5.
Open Women's leader Paige Pierce tossed an 892-rated round three, but her lead over Finland's Hannele Määttä was insurmountable. Pro Masters 40+ winner Bryan Motley matched Perkins' 8-under 50 to share in the day's second-best score.
Beyond the show that the top players put on, the feel-good story of the competition was surely the performance of Thailand's leading trio, all of whom finished on the podium: Junior-aged Tee Vetne came from behind to win Advanced, while View Khamsriphon and Joy Chupthasom finished in the bronze medal position in the Pro and Advanced Women's divisions, respectively.
Following the awards ceremony, our naamjai hosts Nigel and Som "Tiger" Mills and their deep staff of family and friends treated the participants to a world-class BBQ buffet. Inevitably the camaraderie and celebrations carried on late into the night, and all that were there swore they would return to paradise for the Samui Swine VI in 2019.