Koling, Paige, and Paige Leading the GBO
Koling, Paige, and Paige Leading the GBO
Thursday, April 30, 2015 - 21:18
When we arrived at Emporia Municipal Golf Course this morning to kick off Round 1 of the 2015 Dynamic Discs Glass Blown Open, something was missing. We couldn't quite put our finger on it, but something just didn't seem right. It was only after looking at a flag pole with a lifeless and motionless Old Glory and Kansas state flag that we figured it out; wind. After all, this is the same course where the infamous "wind putt" happened a few years ago at this very tournament.
In disc golf, a lack of wind is typically a good thing. Sought after, even. But considering the layout of Municipal, we'd be willing to bet that there were plenty of competitors on the course today that would have been happy to see that flag whipping around the pole as the gusts of winds blew past. Local players are likely much more familiar with playing their courses in windy conditions, and the same can be said for those that traveled here days in advance and practiced the courses in the windy days leading up to the event.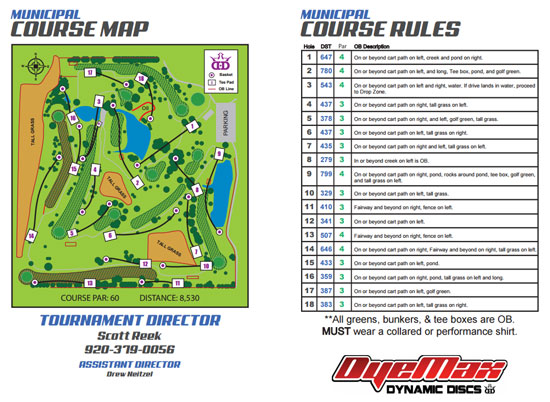 Municipal has several holes that, in calm conditions, are going to favor players with more distance off the tee. Holes 6 and 7 for example are 437' and 435', respectively, and fairly open. If a player's drives max out at 400 feet, he/she will still be looking at a birdie putt outside of the circle. Someone who can drive 450-475 feet is going to have a much better chance at an easy birdie putt off the tee. A 20mph headwind in that situation might even out the scores, favoring skill and experience over raw power.
Don't get us wrong here. If you think the lack of wind is the only reason that well known big-arm players like Jeremy Koling #33705 and Paige Pierce #29190 are leading their divisions, you're wrong, plain and simple. They're in the lead because they are absurdly talented disc golfers that can step up to the tee on any course, in any conditions, and finish the round at the top of the leaderboard.
Competition
The Men's Pro Grandmasters and Men's Pro Masters divisions were the first to hit the links this morning, teeing off between 8:00am and 10:00am. In the Grandmasters division, Marcus Roberts #7729 of Lubbock, TX holds a one throw lead over a 4-way tie for 2nd place with another handful of competitors easily within striking range. The story isn't much different in the Masters division, as Donald Ellsworth #17407 from Allen, TX is leading after shooting a six under par (54), with 11 players all within 1-5 throws of tying it up.
Open Women (FPO)
The Open Women's division saw several lead changes throughout the day. Paige Pierce #29190, (Texans did quite well today if you haven't noticed…) had a few peaks and valleys during the round, but she would end up fighting her way back to a one throw lead by the end of it. You'll be hearing that name, Paige, a lot more often in the days to come. Speaking of which, teeing off right after Paige Pierce tomorrow morning on the lead card will be none other than Paige Bjerkaas #33833!
Tomorrow will be Bjerkaas's first appearance on a lead card at a PDGA National Tour event, and one of the only times at any large disc golf event in general. That's not saying much really, considering she is still in the early stages of her disc golf career, at just 18 years old. "I was on the lead card at the GBO last year, but that's it. At the Gentleman's Club Challenge, The Memorial Championships, or pretty much any tournament with more than 10 women, I'm always on second card!", said Bjerkaas after the round today.
Open (MPO)
The Open division had more than twice the field size as the next largest division with a total of 92. They would tee off every eight minutes for just over three hours before the list of names would come to an end. The last two cards to go would hold eight of the top players in the world. They were set as follows:
1:52pm Tee Time
2:00pm Tee Time
NOTE: These are the last four winners of the Glass Blown Open.
By the time the first eight holes were complete, a three-way tie had developed between Koling, McBeth, and Schusterick. Lizotte and Feldberg were right on their heels, with Wysocki, Doss, and McCabe only a stroke or two back. Cut to a few holes later and the fight for the lead quickly became a clear battle between Koling and McBeth, who were now tied in first ahead by the rest of the pack by two or more.
Koling parked a precision forehand drive on Hole 15, gaining one on McBeth, who left a long birdie putt a bit low. Koling followed with a huge drive on Hole 16 that left him inside of 20 feet. Again, he would snag a birdie where McBeth could not, putting him ahead of McBeth by two, and ahead of the rest of the pack by three or more. Koling finished the round with pars on 17 and 18 to card the hot round of the day, a fourteen under par (46), unofficially rated at 1095.
On top of the standard live hole-by-hole scoring and tweeting on PDGALIVE.com today, there was also live streaming video coverage of both of the featured Open division cards. Tomorrow will bring more of the same, as DynamicDiscs.TV covers the lead card and SmashBoxxTV covers the chase card.
Tomorrow the National Tour competitors head over to the Jones East course for Round 2. Measuring in at 7,955 feet with a par of 62, Jones East is arguably the most difficult course the pros will take on this weekend. It has more trees and a more technical layout, all while still having an average hole length of 441 feet.
We'll have scores and tweets going once again on PDGALIVE.com starting at approximately 10:40am for the Open Women's division top two cards. A few hours later the live coverage will begin on DynamicDiscs.TV and the SmashBoxxTV YouTube channel.
Tune in tomorrow afternoon as the 2015 Dynamic Discs Glass Blown Open continues for Round 2. High-resolution photographs from Round 1 are already available on the PDGA Flickr page, and videos from Jomez Productions and Prodigy Disc should be available for your viewing pleasure by the start of Friday's round at the latest. Follow the PDGA on Twitter or Facebook for all of the latest #GBO2015 links and updates!