Keegan Conquers Injury, Jumps into Third Place in Vegas
Keegan Conquers Injury, Jumps into Third Place in Vegas
Locastro, Freeman tied for first heading into moving day
Saturday, February 24, 2018 - 12:08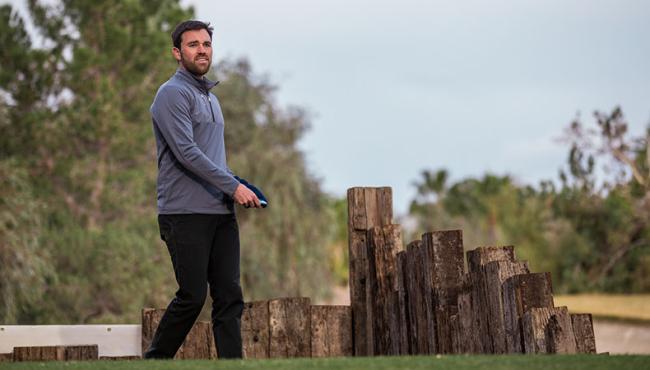 HENDERSON, Nev. – Dustin Keegan's 2017 season ended in pain.
The 1007-rated Oregon pro battled a shoulder injury for much of the summer – his right bicep shifted without tearing, he said, with the ensuing nerve damage sending referral pain shooting down his arm  – and he when he finally returned home in October he was unsure it would ever heal.
"It was hard," Keegan said. "All offseason I didn't touch a disc right-handed for three months, and then I learned how to play left-handed. I got a left-handed hole in one."
He didn't need his off arm Friday at the Las Vegas Challenge, though. Now fully recovered and playing under a new sponsor, Keegan demonstrated his health with a 1069 rated 10-under par at the Innova course, a performance that vaulted him into third place after two rounds of the first PDGA National Tour event of the season.
Keegan's bogey-free showing blended both power and accuracy, as he hit 72 percent of his fairways and only strayed outside the lines once on the O.B.-laden property. Despite a couple of late putting hiccups, the round ended up being Keegan's highest rated in more than 15 months.
Those closest to Keegan saw the performance coming: Paige Pierce and Nate Perkins both predicted he would bounce back after playing practice rounds with him, and even though he said he didn't want to get his hopes too high, Keegan himself entered with a positive outlook. He recently set the course record at his home track – Dexter Park near Eugene, Oregon – and was confident he'd broken the bad form he adopted as he played through his injury.
"Coming in I was playing some of the best golf I've ever played, honestly, in my career," Keegan said. "So I thought I was gonna play well. But I never expect anything."
He's competing with another player doing the same. After 2017 struggles dropped his rating to a 10-year low, a resurgent Nikko Locastro shot a 9-under par 52 Friday to move to 16-under overall and into a tie for the lead with Colorado pro Joel Freeman. Locastro is hunting for his third Las Vegas victory and has been making the most of his opportunities: He's second at the event in parked shots (39 percent); fourth in circle 1 in regulation (50 percent); and third in circle 2 in regulation (78 percent). Though he hit some misfortune inside the circle, he made up for it with two big conversions from outside, including a 60-footer for birdie on 507-foot 17th.
"For me, this year I have a lot to prove to myself," Locastro said. "I'm not really out there trying to impress anybody…I believe in myself, I believe I still have what it takes to win. At 29 years old I feel like I have better shots than I ever have in the past. I just appreciate the sport, and I'm very grateful that I've been blessed with a beautiful life through disc golf."
After gale force winds whipped up the conventional round one leaderboard, several top contenders broke back into the mix during round two. Devan Owens and Ricky Wysocki tossed matching 8-under par 53s to move into a sixth-place tie at 11-under, while Paul McBeth jumped up 20 spots on the leaderboard and into 10th place with his own 8-under.
Drew Gibson, meanwhile, brought a 9-under par 52 despite a gruesome finger injury that found him shedding blood on his discs and trying to close the wound with super glue between each hole. He attributed the laceration to a combination of over-throwing and the dry desert conditions, but insisted he would not pull out of the tournament.
"I'd be lying if I said it didn't hurt," Gibson said. "It hurt. It's hard to describe the feeling of it…I'm not gonna quit. I have no choice."
One of Gibson's touring counterparts, though, ended his Vegas run early. After a 7-over par showing put him relatively out of contention for the cut, Josh Anthon withdrew from the tournament to get an early start on preparation for next week's Memorial Championship down the road in Scottsdale, Arizona. Several other top players will also battle today for their chance at a fourth round: Zach Melton, Scott Withers, and Wintertime Open winner Lance Brown (+4) all sit below the cut line heading into today's tilt with the 9,000-plus foot Adidas Terrex course. Keegan, though, was licking his chops at his chance to tackle the longer track.
"We're going into the bomber course, which is good because I'm throwing pretty far right now," Keegan said. "[I just need to] keep executing my game – I play pretty aggressively."
Keegan and the rest of the lead card tee off at 1:34 p.m. local time, with real-time scoring and statistics available on UDisc Live.