"It's All About the Kids"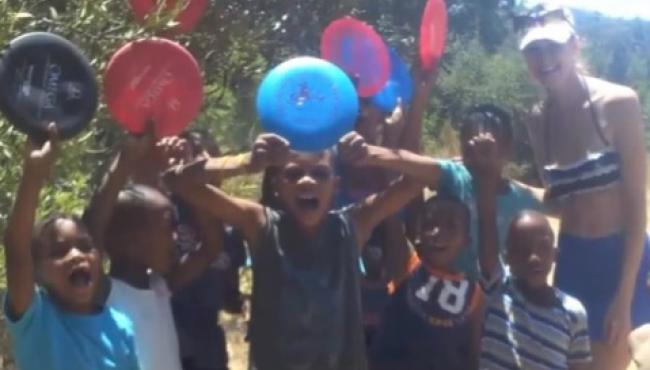 I came to Africa around the beginning of October for a 4 month contract with a local modeling agency. I decided that while abroad, I wanted to share Disc Golf with the locals.
My goal was to give atleast 1 clinic at a local school and inspire them enough that they continue to play and teach the sport long after my departure. I decided to document this adventure with a series of video blogs called "Disc Golf in Africa"
I asked many manufacturers and clubs to donate discs to my cause. A few accepted and I was fortunate enough to have Innova send over 2 DISCatcher traveler baskets, 30 beginner lightweight discs, the E.D.G.E curriculum and DVD. Thanks to the PDGA, E.D.G.E. and Innova for assisting me in getting these materials over here, or else I would never be able to accomplish this goal. I also received a disc donation from DiscStalker, out of G.A! Upon my departure from Africa, I'll be donating the 2 baskets, the discs, the DVD and curriculum to 2 local schools.
It took several months, but I'm finally reaching my goal. After contacting over 100 schools in and around Cape Town and being rejected time and time again, I was lucky enough to get introduced to a teacher who had played disc golf while visiting the states. This meeting was made possible by my friends at GrassRoots Disc Golf. I had a meeting with the teacher and he eagerly invited me to his school to give a clinic, which I will be doing this Friday 1/18/13.
It seems that no matter how hard I tried to push the sport into the schools, it came down to mere coincidence that I ended up meeting the right people at the right time, to help make this possible.
Another funny example is – I was having lunch at a famous local bakery called "Charley's Bakery" and in came a classroom of students to see the beautiful cakes and baked goods. While I was sitting there, I thought to myself…"I should approach the teacher about a clinic." That's exactly what I did and gave her my contact info. If it all works out, that will be another school I'll have the chance to visit and share the beloved sport of Disc Golf.
The 3rd example, another coincidence, is probably my favorite. Empty public space is hard to come by here in South Africa, the school fields are fenced in and the public isn't allowed to use them. Local parks are quite small or in nature reserves where sports aren't allowed. After running a few miles one day, I saw an empty field and decided I'd brave it and do some field practice. Upon entering I saw a sign that said in Afrikaans "Private Property, please contact XYZ" I tried to call the #, but there was never an answer. One Sunday, I thought to myself, I'm going to that field again because I really want to do some driving practice. As I walked into the area, I saw a man setting up the sprinkler system. I walked over and introduced myself and he was the man who's name was on the Private Property sign. I explained to him who I was, what I was doing there and my goal of bringing Disc Golf to South Africa. He was very excited to learn about it, so I told him all about the sport, the discs and he decided to give it a few throws himself…then he was sinking some putts into my DISCatcher traveler basket. He invited me to go his school to give a clinic and said he's certain the children will LOVE it.
I'm also working with the local existing Ultimate community in Cape Town to help me establish the sport and establish a group of people to keep it alive after my departure. With their help and recommendations, I found a piece of land in an area called Stellenbosch. My 1st trip to the area was an expensive one, costing me $140.00 using a taxi. I spent about 3 hours at the park scoping out 18 holes that could be used for a course. There is a train that services the area, but everyone says it's not safe. The next weekend rolled around and I wanted to go again to play the course I had roughly planned out. I decided to take the train, which only costs $4.00. It was perfectly safe and only took an hour to arrive, same time as the taxi ride. After exiting the station, you have to walk about 1.5 miles to arrive at the park, but it's completely worth the trek. I've been back to the park 6 times since then and I've scoped out a sweet 18 hole target course, which I've named "The Bosch"
I'll be holding a friendly tournament there this Saturday 1/19/13 with the Ultimate Community.
My last visit to "The Bosch" I was lucky enough to stumble across some children eager to play. They all watched me throw 3 holes before they were brave enough to engage. I introduced myself, explained the sport I was playing and invited them to throw. They were more excited than anyone I've ever seen, jumping up and down for their turn yelling "ME, ME, ME, ME, ME!!!." It really warmed my heart and gave me hope that even if I would have never gotten the opportunity to teach in the local schools, I can always find a way to teach the locals.