Innovation Grant Recipients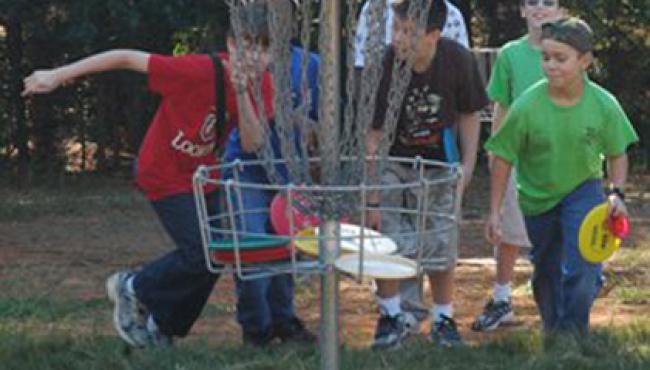 The PDGA Innovation Grant Program was created to increase and promote the awareness of the sport of disc golf and the Professional Disc Golf Association. Applicants are encouraged to think outside of the box to develop innovative and unique programs which will promote the sport and increase participation. Twenty applications were received by the PDGA office prior to the December 3rd deadline for consideration for the second five of these $500 grants to be awarded in 2012.
The recipients of the five PDGA Innovation Grants and the names of the projects to be funded are:
Lloyd Bay – Bringing Disc Golf to Brooklyn. The mission of this proposed project is to introduce the sport of disc golf to the elementary school students at PS40 in Brooklyn, NY as an added activity during their physical education period. In collaboration with several community organizations that operate in the school they wish to introduce disc golf early in the student's school experience so that it becomes an activity that promotes a fun lifetime sport and a healthy well-being.
Christian Kozlowski – O'Dea. The goal is to implement a disc golf club for 4th and 5th grade students at O'Dea Core Knowledge Elementary School in Fort Collins, CO, Connecting Youth Outdoors with Disc Golf to promote a great wellness activity and introduce the students to a new sport.
Dominic Schaner – Becoming Independent through Disc Golf. Seeks to introduce disc golf to developmentally disabled adults and will offer specialized classes with a focus on technique development, adaptive disc golf techniques for individuals with physical handicaps, and the opportunity for these adults to compete both recreationally and competitively with their peers.
Tom Coffin – "The Hay": Camp William B. Snyder BSA @ Haymarket. The overall project will consist of four 9-hole championship level loops at a Boy Scout Camp in Northern Virginia. The design of the course is adaptable for green, red, white, blue, and gold tees. Over 5,000 Boy Scouts attend the camp each summer and will have the opportunity to experience the sport.
Sheldon Jefferson – Help the Youth discover Disc Golf at Tanglewood. This project involves the installation of a 9-hole course for the hundreds elementary, junior high, and high school students that will attend Tanglewood Christian Camp. The plan is to have multiple pin placements per hole to be able to adjust the course according to age and skill level of each group.
The PDGA office wishes to thank everyone who submitted an application for this round of grants. Applicants who were not chosen this time are encouraged to re-submit their applications for consideration in June. Five additional grants will be awarded in mid June 2013 with an application deadline of June 3, 2013. Information, guidelines and an application for the PDGA Innovation Grants program can be found here.