Indiana to Host Deaf Disc Golf National Championships
Indiana to Host Deaf Disc Golf National Championships
Sunday, March 27, 2016 - 10:30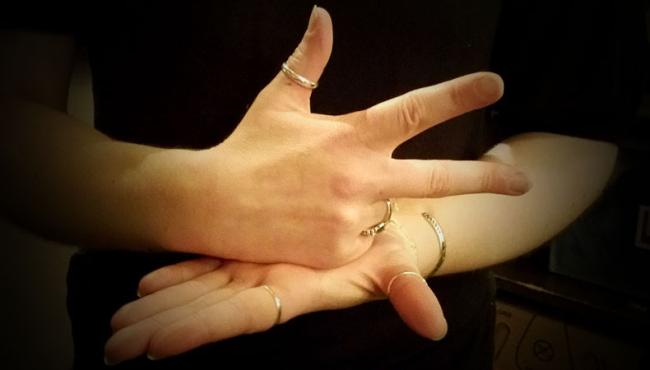 On July 26-30, the Hamilton Disc Golf Union (HDGU) will host one of the most unique disc golf events of the year. The HDGU, a nonprofit organization based out of Hamilton County, Indiana (just north of Indianapolis), will be running the 2016 Deaf Disc Golf Association National Championships presented by Prodigy Discs, an XA/XB-Tier. A record 150+ competitors are expected to attend, coming in from all over the country. It's certainly come a long way since its first running in Austin, Texas 16 years ago.  
Local deaf disc golfer and HDGU member Eric Hamlow #58785 has the honorable role of Tournament Director for this year's Deaf National Championships, something he's been working on for three years now. "Back in 2013 in Springfield, IL where the Nationals were being hosted at the time, I put in my bid for Indiana to host, with the hopes that Indiana would have the National Championships for the first time. I won the bid by just one vote, and I've been working on it ever since," said Hamlow.
What is it about disc golf that has made it such a popular activity within the deaf community? We asked Eric Hamlow and he responded with "It's the gatherings that make it unique for the deaf community. We all know each others from school, our community, or growing up together. So, getting together is like being at home for us. To top it off, competing to see who is the best player means bragging rights." 
Daniel Sweet #46209, a deaf professional disc golfer based out of Texas (sponsored by Prodigy DIsc) responsded to the same question with "It's a great social activitiy, with wonderful competition, and it's very affordable. Courses are popping up everywhere and social media has helped keep the deaf disc golf community close".  
American Sign Language
It's important to note that the tournament is open to anyone who is deaf or has any sort of hearing loss in general. Even players without a hearing impairment are allowed to compete, as long as they can communicate in American Sign Language (ASL).
According to a study done by the Modern Language Association (MLA), ASL's popularity is steadily on the rise. From 2009-2013, while most of the commonly taught languages showed declines in enrollments, enrollments for ASL grew by 19%. As of 2013, ASL is now #3 in the rankings for foreign language course enrollments overrall, with Spanish at #1 (down -8.2%) and French at #2 (down -8.1%). The image below details undergraduate language course enrollment in four-year colleges, a small but significant part of the enormous study. 
View the full MLA report on higher education language course enrollment. »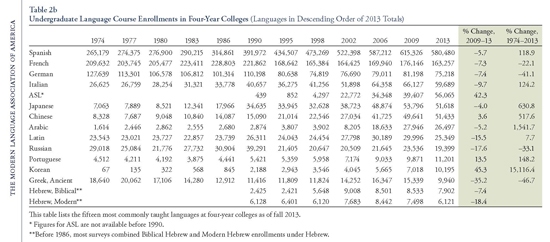 Courses
The 2016 DDGA National Championships will take place on five different Hamilton County and Indianapolis courses, many of which were designed by and are maintained by the event's Assistant Tournament Director and HDGU co-founder Dennis Byrne #5556. Byrne has been involved in disc golf since 1983, dedicating countless hours, days, and weeks to building up the presence of disc golf in the greater Indianapolis area.
The courses being used are as follows:
Event Extras
On top of being a national championship for deaf disc golfers, the HDGU planson providing plenty of fun activities for the general public. Dr. James A. Dillon Park in Noblesville, IN will serve as the central location where players can gather all week. Food trucks, music, skills contests, and Fly-Mart vendors.
If you're an area disc golfer looking to improve your game, you're in luck. Some of disc golf's top players will be on site for an open to the public disc golf clinic, including Paul McBeth #27523, Paige Pierce #29190, Will Schusterick #29064, Nikko Locastro #11534, and more. 
The HDGU would like to thank their main sponsors for the event: Prodigy Disc, Dynamic Discs, Innova Champion Discs, Union Brewing Company, Marsh Supermarkets, Zing Mini Discs, Cambria Hotel, Monkey Joe's, and InTrac Relay.
For more news and information, visit the official Deaf Disc Golf Association National Championships website, and be sure to follow them on Facebook.
Questions? Feel free to contact the Tournament Director, Eric Hamlow.