IDGC Reaches the Tin Anniversary, Celebrates 10 Historic Years of Disc Golf
IDGC Reaches the Tin Anniversary, Celebrates 10 Historic Years of Disc Golf
Thursday, April 20, 2017 - 14:58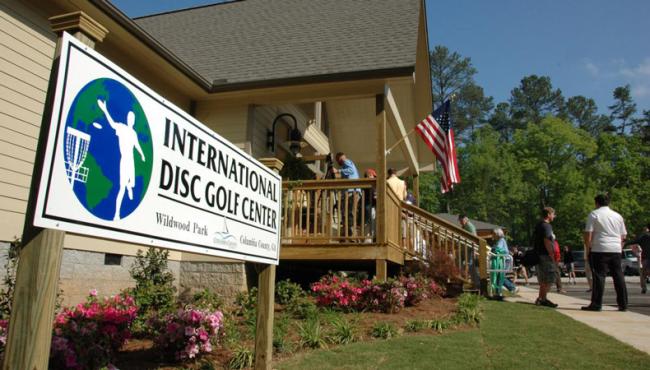 IDGC History
"When people would ask where the PDGA was located, I always told them it's in half of a room in a house on an island in Canada," said current PDGA Executive Director Brian Graham #5861 with a chuckle. It might sound like a joke, but Graham wasn't kidding when he responded that way.
For decades, the PDGA "headquarters" was simply the home of whoever was running the organization. Graham would have been referring to then PDGA Executive Director Brian Hoeniger's home in Toronto, where the PDGA was "headquartered" for many years.
Hoeniger has perhaps the longest tenure with the PDGA as a staff member, with his first day as Administrator being January 1st of 1997. At the time, Administrator was the one and only paid PDGA position, and Brian happily accepted the position. Hoeniger took over for Becky Powell, who was serving as the Administrator in Weatherford, Texas. Powell took over in December 1994 with the tough task of essentially rebuilding a broken PDGA, but she pulled it off gracefully.
In 2002, as more staff positions were added, Hoeniger was promoted to Executive Director. With the sport getting bigger and bigger at the turn of the millennium, Hoeniger and the Board of Directors agreed that the PDGA should return to the USA. But…to where?
Cut to 2002, Brian Graham is working with the Greater Augusta Sports Council and Columbia County Parks on a series of land development projects. The Director of Columbia County Parks, knowing of Graham's interest in disc golf, presented Graham with a 90-acre piece of land in Wildwood Park to see if he thinks it has good course potential.
It definitely did. But Graham knew it could be so much more. Why have one course when there is room for three? What if there was a clubhouse, and a pro shop? Or a disc golf museum? A hall of fame? Or a new home for the PDGA, which was already in need of relocation?
The gears started turning and everything started falling into place. The county and the parks department approved. Graham then presented the proposal to the PDGA Board of Directors at the 2003 summit, and they approved. Discraft and Innova were on board. DGA was on board. The Disc Golf Hall of Fame was on board. Everyone was in, and construction began.
Graham later realized that everything he was describing and working towards at the time came from an article he read in Disc Golf World News, written by none other than Dan "Stork" Roddick, in which Stork detailed a mythical disc golf mecca with all the amenities of a high-end golf clubhouse plus championship courses. It was a "wouldn't it be great if" type of piece, and with a bit of luck and a ton of helpful partners, Graham was making it happen.
Hoeniger and his wife Lorrie moved down to Augusta for the next two years while the facility was being built, renting out their house to a friend in Toronto. To get started, they both lived in and ran the PDGA from a park ranger facility that was offered by the parks department while PDGA's permanent headquarters was being built. They eventually rented a home near the entrance of the park and used the ranger station as a dedicated office. Things were starting to get real!
As head of the committee for the project, which he was referring to at the time as the National Disc Golf Center, Graham continued working closely with Hoeniger and the Columbia Country Parks & Recreation department on the development of the property.
After running the 2006 PDGA Professional Disc Golf World Championships in Augusta, GA as co-Tournament Director with another local disc golf celebrity, Pete May #12700, Graham decided to take a year away from disc golf. His plan was soon thwarted when, after 11 years of dedication to the organization, Brian Hoeniger and Lorrie Gibson decided it was time to hang it up and head back to Toronto. With the Executive Director position up for grabs, and practically in his back yard, Graham could not pass up the opportunity and threw his hat into the ring.
Brian Graham was awarded the position by the PDGA Board of Directors and his first day as PDGA Executive Director was April 1st, 2007. The International Disc Golf Center officially opened its doors just a few weeks later on April 20th.
The facility now boasts three championship courses, a pro shop, office space for the PDGA staff, the "Steady" Ed Headrick Memorial Museum, the Disc Golf Hall of Fame (DGHOF), picnic pavilions, and more. Less than a decade has passed since the IDGC opened and the sport is growing so fast that there will soon be the need for an additional facility to accommodate the growing staff.
IDGC Courses
"Steady" Ed Headrick Memorial Course
The "Steady" Ed Headrick Memorial Course, presented by the Disc Golf Association and the PDGA, features special edition DGA Mach III baskets on rolling terrain along the shores of scenic Clarks Hill lake (aka Lake Thurmond). The course was designed by Hall of Famers, Chuck Kennedy and Tom Monroe, and it is affectionately referred to as "The Ed" by locals. Multiple target locations and tee areas on this blue level course make it very adaptable for recreational play as well as high level competitions. The length of the course varies from 4,135' in its shortest configuration to 8,110' in its longest. More »
W.R. Jackson Memorial Course
The W.R. Jackson Memorial Course, presented by Innova Discs and Jay Townsend, is the longest course at the IDGC, coming in at  9,325 feet and par 69. The Gold level course was designed by Hall of Famer, John Houck, and features Innova DISCatcher baskets set in a very challenging championship configuration. The course was sponsored and named in honor of W.R. Jackson, who took over the reigns of a steel fabrication company named PDM and proceeded to grow it into a fortune 500 company. PDM's most famous contract was for the fabrication and construction of the stainless steel for the St. Louis Arch. More »
Jim Warner Memorial Course
The Jim Warner Memorial Course, presented by Discraft and the Atlanta Disc Golf Organization, is the newest course open for play at the International Disc Golf Center. It features Discraft Chainstar targets and was designed by Hall of Famer, Jim Kenner, with assistance from Ron Russell and Pad Timmons. Multiple target locations and tee areas on this blue level course make it adaptable for recreational play as well as high level competitions. The length of the par 64 course is 7,844 feet. The Warner course was sponsored by Dorothy Wentz, Priscilla Warner and the Atlanta Disc Golf Organization to honor the late Atlanta area disc golf promoter and PDGA member, Jim Warner. More »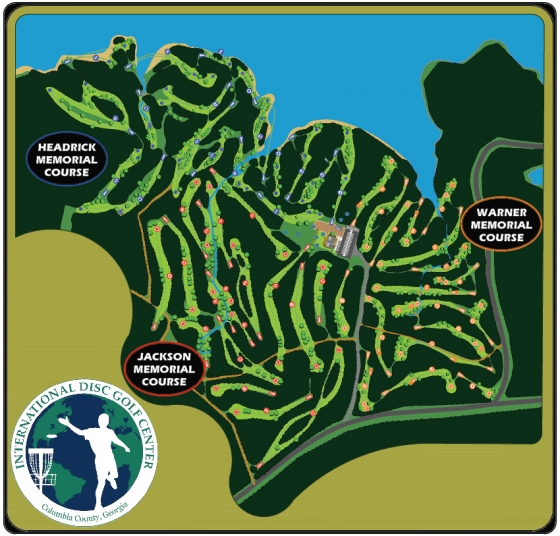 IDGC Events
In addition to the pro shop, museum, DGHOF, office space, etc., the IDGC also puts on several PDGA-sanctioned events each year, which have included several of disc golf's premier events in the last decade. On its opening weekend in 2007, it hosted the Disc Golf Hall of Fame Classic; a National Tour event that later returned in both 2013 and 2015, and returns once again in October of this year, serving as the finale event of the PDGA National Tour and the last large event of the unofficial "disc golf season."
2017 Events
View 2017 IDGC PDGA League information »
In 2010, the IDGC hosted its first PDGA Major, the Tim Selinske United States Masters Championship, where Barry Schultz edged out Patrick Brown in a sudden death playoff. In the year that followed, the top disc golfers in the world made their way to Appling, GA once again in 2011 for another Major, the PDGA Championship. And last but not least, the United States Womens Disc Golf Championships were held at the IDGC as well in 2014.
It's fair to say that the IDGC's biggest test has yet to come, as the staff and crew is currently preparing for the 2017 Professional Disc Golf World Championships, run for the first time under a new format in which only the Open and Open Women divisions will be participating. But that's an entirely different story altogether. More information can be found on the 2017 Pro Worlds page.
The International Disc Golf Center is truly a bucket list item for anyone that has fallen in love with disc golf the way that so many of us have in its short history. If you're planning on making the trek or you're simply considering it, more information can be found at www.pdga.com/IDGC.
We hope to see you in Appling, Georgia! Without you, we wouldn't be here!
Note: Portions of this story were taken from an article titled "PDGA Celebrates 40 Years of Disc Golf" a detailed look at the 40-year history of the PDGA, published in July of 2017.
Comments
Congrats on 10 years. Just recently visited and what an awesome place. I wish you continued success.