Hott Shott Part Deux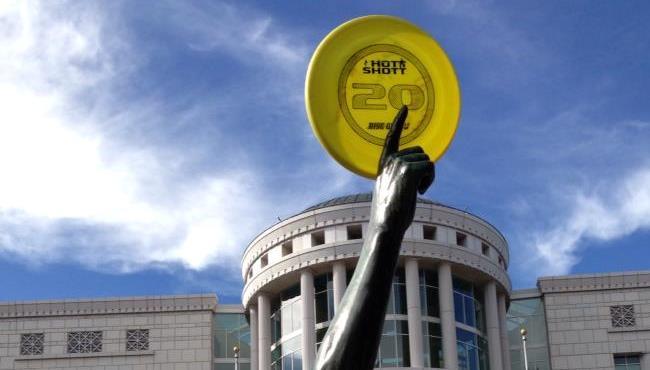 No, not the early 90's parody flick with Charlie Sheen and Lloyd Bridges, the second trek of the Hott Shott National and State Championships promotional tour.
Read all about the National and State Championship opportunity to help your club, shop, or organization raise money. Make sure to get your application in this week before the deadline.
The first leg of the tour was a huge, 9-day journey across the entire length of the United States. The big Hott Shott, Pete May, along with Butch Jackson took off on November 6th and traveled to 25 cities, through 17 states, traversing 6,405 miles promoting the new disc golf-based indoor/outdoor game. As documented on the Hott Shott Facebook page, they met a lot of new friends and visited a lot of old friends, all who signed on to host a satellite event for the December 14th National and State Championships.
Here are a few fun stats of that first leg:
9 days - November 6 - 14
6,405 miles
712 miles-per-day average
885 miles was most in one day
475 miles was the shortest
25 representatives visited
It would have taken David Wiggins, Jr. 40,453 throws of his world record longest distance to travel the same distance.
Now, for the second tour. Hott Shotts Alan Kane and John Baker will be making an eastern expedition this weekend. The trip is shorter, but the magnitude remains great. In four days, they will reach 15 or more locations and expect to travel over 2,000 miles. The stops along the way include some of the country's largest and greatest cities. Here is a glimpse of the eastern tour:
| Thursday | Friday | Saturday | Sunday |
| --- | --- | --- | --- |
| Augusta, GA | Cincinnatti, OH | New York City, NY | Richmond, VA |
| Atlanta, GA | Columbus, OH | Philadelphia, PA | Raleigh, NC |
| Chattanooga, TN | Pittsburgh, PA | Baltimore, MD | Charlotte, NC |
| Bowling Green, KY | Harrisburg, PA | Washington D.C. | Columbia, SC |
| Louisville, KY | Allentown, PA | Richmond, VA | Augusta, GA |
| Cincinatti, OH | New York City, NY |   |   |
Whew! That's quite an adventure. If you are somewhere close to the route, let us know and we'll see if we can add you to the list. You can contact us by email at [email protected] or give us a call at (775) HOT-T771, that's (775) 468-8771 for those of us that don't have the letters on our phone buttons anymore.
We will again be documenting our travels and friends seen and made on our Facebook page. Everyone we meet gets a new, shiny Hott Shott sticker and Pete May Hott Shott mini.
See you on the road!