Hokom Slays 'The Beast' For Early Waco Lead
Hokom Slays 'The Beast' For Early Waco Lead
Allen in second in spite of struggles on the green
Thursday, March 15, 2018 - 18:08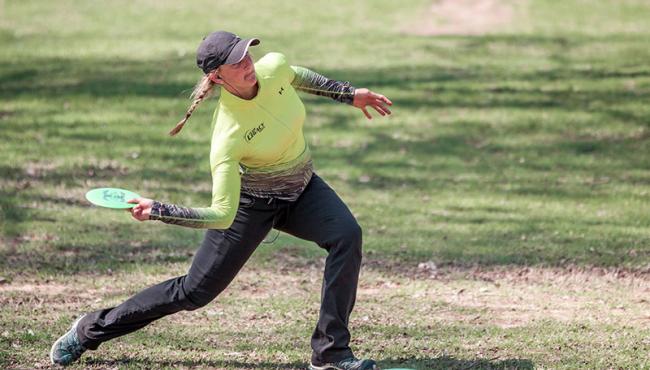 When the woods come calling, Sarah Hokom is ready to answer.
The California pro carved up the fairways of Brazos Park East during Thursday's opening round of the Waco Annual Charity Open and sits atop the leaderboard after a 1-under par 66 performance. Catrina Allen's even par 67 finds her in second place, while Paige Pierce recovered from a difficult front nine to finish in third place at 2-over. Lisa Fajkus rounds out the lead card after her 3-over par 69, while Stephanie Vincent and Jennifer Tasby are tied for fifth at 4-over.
Hokom took the last week off tour to visit a friend in Canada, and that sojourn, combined with the wooded Waco setting, put her in the right mindset entering the tournament.
"When I was practicing The Beast for the first time this week, on Monday, once I got into the woods I did have a bit of calming or some really good hormone release when I got there," Hokom said. "Nobody was on the course. I was throwing my shots, jamming a bunch of tunes…I did have really nice warmup rounds, three rounds, but my first one when I got into the woods I was like, 'Ahhh. I love this.' It was definitely a feeling of relief."
This week's layout has players starting on hole 7, and Hokom got started quickly by parking her upshot for a birdie on the 516-foot 8th. Though she came up short and took a bogey on the course's longest hole, the 609-foot 18th, Hokom was the most accurate player throughout the round. She leads the event in fairway hits (90 percent), parked shots (22 percent), and landing in circle 2 in regulation (67 percent). Her 90 percent circle 1 putting clip is better than her season-long average by four points.
"I think I'm a pretty accurate thrower," Hokom said. "I don't miss my line very often, so playing in the woods [is good to me] when it's not as forgiving to people who miss their lines more often. My strength doesn't show in the open."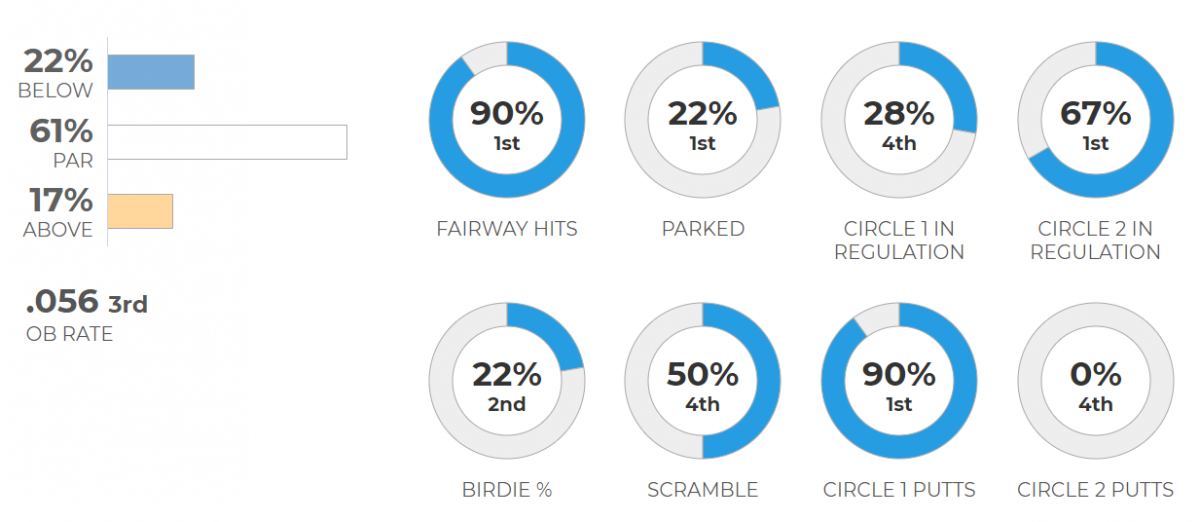 Allen, meanwhile, held the lead through 13 holes and demonstrated her own prowess off the tee with an 85 percent fairway hit rate. But a late-round sequence in which she two-putted five times and three-putted once erased the clean work she had done on the scorecard.
"I'm not as confident on the green as I feel off the tee right now," Allen admitted.
The Minnesota native found plenty of good in her performance, though, She said she was happy to avoid any big numbers and that the distance she lost over the offseason has mostly returned. And though she was battling a fierce allergy flare-up, she hoped a change to her putting routine – she was going to search for a new mini, or even a different colored putter to change her mojo – would get her back in the groove.
"I know that if I keep throwing it well it'll pay off, and even the putts have to drop," Allen said. "I know deep down I can make it."
Ellen Widboom and Shannon Prendergast are tied for seventh place after 6-over par 73s, while Rebecca Cox hit a late stretch of out-of-bounds shots on the featured card and slipped to ninth place at 7-over. Jessica Weese, who is coming off a second-place finish at the St. Patrick's Classic in California, slipped to 10th place after an 8-over par start, while three-time PDGA World Champion Des Reading played 14 holes before withdrawing due to an undisclosed injury.
Though Hokom said the wind that affected many of the Open tee times didn't impact her day, she wasn't going to take the conditions lightly. With Brazos Park East's last two holes featuring plenty of water and the potential for disaster, Hokom planned to keep her guard up.
"[The Beast] can be real friendly sometimes, and the next day she might turn her back on you," Hokom said. …She plays differently every day and with our variable conditions with the wind it's gonna be a battle out there, for sure. Can't take anything for granted in those woods…You can just take big plusses – you can bleed bogeys on those back two."
The Open Women's lead card tees off at 9:40 a.m. CT Friday, with real-time scoring and statistics available at UDisc Live.