Heartbreak in the Heartland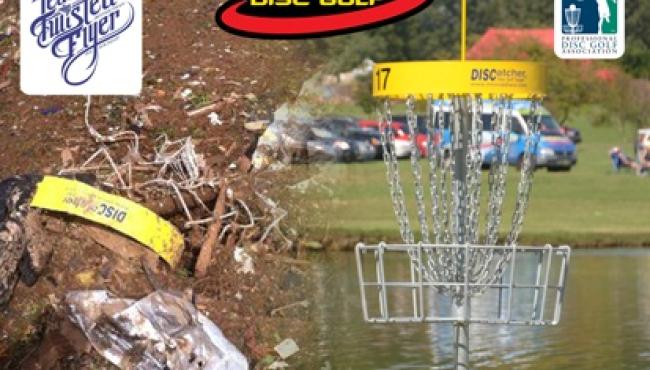 In the wake of the terrible weather related tragedy that occurred earlier this year in Moore Oklahoma, the PDGA would like to offer our most sincere condolences to any and all affected by this historic deadly storm.
The Little River Disc Golf Course was in the direct path of the tornado and suffered catastrophic damage as a result. The businesses and homes that surrounded the park are gone as well. We are all sure there is much work to do in the months ahead as the citizens of Moore rebuilds following this tragic event.
The PDGA is pleased to announce, as part of a joint effort with Innova Disc Golf and Team Twisted Flyer, that we are pledging our support to help rebuild the disc golf course in Moore. "It is important that the citizens of Moore, Oklahoma have a place where they can recreate as they go through this long rebuilding and healing process. Disc golf will provide them with this outlet and we are pleased to help them in any way that we can", stated PDGA Executive Director, Brian Graham.
"I know the people of Moore will face many challenges from this event. When the time is right to replace Little River DGC, Innova will be ready to help" said Harold Duvall. Joe Rotan of Twisted Flyer, who is leading the disc golf support effort added, "With everyone worrying about bigger issues right now, I don't want them to have to worry about replacing the course. I want them to know there is an army of support behind them."
PDGA members and disc golfers wishing to lend their personal support should sign the petition to rebuild the course.
The Red Cross said the best way to assist families is to make a donation to www.redcross.org/okc orwww.redcross.org or texting REDCROSS to 90999 to make a $10 donation. They provide food, shelter, water and basic supplies to victims and first-responders at the scene of a disaster.
The Salvation Army is asking for donations for Oklahoma Tornado Relief:https://donate.salvationarmyusa.org/uss/eds/aok You can also text STORM to 80888 to make a $10 donation. The money will go to providing meals, drinks and household cleanup kits for those affected.
United Way of Central Oklahoma's Disaster Relief Fund is open. Donations may be made online atwww.unitedwayokc.org or by mail to United Way of Central Oklahoma, P.O. Box 837, Oklahoma City, OK  73101 with a notation for the May Tornado Relief.  United Way said the funds will be distributed without administrative fees to United Way Partner Agencies working on the tornado relief efforts. The May Tornado Relief Fund will serve both immediate needs, intermediate, and long-term care.
Feed the Children is an Oklahoma City-based charity that helps the needy in the United States and more than 15 other countries. They say your donations will help bring relief supplies to the tornado victims. Learn more: http://tinyurl.com/mezwwph
Catholic Charities of the Archdiocese of Oklahoma City says its disaster relief team is in the impacted communities providing counseling, emergency assistance and case-management to those families who have been displaced by the tornadoes. Learn more: https://ccokc.ejoinme.org/?tabid=406485
The Oklahoma Humane Society says it is currently working to assist the City of Moore to receive, assess and shelter animals affected by the tornado. They're asking for towels, paper towels, bleach, gloves, crates, pet food and financial donations. Learn more: http://www.okhumane.org/blog/how-you-can-help-moore-tornado-damage
The Regional Food Bank of Oklahoma says it is the largest private hunger-relief organization in the state of Oklahoma. Text FOOD to 32333 to donate $10 to the group.
The Regional Food Bank is coordinating efforts with other disaster relief agencies in our state to provide food and water for those in need," said Bivens.
Contributions to the Moore & Shawnee Tornado Relief Fund can be made online to the Tulsa Community Fund at www.TulsaCF.org. Donations can also be mailed to TCF offices at 7030 S. Yale, Suite 600, Tulsa, OK, 74136.