He Made It!
Feldberg climbs past Climo with a new record 1046 rating. Is 1050 possible?
David Feldberg finally reaches a goal he had been working for but had proven elusive - until now. His 1046 rating posted in this March 29th ratings update is now the highest rating ever posted, passing Ken Climo's 1044 first posted in September 2002. Climo has held the top personal rating since they started with a 1032 average in the 1998 Cincinnati Worlds. Feldberg came close last August tying Climo's 1044. But he wanted one extra point and finally got two.

I asked Feldberg if he was thinking he might get there this update or if it was a surprise. He said, "I hoped I would like all players. I thought I had a chance posting four 1080+ rounds in my last 10. But I was surprised by the 1046." I asked him whether thoughts about saving his rating motivated him during tough rounds and he offered, "I think about the rating a little too much during play, really trying to get a good round rating. I've had many rounds in the last year that I kept plugging away trying to shoot at least a 1000. It motivates me a bit to keep focused." Of course, many of us do the same thing - trying to shoot at least 1000 - just not to "save" our ratings!

I asked if there were events where he was more concerned about being able to shoot a good rating than others. He said, "There are not many events I fear for hard ratings. But I will say spring and fall lower tier events are hard to score as players stay closer together due to weather conditions and tight courses, plus any place where they have only one or two tournaments a year. They will sometimes have players who are playing many points above their rating since they have not had any new data put into the system in maybe 6 months. Even though they are much better, their ratings have not caught up with them yet."
Feldberg putts out during his most recent high round of 1090 in Tennessee.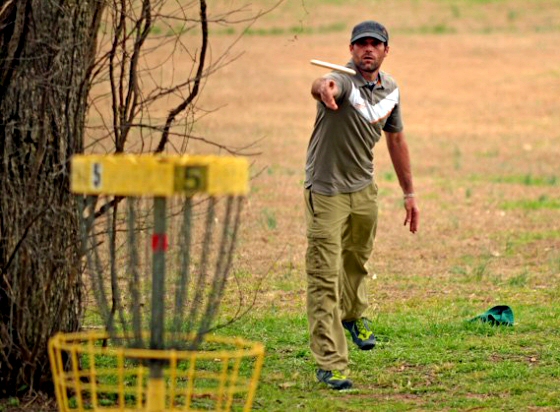 In this same update, let's not overlook Nikko Locastro who also posted his highest rating ever at 1043 and now has our third highest rating all-time. Ken Climo also returned to 1040-land posting a 1040. It's likely the first time we've had three players with ratings in the 1040s at the same time. Our players with the top five personal ratings ever achieved are now: David Feldberg 1046, Ken Climo 1044, Nikko Locastro 1043, Jesper Lundmark 1041 and Darrell Nodland 1040. No other player has gotten to 1040 with Barry Schultz just missing, reaching 1039 three different times in 2003, 2004 and 2006.

Roger Smith, of Lemont, IL, is our "man-behind-the-curtain" wizard who does the heavy Access database work to produce our ratings updates. He's provided a new expanded list of the 50 best rounds (versus 10 rounds) of all time for men and women in each of the five SSA ranges we track. We'll plan to do this major expanded update with the 50 top rated rounds in each SSA range perhaps every five years and just update the current top 10 in each range every so often until then. Here's the link to the Top 50 Best Rounds list. Did you make it? If not, the list shows what you need to do to get there.

As you might expect, several of Feldberg's rounds have made this "best rounds of all time" list several times. But he still hasn't joined the 1100 club with just seven members. Only Brian Skinner, Ken Climo, Brian Schweberger, Josh Anthon, Steven Rico, Matt Orum and Barry Schultz have ever posted rounds of 1100 rating or higher. But as far as ratings goals this year, Feldberg's focus is on his overall rating, not necessarily stellar rounds. David says, "It is a goal of mine that I set this year to reach a 1050 rating. I know it will be difficult, but I think it is possible. I am very happy with my new rating and I hope it can keep climbing." What are your ratings goals for 2011?