Hannah Leatherman Takes Down US Women's Championship
Hannah Leatherman Takes Down US Women's Championship
Sunday, September 27, 2015 - 23:40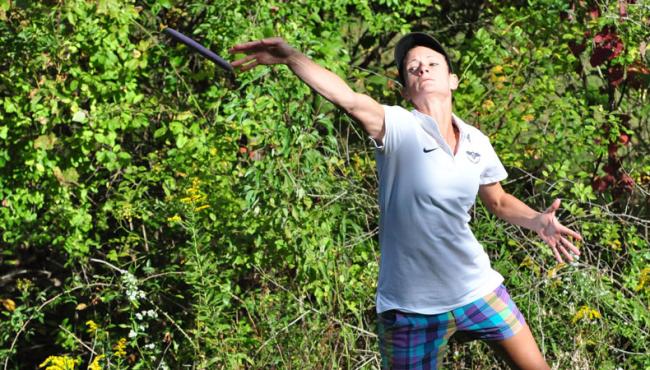 The sun shined down and the wind gusted through the park during the final round of 2015 United States Women's Disc Golf Championships. Delaware, OH has been a great host for the event, as have the courses TPC Alum Creek and Gordon Holton Memorial DGC. Blessed by great weather and an amazing field of women disc golfers, Sunday's final round at Gordon Holton was bound to be exciting.
Of the several layouts possible, all divisions would take on the 19-hole track for the final round, with the Open Women's division being the only one to play from the long tees. To play well, especially from the long tees, players need to be on point for every type of throw in their bags. With narrow fairways and water hazards coming into play on several holes, one slip-up can make or break a round.
Competition
Catrina Allen #44184 led the field heading into Sunday morning's final round at -8 overall. She was joined by Sarah Hokom #34563 (-7), Paige Pierce #29190 (-5), and Hannah Leatherman #45396 (-4). It wouldn't stay that way for long, as the lead changes began happening right out of the gates. In the front nine alone, the lead changed five different times.
It was a roller coaster ride, but an overall pattern was emerging. Slowly but surely, Hannah and Paige were pulling ahead of Sarah and Catrina. With just a few holes remaining, there was no way to predict who would come out on top. Paige held on to a one stroke lead for much of the back nine, fending off Hannah at every turn.
Final Hole Drama
Last hole is dangerous! 285' over water. Paige has already thrown her drive into the drink. Hannah is safe. pic.twitter.com/UivbmGl6Dr

— PDGA Live Scoring (@pdgalive) September 27, 2015
As they headed into the last hole, it couldn't have been any closer. Paige was leading by one over Hannah, with Hannah one ahead of Catrina. The 290' hole plays almost entirely over the lake before getting to the green. The wind was gusting as Paige stepped up to the tee without hesitation. As soon as the disc came out of her hand, she knew she had missed her line.
The disc carried out over the water and wasn't fading back in when it needed to be. It slammed into the trees that line the right side of the green and dropped into the water. Sarah, Catrina, and Hannah all played overstable backhands that landed safely in the fairway short of the green. Paige quickly re-teed and would now be putting to save bogey from 45'.
Hannah was faced with a tough decision. If she runs a putt for birdie and puts it in, she would win outright. But with the wind coming off the water, unpredictably gusting at 15-20 mph, it'd be a difficult putt to make, with a chance of it rolling off the green and into the water.
Hannah made the call and played it safe, pitching a putter to inside of 10 feet for a tap-in par. Paige had no choice but to run her putt from 45', with the lake behind the basket and a whipping headwind. The wind pushed her putter as it sailed through the air, causing it to hit chains on the left side, hit the rim of the cage, and then fall to the ground.
Hannah was in shock as she walked up to tap in her putter. She was about to become the US Women's Champion, in such a dramatic way, that it probably didn't seem real in the moment. "I have no idea how that just happened", said Hannah as she was putting her disc back in her bag. With a huge smile on her face, she walked up the fairway towards tournament central, still shocked.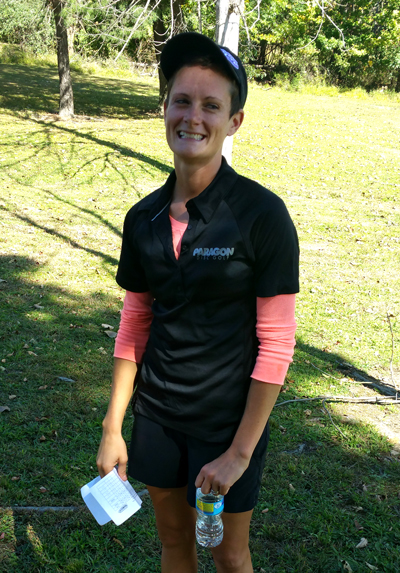 A Bit About Hannah
Hannah played amazing disc golf all weekend, quietly taking pars while others took bogeys and sneaking in birdies while others took pars. She is intensely focused at all times, rarely letting anything break her concentration outside of writing down or stating her score for each hole. Although quiet during competition, Hannah and her husband Dustin make a lot of noise off the course. They are both part of the faith-based global sports ministry "Push The Rock", and have been working hard to establish the disc golf component of the ministry, Eagles Wings Disc Golf. Through their efforts, with help from the PDGA Marco Polo Program and several others, Hannah and Dustin will very likely be teaching disc golf in Zambia in the coming year.
Winning isn't new to Hannah. She's been taking 1st place at events for years, but at nowhere near the size and/or significance of this one. Her short history of PDGA sanctioned events started in 2010 when she was still playing in Advanced. Moving quickly through the ranks, Hannah started playing exclusively in the Open Women's division just two years later. By 2013, she was winning A-Tiers and B-Tiers.
Hannah and Paige are now battling. Both at 7 under with 6 holes to go! #USWDGC pic.twitter.com/TgbEz9DOqR

— PDGA Live Scoring (@pdgalive) September 27, 2015
Her win this weekend to become the 2015 US Women's Champion is a fitting end to her 2015 season. We've seen her more and more and on the lead and chase cards at PDGA Majors and PDGA National Tour events, finishing in 13th at The Memorial, 6th at Glass Blown, and 8th at Maple Hill, just to name a few.
Winning often leads to, well, more winning. Confidence brought on by victory inspires competitors to improve and continue adding W's to their resume. With her first Major under her belt, we can only expect to continue seeing "Leatherman" on the leaderboard for 2016.
Congratulations to Hannah Leatherman #45396, and all of the other division winners! Thank you to the wonderful staff and volunteers that made this weekend of women-only Major disc golf so unforgettable. Only the United States Disc Golf Championships remains to round out the 2015 disc golf season, taking place in less than two weeks in Rock Hill, SC.