Green Country Open - Day 1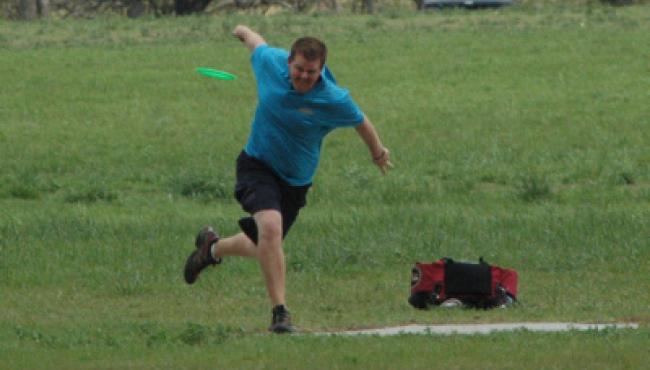 There is an old saying that everything in Oklahoma is built crooked and the wind blows it up straight so if the wind ever stopped, everything would fall down.
One hundred and five world class players now know what this means as the PDGA National Tour blew into Pawhuska, Oklahoma this weekend for the Green Country Open with steady 20-30 mph winds that have challenged every aspect of their games.
Nate Doss's game has certainly held up to the wind as he shot a 51 (-7) on the Island course in the morning and a scorching 51 (-10) on the Mocassin Creek course in the afternoon for a -17 total and four throw lead over Jeff Layland, Devan Owens and Paul Ulibarri who sit at -13 after day one.
In the Women's division, Valarie Jenkins continued her strong play of the last two years with a 64 (+3) on Mocassin Creek and a 59 (+1) on the Island course to take a five stroke lead over Des Reading (+9) with one round to go on Sunday. Liz Lopez sits in third place at +12 to prove that her hot rookie year in 2008 was no fluke.
Okie Mitch McClellan showed his mastery of the wind that is so common to his home state with a -7 total on the day to put himself into a tie for the lead with Jeff Fiedler after two rounds. Daryl Johnson leads the Grandmaster division by five strokes over Jack Tefertiller after carding an impressive +1 on the day.
Tournament directors Joe Rotan and Mike Treat, along with hosts Jim and Debra Taylor of the Lodge at Taylor Ranch and members of the Tulsa Disc Sports Association, are to be commended for a job well done in hosting their second National Tour event in Oklahoma and first NT at the Lodge in Pawhuska. The players have been treated to hospitality second to none including great meals, live music and even a spectacular fireworks show on saturday night.
The third and final round will begin on Sunday morning with tee times beginning at 8:30am. All divisions will play 18 holes on the beautiful and challenging Island course with the showcase Women's Open division leaders teeing off at 12:50pm and the Men's Open division leaders teeing behind them at 1:15pm. The weather forecast for the finals calls for strong consistent winds once again with a chance of scattered thunderstorms throughout the day so look for some movement on the leader board.
Check back with PDGA.com for live scoring as well as an event wrap-up story and photo galleries.
---
Green Country Open Photo Gallery
---
LINKS: