Girl Power!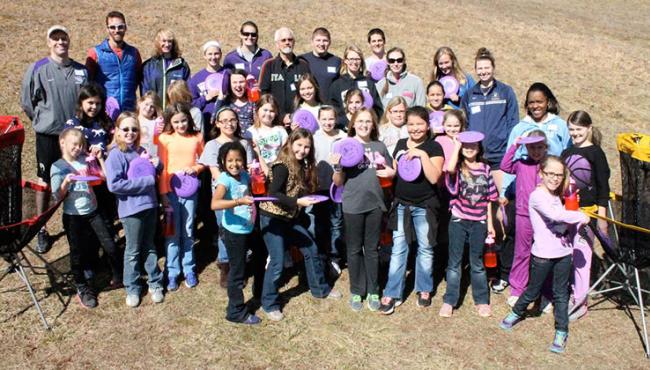 The weather forecast called for cold rain and snow flurries. As it turned out, it was sunny and a balmy 57 degrees. With a little luck from Mother Nature and an Innovation Grant from the Professional Disc Golf Association, our National Girls & Women in Sports Day dream came true.
Our mission was to partner disc golf with the National Girls & Women in Sports Day (NGWSD) on February 5, 2014. The NGWSD is celebrated in all 50 states with community-based events and activities honoring the achievements and encouraging participation of girls and women in sports.The NGWSD is a program of the National Organization for Girls and Women in Sport, an organization dedicated to serving girls and women since 1889.
We provided a special workshop for 9 and10-year-old girls in a rural western North Carolina community. We taught them the basic skills, rules, and etiquette needed to play and provided discs and equipment so they could start enjoying disc golf for a lifetime. After Dr. Chris "CTP" Tuten demonstrated his inspiring throwing skills, the girls had the unique opportunity to play the permanent 9-hole course on their school campus with experienced, enthusiastic instructors in every foursome.  As chains rattled, screams of joy echoed through the hilly course but honestly, we had as much fun as the girls did.
The Cartoogechaye Elementary School Physical Education teacher, Sarah Lowell, had this to say: "These girls are going to remember this day as the greatest day they had in elementary school." That meant a lot coming from Lowell, who was recently awarded the 2013 Southern District Elementary School Physical Education Teacher of the Year, and whose innovative program has been recognized as one of the top 25 in the United States.
Most of the girls that participated came from families of very modest means. They were bursting with excitement and visibly grateful to receive the discs and Nalgene™ water bottles that we provided them. At the end of the workshop, every girl that participated asked us to sign their new disc; which made us all feel like world champions. Ear-to-ear smiles, big bear hugs, and eyes welled with tears of joy made us feel like we had made a real difference in their young lives.  
On this day, we were reminded that fostering the sport of disc golf begins with teaching young people about our great sport. By establishing a partnership with the NGWSD, we hope that our advocacy can blossom into future disc golf workshops for girls and that the number of female players will continue to grow. This project was a real grass-roots effort to promote disc golf as a sport that girls can enjoy and women can play for a lifetime.
We must extend a special thanks to all the helpful folks at the PDGA and to David Shope from the Educational Disc Golf Experience. For more information about the E.D.G.E. program and organization, please visit their website. 
Story By: Justin Menickelli, Ph.D. (#31347)