The Garden Of Sweden
The Garden Of Sweden
2015 Scandinavian Open Registration Has Begun
Thursday, February 12, 2015 - 14:48
If you haven't heard of Skellefteå Discgolf, it's about time you do. Originally founded in 1985 as the Mountain Village Church Frisbee Society, the organization has been one of the most important developers of disc golf in all of Europe. For more than two decades they've been working diligently to get courses installed and host massive events in Scandinavia.
The club was awarded PDGA Majors in both 2008 and 2010, both of which saw incredible success. One of the biggest galleries in disc golf history followed the finals at the Scandinavian Open in 2010, with close to 1000 paying visitors, and a few hundred in attendance during each of the qualifying days.
Looking ahead to the event this year, the 2015 Scandinavian Open, with support coming in from local and international sponsors galore, the event is on pace to be bigger and better than it ever has been before. And the good news is for those that are interested, registration is already open.
The course being used will once again be Discgolf Terminalen. A few small design small changes have been put in place since the last time it was used for a PDGA Major, but nothing too dramatic. Some of the holes have been reconstructed to spice up the already difficult and challenging course. To give you an idea of just how huge this course is, the average hole length is 159.4 meters (523ft.). Distance aside, placement and smart play are the true keys to mastering the course.
Skellefteå doesn't believe in manufactured out of bounds areas. They want the player to play from the position they have put themselves in. Of course they have OB's as well, mostly due to water hazards, roads, etc. Losing this tournament won't happen by means of multiple penalty strokes. If you want to win, you must play smart golf. Strategically placed fairway shots and precision recovery shots will take you to the top.
The field is set to a maximum of 160 players, divided in two divisions: Open and Open Women. Registration is currently open and is initially based on PDGA player ratings with spots available for the first wave to only the highest rated players in the game today. More and more spots will become available for players with lower ratings on a monthly basis.
Latitude 64º has produced a special fundraiser disc for the event, the Snow Ballista. 3000 of these discs have been produced specifically for the 2015 Scandinavian Open, with the official run of the discs not becoming available to the public until 2016. Each of the 3000 DecoDye stamped Snow Ballistas have been numbered from 1-3000.
Latitude 64º encourages purchasers to keep track of their numbered discs, as they will be having a lottery to give away free discs and mystery packs with the biggest prize being worth $1000.00. On July 1, 2015, winning disc numbers will be announced on www.latitude64.se and www.sodiscgolf.com.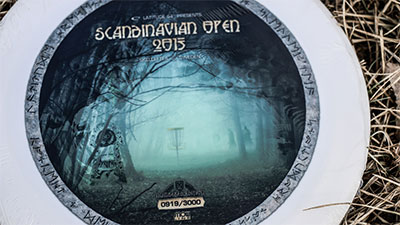 Speed: 14 Glide: 4 Turn: -0.5 Fade: 4
More information about the event can be found on the official 2015 Scandinavian Open website. There are also several walkthrough videos of the Discgolf Terminalen course, with the best lines for each hole demonstrated by Dave Feldberg #12626, Devan Owens #25168, and Eric McCabe #11674. They can all be found on Latitude 64's YouTube playlist.