FreestyleMagazine – For creative people who like to play!
FreestyleMagazine – For creative people who like to play!
Friday, May 17, 2013 - 11:03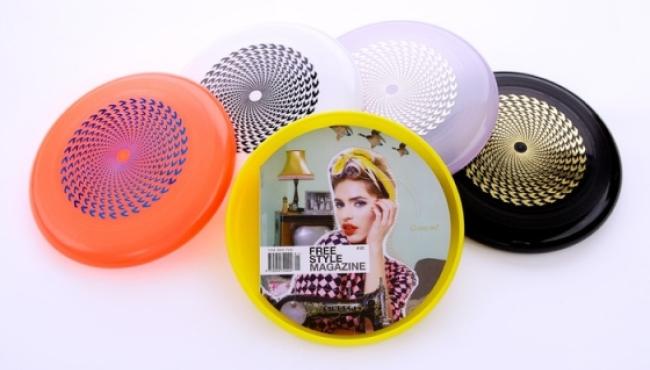 "Freestyle; a performance or routine featuring free, unrestricted movement, intended to demonstrate an individual's special skills or style."
FreeStyleMagazine is round in shape and fits inside a Frisbee. The Frisbee appeals to all design minded people who appreciate an object that is so simple yet can fly and inspire people - a true design classic. Using the flying disc as an inspiration for the magazine, FreeStyleMagazine brings people together who share a freestyle attitude to life and to their work. Both the magazine and the Frisbee are sold together as one design item. Each issue is released with a disc designed by a famous artist or designer. FreeStyleMagazine is Art, Design, Photography, Fashion, Architecture, Music, Lifestyle, Frisbee and much more. Because of the unique circular format, FreeStyleMagazine appeals to the very best image makers and artists of our time, who get the challenge and opportunity to work in a format they haven't used before. Our biannual title is an exciting and compelling mixture of experimentation and enthusiasm in the ever-changing fields of Art and Design.
FreeStyleMagazine is for creative people who like to play. In a time when print media is seeing a demise we stand out not only because of our unique round format, not only because every issue comes with a professional Wham-o Frisbee designed by a famous designer but also because we have compelling and fresh content that will delight and inform.
FreeStyleMagazine is all about communication, play, lifestyle, fashion and fun. Full of delicious imagery, FSM is a melting pot of creativity. You can touch it, feel it and even throw it!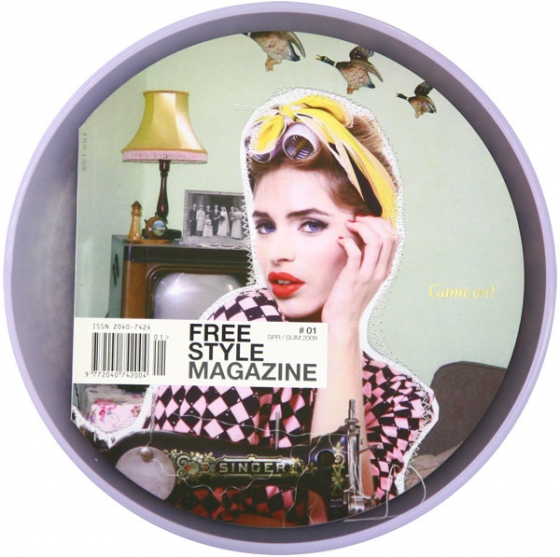 FreeStyleMagazine is requesting the assistance of disc players around the world to help get the magazine flying. You can help by pledging money to support this innovative project through their FreestyleMagazine Kickstarter Page or by reserving an ad in the magazine for your disc golf business, club, or event at a special PDGA discounted rate. For those of you not familiar with KickStarter, it is a private for-profit company founded in 2009 that provides tools to raise funds for creative projects via crowd funding through its website. Don´t delay however, as there are only 10 days left to generate the needed funds to go to print. If the entire £15,000 Kickstarter goal is not pledged by Monday May 27, 2:04pm EDT, the project will not be funded and your pledge will not be accepted.
The next issue Disc is a Fastback - a nice MTA disc and all-round flyer. The disc design is still to be announced but you can see some of their previous collaborations on the FreestyleMagazine KickStarter page. 
Let's support our disc brothers and sisters. Make your pledge today. These are sure to become collector's items!