Feldberg Grabs Lead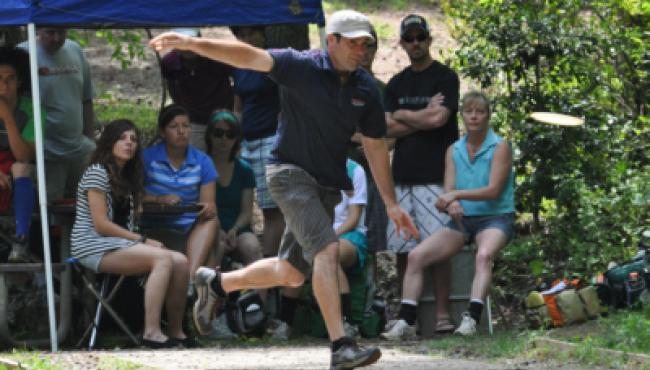 Feldberg Grabs Lead: while Climo falls back and Ulibarri surges
By Todd Harrell
---
Round two brought another solid performance from the world's number one ranked player, Dave Feldberg, at the 2010 Carolina Clash where he jumped ahead of Friday's leader Ken Climo by four strokes at the demanding Renaissance Gold course.
 
As the skies were starting to dampen, Feldberg turned in a formidable 60 (-10) at the par 70 Renny Gold. He now stands at (-21) for the tournament. Climo, who clearly wasn't feeling it like Friday, stands at (-17) for the tournament, and he now shares second with Arizonan Paul Ulibarri, who climbed into striking distance after shooting the day's best, a 59 (-11).
 
Ulibarri, whose second round was rated a 1059, won the Sylmar Open in California in April and placed third in the NT Vibram Open last year. He also won nine tournaments in 2009.
 
Not far behind are Nikko Locastro at (-14) and five tied at (-12) including Kris Orrick, Nate Doss, 2009 Clash winner Michael Johansen, Kevin McCoy, and Barry Schultz.
Feldberg said the secret to Saturday's round was just playing it down the middle. The course doesn't allow much more.
 
"It took me a long time to figure out that (course designer) Stan (McDaniel) doesn't want you to reach the hole," Feldberg said after the round.
 
His only bogey came on the par 4, 465-foot hole 7, which was his first one of the tournament.
Sunday, the final round returns to Charlotte's Web - the same 18-holes Climo dismantled on Friday.
 
After round two, Climo said he'd be glad to get back there after his disappointing 67 (-3) at Renny.
Still, he said he would've liked to have hung on a little tighter on Saturday. That way he'd still be neck and neck with Feldberg.
"I missed a couple of putts out there and that pretty much did it," Climo said.
 
On hole 9, his birdie putt surfed the edge of the basket rim and toppled off. Later he hit the front rim on hole 13, a par saving putt, and then again on a birdie try on hole 17.
But that's in the past. The key thing now will be to "keep pluggin," he said.
 
The final round is shaping up to be another installment of last week's Atlanta Open where Feldberg edged out Climo by three strokes. However, as time has told us, you can never count out the champ. During the final round of the Sunshine Shootout in Florida earlier in the year, Climo eventually powered to victory after shooting (-20) from the second card.
 
Outside the lead card, a couple of highlights came from three-time USDGC distance champ Garrett Gurthie, who turned some heads with two eagles.The first came on the 519-foot, par 4 hole 2 and then he struck again on the 617-foot, par 4 hole 12 after a bomb of a drive that placed him pin high 30 feet away from the basket. Saturday Gurthie shot a 64 (-6) and stands at (-7) for the tournament.
 
In the women's division, Liz Carr, who shot a 75 (+5), still leads Valarie Jenkins, only her lead has shrunk from four to one. Carr stands at (+5) for the tourney.
 
Carr said she's gonna work hard to keep it together for one more day. Although she won the Memorial Championship in March, she said she's struggled in the past to find a balance between playing smart and playing to win. Occasionally, she's found herself in position to win, but gave up too many strokes, Carr said.
 
"Tomorrow will be a test for me in getting over this hump I've have yet to cross," Carr said.
 
Come Sunday she'll get her chance.
 
After some disappointing finishes last season, Feldberg said he recommitted himself to the training side of the game. Although he still has the same heavy load of commitments like teaching in Oregon (After the tourney, he'll have to hustle back for an 8 a.m. Tuesday class), he's found a way to squeeze in more practice time. And, he says benefits have been visible this season. 
 
Masters division leader Phil Arthur unleases a drive on hole 1 at Renny 
The entire field have been playing at what many deem to be the most challenging courses around. Last year, when Michael Johansen beat Paul McBeth by nine strokes, Charlotte's Web tallied a 69.04 on the PDGA's Scratch Scoring Averages while Renaissance Gold was rated 68.93 – a real test of character by any means.
 
Val Jenkins agrees. She said she was dreading coming up to Renny Gold.
"It's a technical course and then they throw OB's in there," said Jenkins, who was fairly pleased with her 72 (+2).
 
When creating the two courses, McDaniel, a ball golfer as well, said his goal was to create a traditional golf styled course that asked more from its players. He said it's more than just hitting the fairway, it's about hitting the correct side of the fairway.
"That's what I've tried to create at the Web and at Renaissance," McDaniel said.
 
McDaniel obviously knows how to play it because he's still just one stroke back from masters division leader Phil Arthur, who is at (-12). The two men both shot a 66 (-4) and concluded their round in the rain.
Weather could again be a factor Sunday with showers predicted for the morning. 
---
VIDEO - Saturday Video Coverage by Clash Productions
VIDEO - Friday Video Coverage by Clash Productions