Fall Colors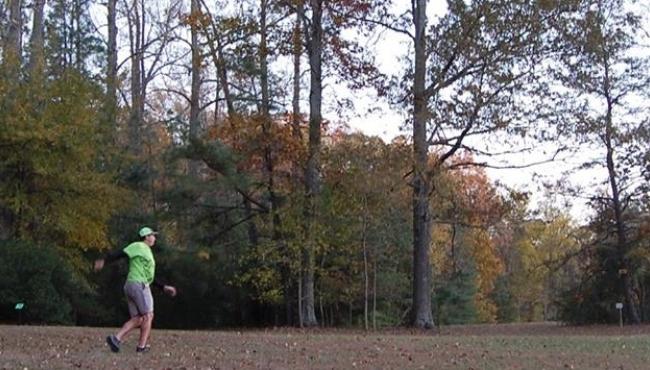 The 16th Annual Fall Colors Pro event was held Sunday, November 10th at New Quarter Park in Williamsburg, VA.  As usual for this time of year, the trees had multiple colors, leaves were falling, and the winds were blowing.  The field consisted of 21 Open, 4 pro women, 7 pro masters, 10 pro grandmasters, and 31 advanced men players.  The Fall Colors event is also the culminating event for the Old Dominion Disc Series (ODDS).  The ODDS is a point series of tournaments that consists of 12 events held throughout the year in the state of Virginia.  Fall Colors was not only an individual tournament, but it also provided a last chance for people to move up in the ODDS point standings.
After a long 20 hole first round, Ian Liddell had a three stroke lead with a hot round of 60.  Jenn Devries was leading the pro women, Bob Cannon, Joe Pelchat, and William Berry were in the front of their respective Masters, Grandmasters, and Advanced Men divisions.  Knowing that players would be pressed to finish the second round in the daylight, tournament director John Roy had pre-planned a lunch that consisted of meatball subs, chips, cookies, and soda.  That enabled the players to make a quick turn to get the second round started.  Although the plan was to play the second round from the longer distance tee pads, it was determined that in order to finish with some daylight, players would play from the same tee pads as the first round with a majority of the baskets moved to the closer pin positions.  
Although the total length of the course changed, the wind did not relent for much of the afternoon.  When it was all said and done, there were a few changes in the leader board.  In the open division, Brian Schweberger only threw a disc 53 times and came from the second card, 5 strokes back to take his 31st PDGA win of the year.  Jenn Devries, Bob Cannon and Joe Pelchat were able to maintain their leads in the pro women, masters and grandmasters divisions for the win.  Cody Bradshaw shot a blistering 55 (1034 rated round) to win advanced men by 7 strokes.  During the award ceremony, Cody thanked the amateur players and let them know this was his last tournament as an amateur.
For the ODDS point series, the leaders going into the tournament earned enough points to maintain their leads in their respective divisions.  ODDS open division winner:  Stephen Miller; ODDS master division winner:  Bob Cannon; ODDS grandmaster division winner:  Chris Hysell; ODDS advanced men division winner:  Ron Mattingly.  Noteworthy from this list is the fact that three of the division winners hail from the Spotsy Disc Golf Club in Spotsylvania County, home to the 2013 Virginia Team Invitational (VTI) Champions.  
For results, click here,
-Jeff Shattuck
Photo- Tim Dempsey