Everything's Bigger In Texas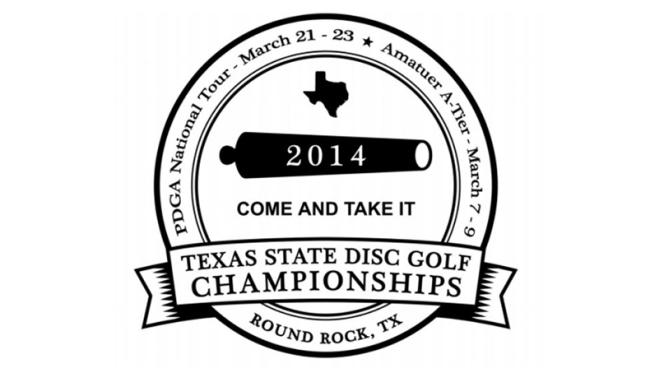 Ok, maybe not everything, but it's more than fair to say that Texas can hold it's own in the disc golf world. Take a look at what's coming up in the Lone Star state in the next month and you'll understand why. In a 4 week span the state of Texas will host a National Tour Elite Series event, a PDGA Major, and a Supertour (A-tier) event.
The first round of the Texas State Championships kicks off tomorrow marking the start of the second of the eight National Tour tournaments. Paul McBeth #27523 and Texas native Paige Pierce #29190 took home the title at the first event of the series just a few weeks ago at The Memorial Championships in Phoenix, AZ and they'll both have targets on their backs going into the first round. Last year's winners, Ricky Wysocki #38008 and Sarah Hokom #34563, ran away their victories at the Texas State Championships last year at East Metro Park with deadly forehands and putting. A repeat title for either of them this weekend would be a significant bump in their total series points. 
All 3 rounds of the event this year will be held at Old Settlers Park in Round Rock, TX, 20 minutes north of Austin. Old Settlers Park is much less of a desert landscape than East Metro Park, making it more forgiving on bad throws by default. It's also much more wide open and from the looks of it will favor players with decent distance and precision accuracy. Out of bounds lines marked by white paint and flags can be seen all around the park, and there are island holes to deal with as well. The 21 hole tournament layout will put everyone to the test. The weather may play a factor once again, as the forecast is already calling for rain on Saturday and Sunday. A copy of the caddybook is available on the Texas State Championships official website.
If you can't make it to the Texas State Championships, don't worry. There are plenty of chances soon after to play a world class tournament. Two weeks after the Texas State Championships comes to an end, the PDGA Amateur World Doubles Championships will begin at the infamous John Houck #1688 designed Selah Ranch and Trey Deuce Texas Ranch in Mt. Vernon, TX. Can't make it to that either? Hold off for a few more days, hit the road, and head over to Rock Wall, TX for the 4 The Chains DG Open (A-tier) that's already boasting $3000 added cash and an awesome players pack.
We will be covering the Texas State Championships with live scoring and throw-by-throw coverage on PDGAlive.com, as usual. You can also follow the action via @PDGAlive on Twitter or watch the live video clips come in on our the PDGA Instagram account.The first drives of the tournament will be thrown just before 8:00 AM CST tomorrow morning at Old Settlers Park. If you can't follow the action live, be sure to check the results page every evening to see how your favorite players are doing. If the saying is true, and everything really is bigger here, then you can expect to see some monsterous drives, huge putts, and absurdly high rated rounds this weekend!