Euro Championships Tee Off
Round one of the European Championships teed off this morning under cloudy conditions at the Essex University course in Colchester, United Kingdom. One hundred and ninety seven competitors from fifteen European nations are taking part in this bi-annual event, for individual honors but also for the first time in a new team format called the European Nations Championships. This format will have the top 20 players in each of the six divisions earning points for their countries, with the country earning the most points taking the Nations Cup home with them.
Young German sensation Simon Lizotte, who was a late entry into the tournament, was in the first group of the day at 7:30am but his early tee time may have been an advantage as he played in optimal conditions early before the winds grew stronger and a light rain fell later in the day. Lizotte posted an impressive 1070 rated round of 54 (-12) on the par 66 Essex layout to grab an early four throw lead in the Open division over Finns Artu Sikanen, Juho Parviainen, Erno Väyrynen, and Swede, Tobias Östling who all carded 58's (-8).
In the Women's Open division, Sweden's Angelica Frantz posted a strong 70 (+4) to lead teammate Ragna Bygde 71 (+5) by one throw with another Swede, Camilla Jernberg 74 (+8) and the UK's own Sophie Southgate 74 (+8) four throws off the lead.
Switzerland's Stephan Müller posted a very strong 61 (-5) to best Kari Vesala of Finland 64 (-2) by three throws in the Masters division.  Swedes, Robert Buzasy and Jonas Grunden, as well as Denmark's Martin Fredericksen, are all four off the lead at -1.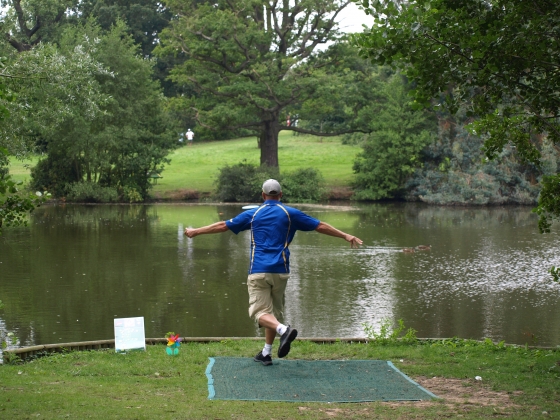 Derek Robins of the host country England posted a very respectable even par round of 66 to lead the Grandmasters division by four throws over Paul Francz of Switzerland and Ansgar Emil Sivertsen of Norway, who are both at +4 after 18 holes.
Markku Tohni of Finland carded a 77 (+11) to lead a tight Senior Grandmasters division race by one throw over American born French resident Bob Mohl 78 (+12), and two over Switzerland's Benjamin Schneider 79 (+13).
Kaj Larsson of Sweden and Lassi Hakulinen of Finland both posted very impressive 60's (-6) for a two throw lead over Gabrielius Gricius 64 (-2) of Lithuania in the Junior Boys under 19 division, proving that the youth movement in disc golf is alive and well in Europe.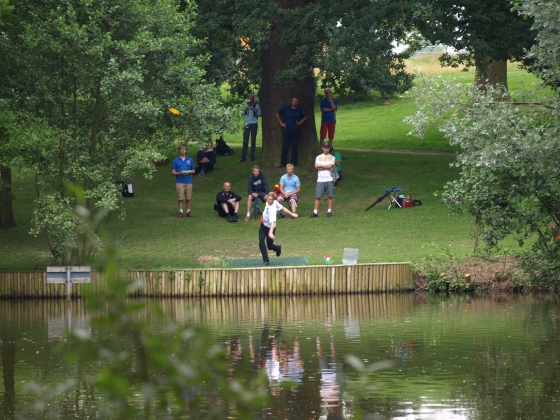 The European Championships has traditionally mixed divisions in the first round of play and this year is no different. The format for round two on Thursday will have all players grouped by score regardless of division meaning there will once again be mixed divisions before the traditional divisional groupings occur on Friday and Saturday. Tournament Director, Charlie Mead and his entire staff from the British Disc Golf Association are to be commended for a well organized event thus far.
PDGA Executive Director, Brian Graham hosted a meeting on Wednesday evening with PDGA country coordinators from all over Europe to discuss the state of disc golf in their various countries. Judging by the national pride of the competitors wearing their team jerseys and the high level of play on display today, disc golf is indeed booming all over the world.
Be sure to check PDGA.com through Saturday for scores and more coverage of the European Championships from Essex University in Colchester United Kingdom.