Euro Championships Preview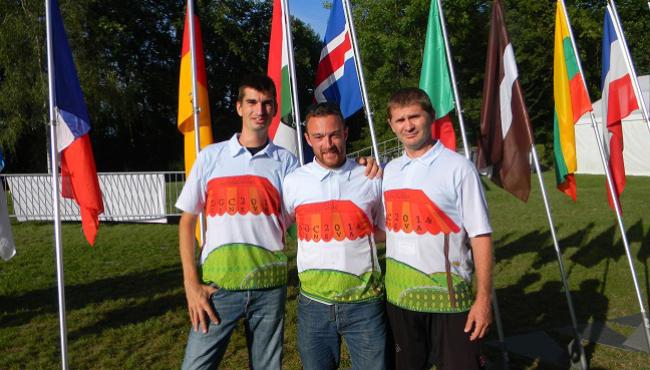 The biennial European Championships has long been the grande dame of disc golf events on the continent. Hosted by the Swiss Disc Golf Association, this year's edition tees off this morning in Geneva, on the par 65, 2412 meter (7900') layout of the Evaux Inter-Community Sports and Recreation Centre. 
It's a unique privilege to be able to play in this prestigious tournament as competitors are selected by their nation's team captain on the basis of merit. All told, 199 of Europe's finest disc golfers representing 24 different countries – an all time record for a PDGA event – have been learning the layout and fine tuning their putters, in pursuit of the dream of being crowned European Champions. 
Among the favorites in Open Division are Germany's Simon Lizotte #8332, who flew home from Worlds through nine time zones on Sunday night to defend his 2012 EC's title, and Denmark's KJ Nybo #28903 who finished second to now 3 time defending World Champ Paul McBeth #27523 at the European Masters Major in July. Sweden's Emil Dahlgren #29048, Finland's Pasi Koivu #41251, and France's Sylvain Gouge #8431 are just 3 of the 94 MPO players who will try to steal the show from them.
Local favourite and Swiss Miss Natalie Holloköi #40800 will be vying for the biggest title of her career. She will have a deep field of 22 to fend against, including the always strong Swedish ladies contingent led by Camilla Jernberg #35774.
The event format is one round per day of 18 holes, from Wednesday through Saturday, with no cut. Shooting well will put you in line for a share of the purse which will approach 15000 Euros (US $20,000)!
On behalf of the co-TDs Boris Lazzarotto #3744 and Paul Francz #3289, and their deep team of volunteers we wish all the players good luck and great sportsmanship.
Please visit the European Championship event website where you'll find tons of info and photos, and stay tuned to www.pdga.com for daily stories and the round-by-round scores and unofficial ratings.